TRAVEL SERVICES and safety
TRAVEL SERVICES and safety
Following the worst period of severe weather for over 30 years, and the coldest months in Scotland since records began, Transport Scotland's resilience team led Exercise Polar Storm in September 2011. The exercise, designed to test Scotland's winter plans, brought together over 200 delegates from the transport sector, emergency services and Local Authorities.
Transport Scotland's Incident Management Summit was held in Glasgow in March 2012. This marked the crucial first step in reducing closure times and the associated disruption that incidents cause to the trunk road network. The event identified opportunities for improvement and created a collaborative forum to track progress.
Transport Scotland led the project to install smart ticket machines on the entire Scottish bus fleet so key information on concessionary travel journeys could be captured. We can now apply enhanced validation and analytical techniques to reimbursement claims. In addition to significant financial savings, the outputs from this analysis, when combined with other intelligence, enables us to apply a robust fraud strategy. Recent publicity on our proactive anti-fraud measures will act as a further deterrent, as well as raising further public awareness and vigilance.
In April 2011 Transport Scotland selected Applied Card Technologies Limited (ACT) to implement its next generation 'ITSO HOPS', a specialist ticketing transaction service. ITSO HOPS is the 'back office' data processing system for the concessionary travel scheme. The service delivers enhanced performance and fraud prevention measures, together with innovative ticketing features to support Transport Scotland's progressive strategy.
In December 2011, the strategic road safety branch concluded a review of speed limits on all of our A class trunk roads. The review aims to ensure that speed limits are consistent, understood by drivers and appropriate for the environment and circumstances of use. We expect to publish the full outcomes on our website later on this year.
The Transport Scotland/SCOTS Road Expo event, held in November 2011, focussed on value for money, building efficiencies and operating in new and innovative ways. The conference also featured sessions on bridges, the National Road Maintenance Review, resilience, risk management and safety.
Due to the ongoing number of incidents on the A898 Erskine Bridge, proposals for an extension to the existing parapets were investigated. After tests and trials of numerous options, the decision was made to replace the existing parapets with higher galvanised steel parapets. Work to install the new 2.4m curved pedestrian parapet is due to be completed in August 2012.
On road safety, Reported Road Casualty Statistics for 2010 show that Scotland again has the lowest road casualty figures since records began. Collaborative work to build on this downward trend will continue until 2020 under Scotland's Road Safety Framework. Transport Scotland made a number of road safety achievements:
published a report about the national debate on the safety of young drivers, which calls for further evaluation of issues such as post-test training and graduated driver licensing
supported the UN Decade of Action for Road Safety with an event under the banner of 'Junior Road Safety Officers (JRSO) All Together for Road Safety'. This won a Prince Michael of Kent international award
updated our on-line educational resources by launching 'Get into Gear'. The resources support people who deliver Young Driver Interventions and SQA accredited awards. We also launched a website to accompany the Ziggy early years resource
delivered two integrated social marketing road safety campaigns. Our drink-driving campaign linked to the police festive safety campaign and accompanied the extension of the vehicle forfeiture scheme. Our rural roads campaign featured in cinema, on TV and radio and on digital platforms with the core message: "If you don't have time to read the road, you don't have time to react"
The Blue Badge disabled parking reform introduced Independent Mobility Assessments that focused on the ability to walk rather than medical conditions. The national Blue Badge improvement Service (BBIS), introduced an online application form and new tamper-proof badges to the scheme. We have also hosted conferences to help practitioners adapt to the new systems.
On support for public transport, we made a number of achievements:
modified the terms of the Bus Service Operators Grant to ensure the scheme rewards fuel-efficient operators, provides incentives for introducing LCVs and using sustainable biodiesel, and provides greater support for services operating in remote and rural areas
in March 2012 we announced up to £246 million in capital funding to SPT for the modernisation of the Glasgow Subway, to provide an economic boon to Scotland's biggest city, link to other transport infrastructure improvements across Glasgow, and help contribute to the city's regeneration
committed to support Glasgow's Fastlink scheme, a bus rapid transit link between Glasgow city centre and the new South Glasgow hospitals campus in Govan by providing funding of up to £40 million. The funding is designed to provide access to jobs, services and communities along this key development corridor
promoted, and legislated for, the introduction of civil enforcement of bus lane cameras, to improve enforcement of bus lane contraventions, improve public transport journey times, encourage modal shift on to buses, and reduce local emissions
worked with East Renfrewshire, South Ayrshire, East Ayrshire and Fife local authorities to progress towards Decriminalised Parking Enforcement; a scheme designed to enable local authorities to administer their own parking penalty schemes and to retain collected penalties. Those penalties will finance the schemes and fund general traffic management in their areas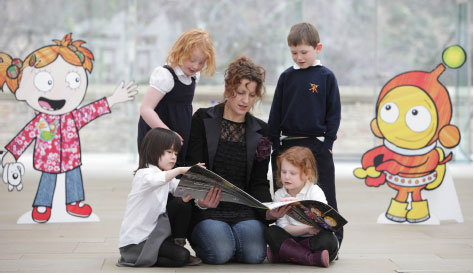 Singer Kathleen MacInnes introduces Gaelic Ziggy to children from Tollcross Primary School's Gaelic Medium Unit
(© Crown copyright)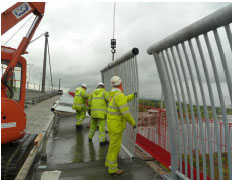 Installation of new higher parapet on the A898 Erskine Bridge
(Courtesy of Amey/Flint and Neill)
---