Rail and rail services
In June 2012 the Scottish Ministers submitted their High Level Output Specification (HLOS) for the period 2014 to 2019 to the Office of Rail Regulation (ORR). This £5 billion package of investment secures the economic and social benefits of the ScotRail and Caledonian Sleeper franchised services and supports the delivery of a major programme of network enhancements. £140 million will be made available across separate industry funds to improve the capacity and capability of the network.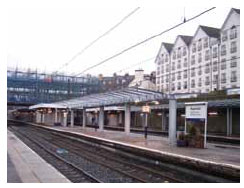 Capacity improvement works at Haymarket Station
(Courtesy of Network Rail)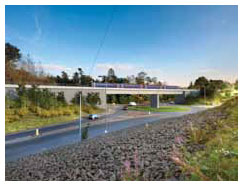 Artists impression of Hardengreen viaduct as part of the Borders Railway
(Courtesy of Network Rail)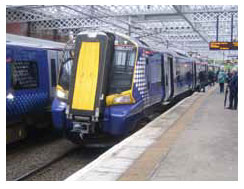 ScotRail franchise
(© Crown copyright)
In December 2012, Scottish Ministers announced that the existing ScotRail franchise would continue until March 2015, securing substantial benefits to passengers. This has also allowed full consideration of the recommendations of the Brown and Laidlaw Reviews commissioned after the West Coast Main Line franchise procurement failure. Two franchises will be procured: a 15 year franchise for the Caledonian Sleeper and a 10 year ScotRail franchise with a 5 year review.
In February 2013, the Minister for Transport and Veterans announced continued support of up to £100,000 for the creation and development of Community Rail Partnerships in Scotland until March 2015.
Work on the Borders Railway is now fully underway following the formal transfer of the delivery role to Network Rail in November 2012. The project will deliver major economic and social development opportunities, offering a fast and efficient service connecting directly with Edinburgh and the wider Scottish rail network. The Borders Railway will be the longest new domestic railway to be constructed in Britain for over 100 years, with 30 miles of new railway line.
In July 2012 details of the Edinburgh - Glasgow Improvement Programme (EGIP) first phase to be taken forward for delivery were announced. Phase 1 electrifies the core Edinburgh-Glasgow via Falkirk line and the Cumbernauld lines in time for the Commonwealth Games and delivers the new Edinburgh Gateway Station with connection to Fife line services. Network Rail are currently delivering Haymarket Station Capacity and Electrification Advance route clearance works with a combined value of £55 million.
In November 2012, the Deputy First Minister announced the planning for High Speed Rail between Edinburgh and Glasgow. We will plan for a new line allowing journey times of less than 30 minutes between the cities, and a link to the West Coast Main Line. We will also work with Department for Transport (DfT) on the further planning of the High Speed 2 network, including route options for high speed connections between Scotland and England.
Other significant milestones include:
a fares cap negotiated with ScotRail in December 2012 for the remainder of the existing franchise
installing new infrastructure at stations and upgrading equipment to enable more rail ticket products to be available on Smartcards
all 59 c170 diesel trains will now be fitted with Wi-Fi enabling equipment by the end of 2013 following a successful trial last year. These trains operate on the main inter-city routes between the seven main cities of Glasgow, Edinburgh, Aberdeen, Dundee, Perth, Stirling and Inverness
a significant improvement in services between Glasgow, Ayrshire and Inverclyde including improvements in journey times, better ferry connections, more off peak services and increased calls at Paisley Gilmour Street following the December 2012 timetable. The new timetable is forecast to generate more than half a million new rail journeys per year
the completion of phase one of the Highland Main Line Improvements project saw journey time improvements of up to 18 minutes between Inverness and the Central Belt
---