Environment and finance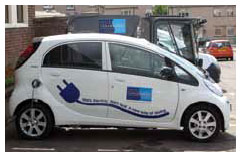 The future for car journeys is electric - greener, cleaner, quieter and cheaper motoring
(© DevlinPhoto)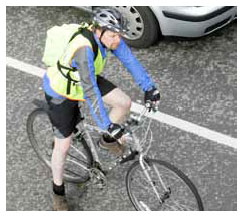 Investing in active travel
(Courtesy of Smarter Choices, Smater Places)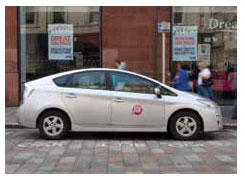 Developing the car club network across Scotland through our funding of Carplus
(Courtesy of Carplus)
Our bespoke Carbon Management System (CMS) continues to progress with collection of site fuel and utility use data from our Operating Companies. Our CMS has also been adopted by Network Rail with upgrades to the rail tool being progressed in conjunction with the Rail Safety Standard Board.
We published our first Sustainability Report and participated in the Carbon Trust's Carbon Management Revisited Programme to refresh our Carbon Management Plan, with the principal output being an improved baseline data and revised targets.
The E-cosse partnership brings together Transport Scotland with car manufacturers, power companies, local authorities and WWF Scotland to advance adoption of electric vehicles (EVs). The E-cosse partnership, guided by the E-cosse Strategic Board is informing the production of an EV Roadmap for Scotland, setting out how EV's will help Scotland attain its vision of a decarbonised road transport sector. This roadmap will be published in 2013.
We aim to ensure that we play our part in the protection and enhancement of the environment. The most significant example of this commitment has been the progression of the Strategic Environmental Assessment for the A9 dualling project. We have collaborated with other agencies and stakeholders, with a particular focus on air quality, where we have been instrumental in the creation of the Scottish Transport Emission Partnership (STEP). STEP aims to improve Scotland's urban air quality by identifying examples of best practice and communicating this to stakeholders.
We have participated in the Environmental Noise Directive Stage 2 Noise Mapping process. The output being the identification of candidate noise management areas across Scotland and the preparation of objectives and actions in a draft Transportation Noise Action Plan.
On Climate Change, we have continued to develop the strategic approach to emissions abatement from transport in Scotland, as set out in the Low Carbon Scotland Report on Policies and Proposals (RPP). We have also sponsored a wide range of associated behaviour-change and technology initiatives. In support of sustainability we have:
invested in active travel, notably in national and local cycling infrastructure through partnership work with Sustrans and local authorities across Scotland, and continued to develop educational initiatives with Cycling Scotland, such as the Bikeability Scotland school cycle training programme and the local cyclist-awareness Give Me Cycle Space campaigns
grant-funded the Energy Saving Trust (EST) to promote business uptake of 'smarter measures' such as fuel-efficient driving and to pilot a Low Carbon Transport Loan Fund offering interest-free funding for workplace travel plan measures
funded Carplus to develop the car club network across Scotland
undertaken a robust evaluation of the Smarter Choices, Smarter Places sustainable transport demonstration programme, to inform future policy development
announced investment of £2.6 million in February 2013 to support electric vehicles adoption and associated charging infrastructure. This will mean an anticipated 500 charging posts on the network of which approximately 300 will be publicly available by the summer of 2013
provided £1.9 million through the third round of the Scottish Green Bus Fund, part funding the acquisition of a further 24 new low carbon buses by March 2014 and continuing to stimulate demand for green technology in Scotland
prepared draft transport-themed policies, proposals and objectives for the Climate Change Adaptation Programme in response to the UK Climate Change Risk Assessment
Finance
Provisional Out-turn 2012/13
Provisional Final
Out-turn
Total
Final
Out-turn
Total
Administration
2012/131
£'000
2011/12
£'000
Staff Costs
11,902
13,461
Other Administration Costs
4,934
4,807
Total Administration
16,836
18,268
Motorways and Trunk Roads
396,441
273,416
Rail Services in Scotland
783,610
778,015
Concessionary Travel
193,952
188,076
Bus Services in Scotland
64,990
60,728
Ferry Services in Scotland
112,801
116,681
Air Services in Scotland
30,929
33,807
Other Transport Programmes
46,646
45,626
Grants to Other local Authorities
22,929
42,706
Total Programme Costs
1,652,298
1,539,055
Net Operating Costs
1,669,134
1,557,323
Capital Expenditure
377,140
497,833
Total Out-turn Expenditure for the year
2,046,274
2,055,156
Our provisional out-turn (unaudited) under-spend is within 1% of our budget' a clear indication of the rigorous control we exercise over the projects we deliver and of the priority we give to securing best value from the funds that we control.
1 The full audited accounts will be available when published at www.transportscotland.gov.uk
---