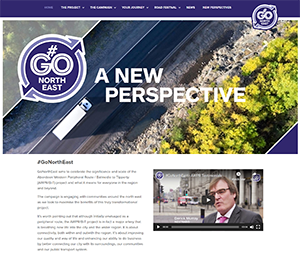 Expanded view of page layout
#GoNorthEast
GoNorthEast aims to celebrate the significance and scale of the Aberdeen Western Peripheral Route / Balmedie to Tipperty (AWPR/B-T) project and what it means for everyone in the region and beyond.
The campaign is engaging with communities around the north east as we look to maximise the benefits of this truly transformational project.
It's worth pointing out that although initially envisaged as a peripheral route, the AWPR/B-T project is in fact a major artery that is breathing new life into the city and the wider region. It is about connectivity, both within and outwith the region. It's about improving our quality and way of life and enhancing our ability to do business by better connecting our city with its surroundings, our communities and our public transport system.
The main benefits of the route have been captured under the themes of economy, safety and sustainability.
The Road
One of the largest infrastructure projects in Europe, the new route spans 36 miles (58km) of the north east of Scotland. That's the equivalent of building a new road between Edinburgh and Glasgow in just four years!
This truly amazing infrastructure project also includes: 25 miles (40km) of new side roads; 19 miles (30km) of access track; 12 junctions; two river major crossings – at Dee and Don; a bridge for the Aberdeen to Inverness Railway; and three wildlife bridges; with more than 100 other structures also built for local road traffic and pedestrians.
The road features four sections:
North Kingswells to Blackdog – 10 miles (16.1km)
Charleston to North Kingswells – 12 miles (18.7km)
Stonehaven to Cleanhill – 7 miles (11.5km)
Blackdog to Tipperty – 7 miles (12km)
History
A peripheral route around Aberdeen was considered as early as the 1950s, with potential routes discussed in the 1970s and 1980s when traffic was steadily increasing in the city due to the oil boom however, serious planning for the new road didn't begin until the 1990s.
Your Journey
A great many journeys in and around Aberdeen have significantly improved now the AWPR/B-T project has  fully opened to traffic.
---