3. Ultra Low Emission Vehicle Charging Network – Special Focus
3. Ultra Low Emission Vehicle Charging Network – Special Focus
Cars accounted for 40.1% of total transport emissions in Scotland in 2016, the highest proportion of any mode of transport. Bold new plans for transport were announced in the Programme for Government 2017-2018, with a target set to phase out the need to buy petrol and diesel engine cars and vans by 2032, a full eight years ahead of the UK Government. This will be driven by a significant increase in the uptake of ultra-low emission electric vehicles which will account for a significant proportion of overall emissions reduction.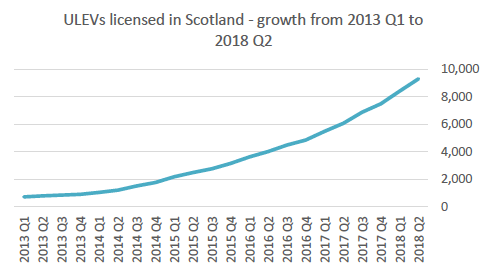 Source: DfT Vehicle Statistics

A key barrier identified to a more rapid take-up of electric vehicles is 'range anxiety'. 41% of respondents to the 2017 Scottish Household Survey said they would consider buying an electric car or van. However, for those who said they would not consider buying an electric vehicle, the distance that could be travelled on a single charge (45%) and the availability or convenience of charging points (also 45%) were the main deterrents.
The ChargePlace Scotland network of publically available EV charging points is one of the most comprehensive networks in Europe with over 800 points, including over 175 rapid charge points. In 2017, the Charge Place Scotland network was used over 420,000 times by over 8,000 members, enabling 12.8 million electric vehicle miles to be travelled.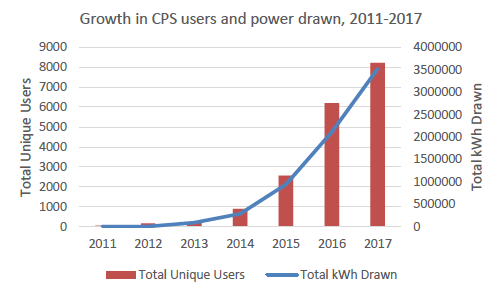 Source: CPS
To continue addressing 'range anxiety' Transport Scotland are investing £15 million to add an additional 1,500 new charge points in homes, businesses and local authority land, including 150 new public charge points. In addition, the Switched on Towns and Cities Challenge Fund will help expand the provision of publicly available EV charging infrastructure into new as well as existing areas of a town or city and address EV charging issues associated with tenement buildings or residential properties that lack off-street parking. 
---