Executive Summary
The Carbon Account for Transport provides a balance sheet for Scotland's greenhouse gas emissions between 1990 and 2016, and the expected emission impacts of major transport infrastructure projects and regulatory measures.
The main findings from volume 10 are:
Total greenhouse gas emissions for Scotland in 2016 were 38.6 megatonnes of carbon dioxide equivalent (Mt CO2e). Transport, including International Aviation and Shipping (IAS), accounted for 14.4 Mt CO2e, which is 37.3% of the total. In 2015, transport overtook energy supply as the largest sectorial contributor to Scottish greenhouse gas emissions.
The latest National Atmospheric Emissions Inventory data now shows that Scottish transport emissions including IAS rose in 2015 and 2016.
In 2016, road transport accounted for 68.1% of total transport emissions. Cars and goods vehicles (light and heavy combined) accounted for 40.1% and 24.4% of total transport emissions respectively.
Looking at Scottish emissions over the period 1990-2016:

At 14.4 Mt CO2e total transport emissions in 2016 were 2.5% below the 1990 level. Emissions from transport peaked at 16.1 Mt CO2e in 2007.
At 5.8 Mt CO2e, emissions from cars in 2016 were 0.2% below the 1990 level.
Aviation emissions accounted for 2.1 Mt CO2e in 2016, a 50.0% rise on 1990. Domestic aviation emissions fell by 22.3% while international aviation emissions rose by 164.5% over the period.
Goods vehicles accounted for 3.5 Mt CO2e in 2016, 28.1% above 1990. Of those, emissions from light goods vehicles increased by 81.3%, while emissions from heavy goods vehicles fell 0.4% over the period.

Leading indicators imply that reducing transport emissions is becoming more challenging in the face of rising demand across a range of modes.
Transport emissions as a share of total Scottish emissions 2016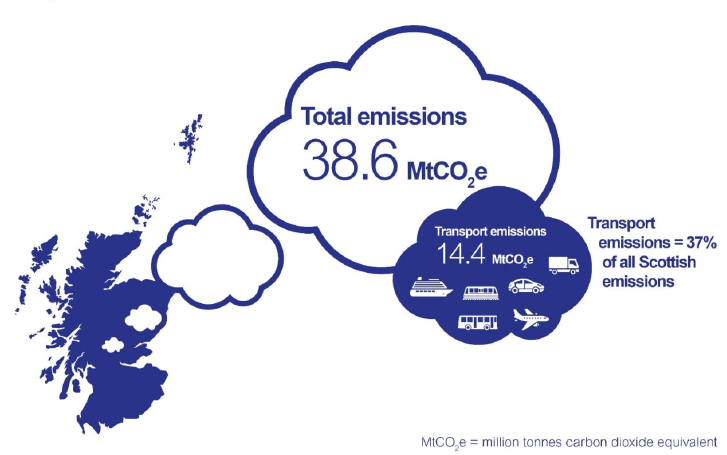 Change in transport emissions since 2008:

Change in emissions from key transport modes 2015-2016:

Breakdoun of transport emissions by mode 1990-2016: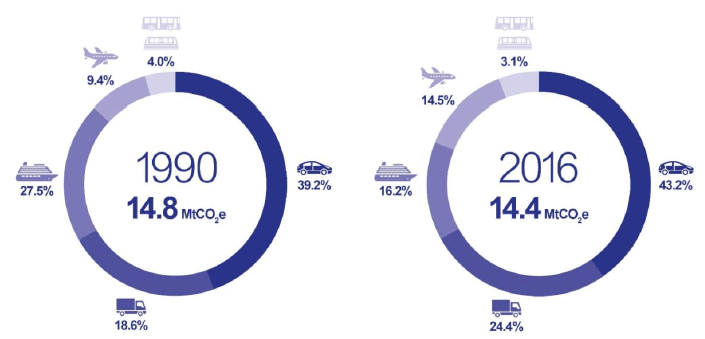 ---