Appendix E: Assessment of interventions
Appendix E: Assessment of interventions
E.1 Assessment criteria
Each intervention has been categorised against the following criteria:
Evidence of effectiveness
Criteria: Is there quantified (evaluation-based) evidence to suggest that the proposed intervention will have a positive impact on reducing road fatalities and serious injuries amongst 17-25 year olds in Scotland?
Scoring: Interventions have only been scored if there is robust evidence which demonstrates their impact on casualty numbers. Where evaluation evidence or clear research evidence is not available, a 'not assessed' descriptor has been used. This does not mean that the intervention is not worthy of further consideration, but does highlight a need for further research and evaluation.
Notes: Evaluation evidence regarding the effectiveness of pre-driver interventions has been limited to date, making it difficult to identify which type of road safety education interventions have been more or less effective (Lauccbury et al., 2007). McKenna (2010b) reports that many road safety education interventions do not possess the key ingredients of being based on theory or formal knowledge and of being evaluated in such a way that a causal inference can be made about a change in injuries. Many evaluations which have been undertaken focus on whether participants liked the interventions and if they raised awareness.
Support/Acceptability amongst young people (and/or parents, where more applicable)
Criteria: Is the proposed intervention supported by or acceptable to young people (and/or parents, where more applicable)?
Scoring: 'Strong', 'moderate' or 'weak' rating are based on average support across young males and young females (and/or parents, where more applicable) based on feedback from the online survey, as presented in survey result tables in Chapter 5. Evidence of support from other sources is also considered where appropriate.
Notes: It was not possible to quantify opinions on all the proposed interventions as part of the debate consultation process.
Deliverability and enforcement
Criteria: Are there feasibility constraints relating to technology requirements, legal issues, timescales and other similar factors? Is the proposed solution enforceable in practical terms and given the level of resources likely to be available to the police and other relevant bodies?
Scoring: A 'strong' rating has been applied where there are no significant delivery or enforcement issues; and a 'weak' rating has been applied where legislative change or additional devolved powers are required.
Notes: Much of the legislation relating to the driver training and testing regime is reserved to the UK Parliament. The current system of driver training and testing across the UK is administered by the Driving Standards Agency, an executive agency of the UK Department for Transport. Where there is sufficient evidence and support, the Scottish Government can ask the UK Government for changes to be made to legislation or ask for additional devolved powers in order to make changes in Scotland alone. The Scottish Government might do this in cases where there is strong evidence to suggest that the course of action would lead to a decrease in road deaths and serious injury and strong support for change.
The Calman Report on Scottish Devolution (Commission on Scottish Devolution, 2009), however, recommended that driver licensing and the standard of driving expected from those using the integrated road network of Great Britain should remain a responsibility of the UK Government, and that devolution of this duty to the Scottish Government would be inappropriate. Nevertheless, the option of the Scottish Government to lobby for change on a UK wide basis remains open.
Affordability (public purse)
Criteria: Is the proposed solution affordable for the public purse, in terms of initial implementation, on-going and enforcement costs? Will the police, road safety officers, schools, etc. have the resources to implement the proposed solution?
Scoring: Intervention categorised as 'low' if indicative cost is less than £5 million, 'medium' if between £5 – 20 million, and 'high' if more than £20 million.
Notes: In estimating indicative costs is has been assumed that 85,000 young people take their test each year (120,000 including all ages) and approximately 40,000 young people pass each year (55,000 including all ages)61. It has also been assumed that there are approximately 225,000 pupils in years S1 to S4 and 75,000 pupils in years S5 and S662.
Potential for adverse impacts on young people
Criteria: Will the intervention have an adverse impact on young people, in terms of the affordability of learning to drive; education, employment and social opportunities; and social inclusion and equity issues?
Scoring: A 'low' rating has been applied where there is low potential for adverse impacts on young people; and a 'high' rating has been used to indicate that there is high potential for adverse impacts on young people.
Notes: Seeks to highlight issues such as, would the intervention increase the cost of learning to drive and have a disproportionate impact on those from poorer backgrounds or not in full-time employment; would it be seen as unfairly targeting young drivers; would it have a disproportionate impact on those in rural areas, etc.
E.2 Assessment results
The results of the assessment process are presented in the following tables. The key below sets out the scoring system for all columns.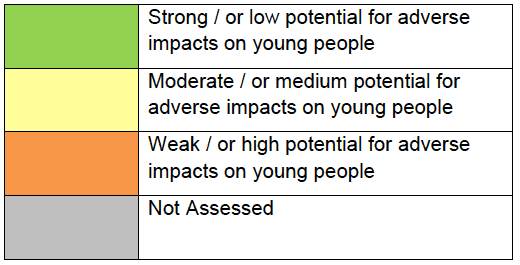 Intervention Type A – Education and training for younger children and pre-drivers

Intervention Type B – Education, training and testing for learner and novice drivers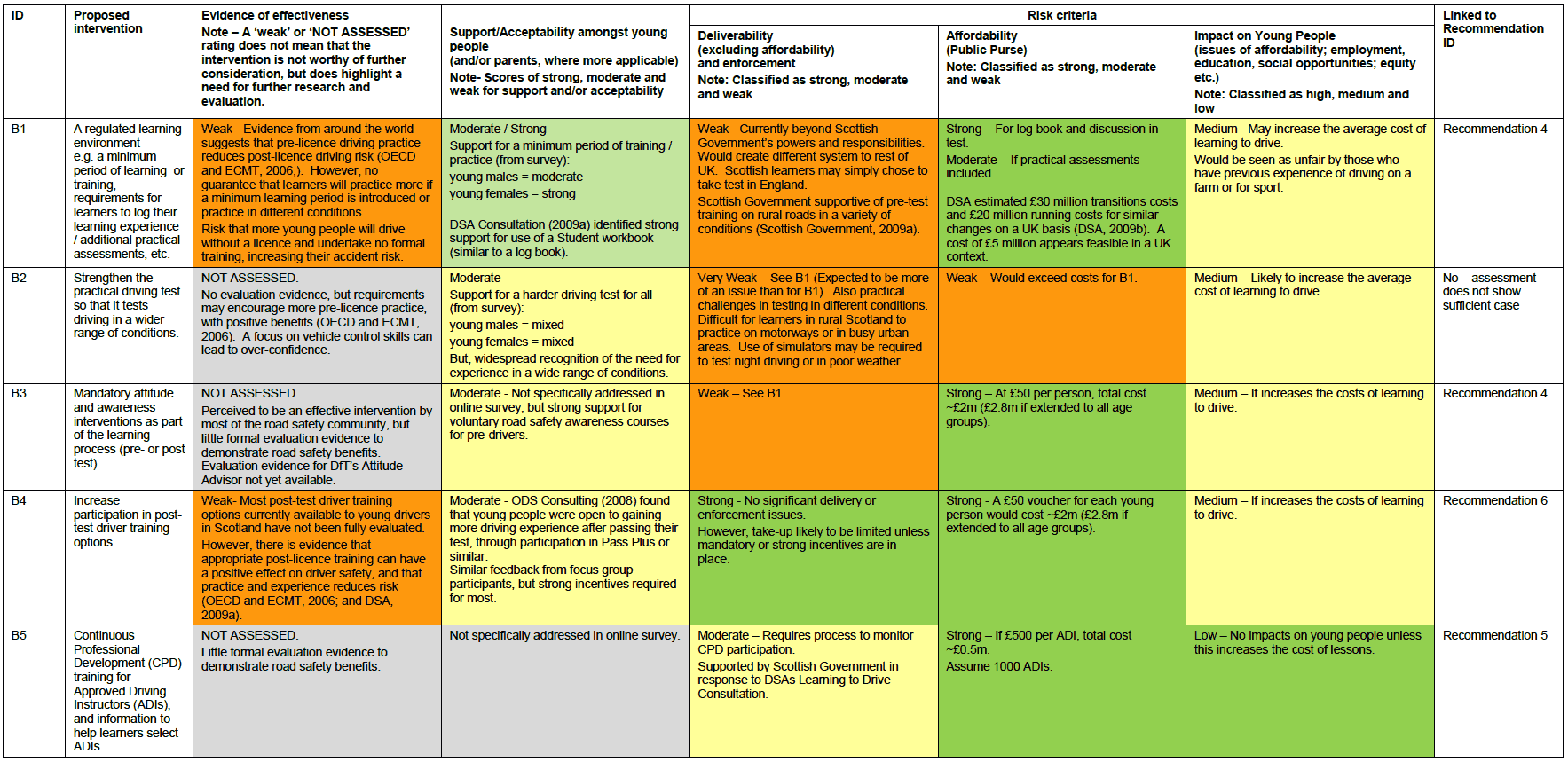 Intervention Type C – Graduated driver licensing and licence restrictions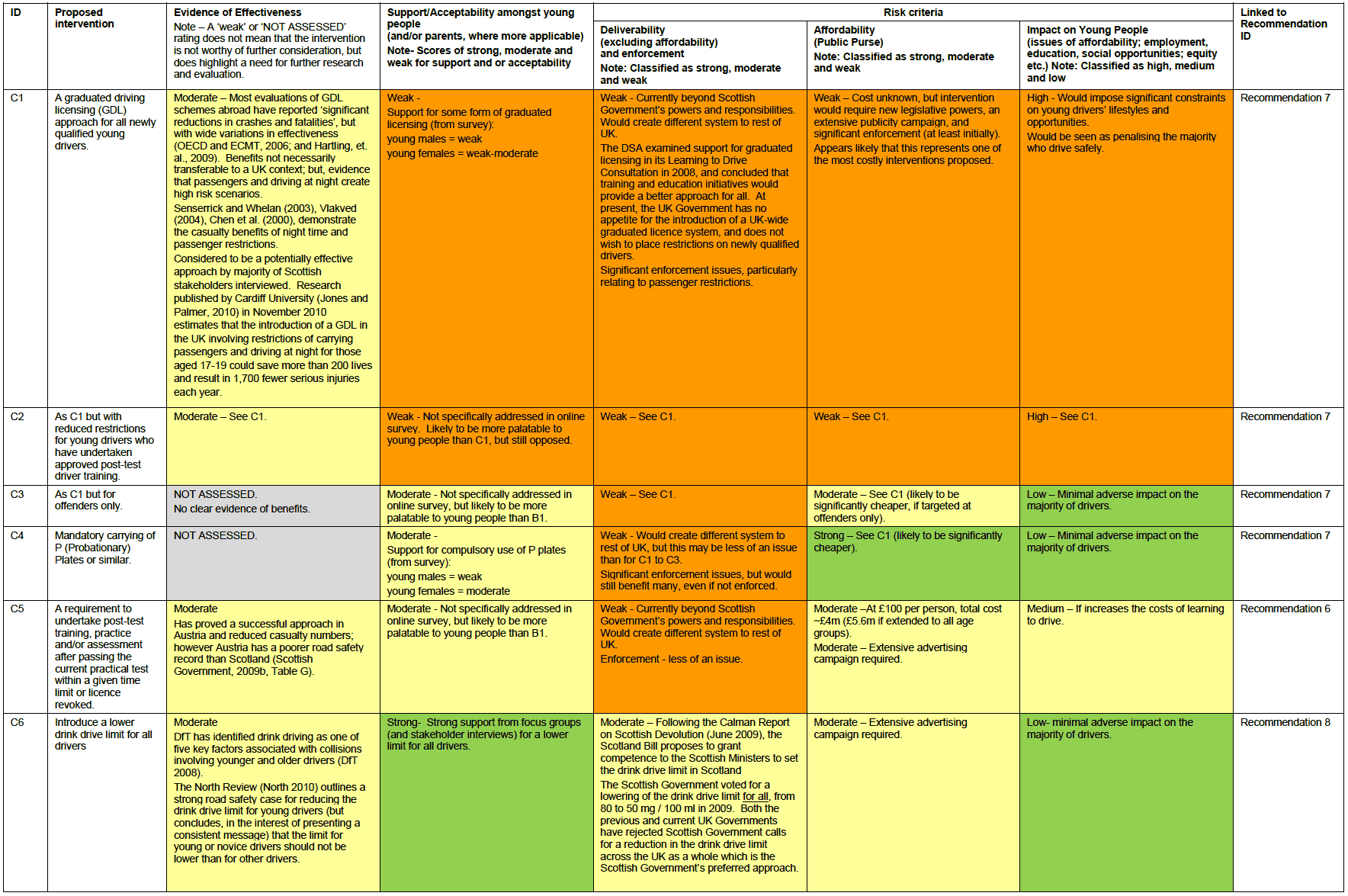 Intervention Type D – Enforcement and restorative justice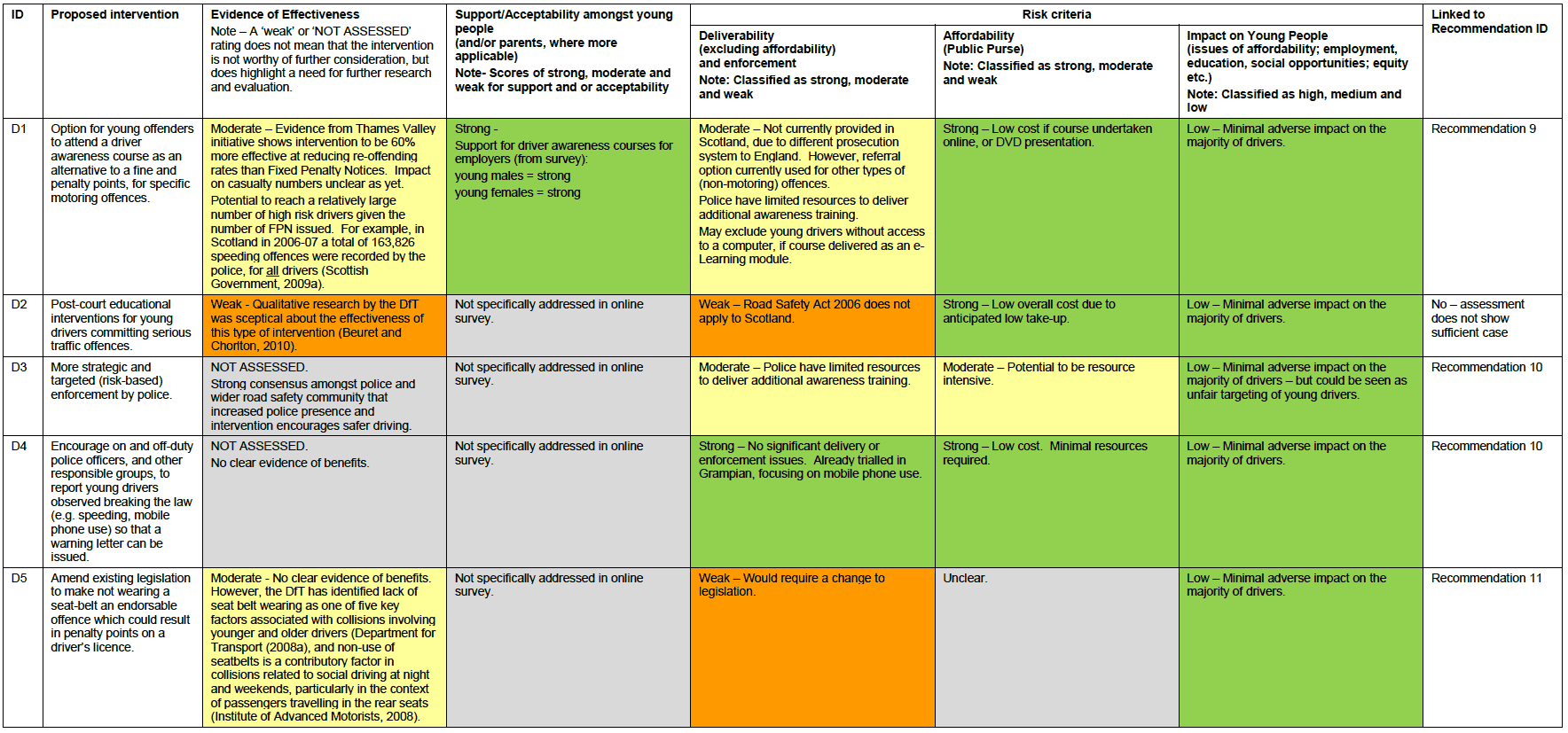 Intervention Type E – Use of technology

Intervention Type F – Encouragement and leadership, including incentives and working with the private sector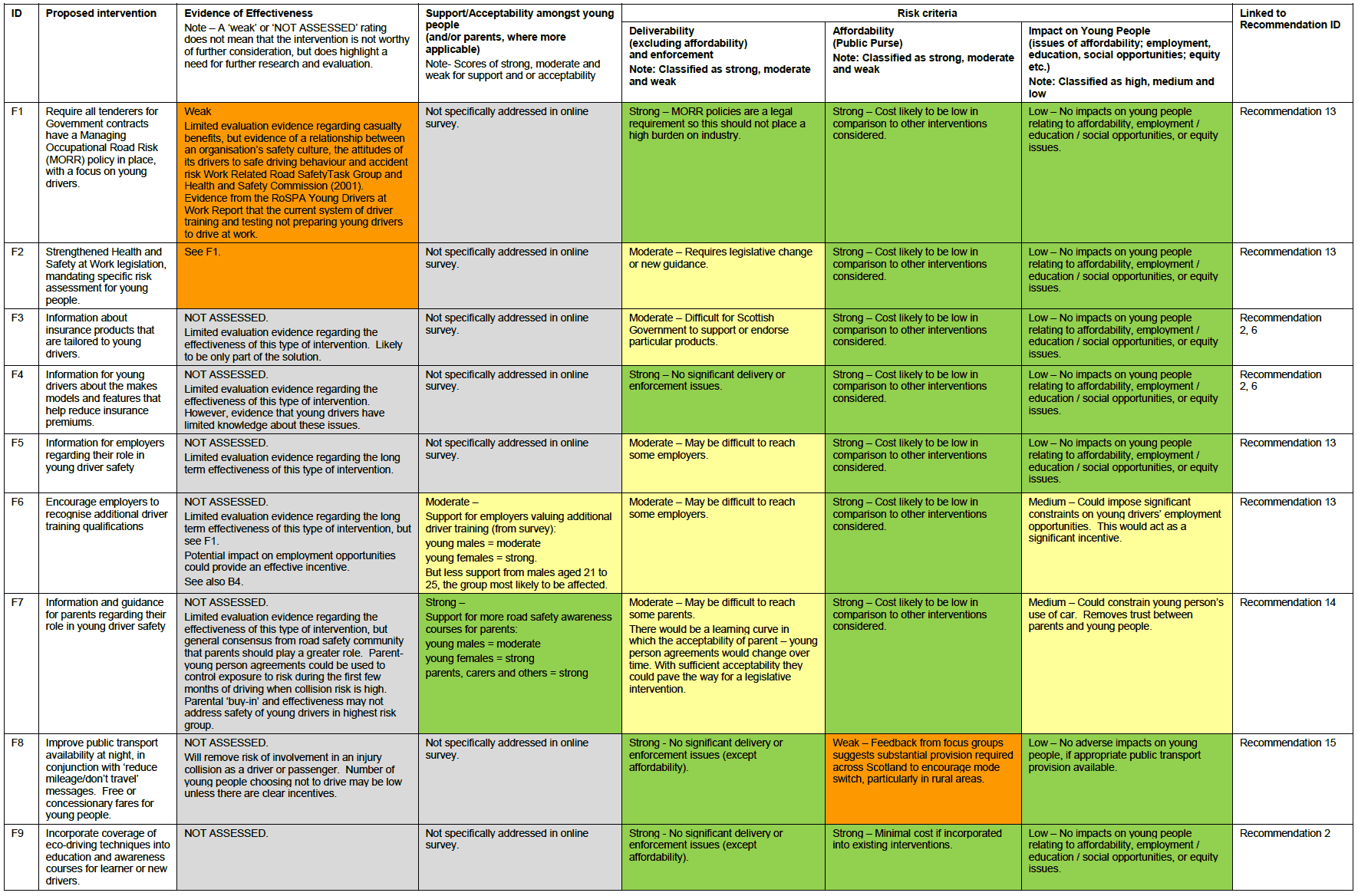 ---