Table 16 Estimated distance between the home of the driver or rider and the location of the injury accident by type of vehicle and police force area in which the reported accident occurred 1 Year: 2014
Reported Road Casualties Scotland 2014
Table 16 Estimated distance between the home of the driver or rider and the location of the injury accident by type of vehicle and police force area in which the reported accident occurred 1 Year: 2014
Table 16
Estimated distance between the home of the driver or rider and the location of the injury accident by type of vehicle and police force area in which the reported accident occurred 1
Year: 2014
Aberdeen City
Aberdeenshire & Moray
Tayside
Argyll & West Dunbartonshire
Forth Valley
Dumfries & Galloway
Ayrshire
Greater Glasgow
Pedal cycle rider
Postcode, invalid or not known
4
5
1
1
3
-
3
13
Driver from elsewhere in the UK
-
-
2
1
1
-
-
-
Scottish driver, distance not known 5
-
-
-
1
1
-
1
8
Vehicle parked and unattended
-
-
-
-
-
-
-
-
Non - UK driver 4
-
-
-
1
-
1
-
-
Up to 2 km
22
12
24
4
24
6
24
86
Over 2 up to 5 km
18
1
10
2
11
-
4
38
Over 5 up to 10 km
5
-
4
2
6
3
8
27
Over 10 up to 20 km
1
2
4
2
8
-
4
11
Over 20 up to 50 km
3
1
3
-
1
2
5
3
Over 50 km
2
1
2
1
-
-
-
-
Total
55
22
50
15
55
12
49
186
Motorcycle rider
Postcode, invalid or not known
4
2
5
3
-
1
3
4
Driver from elsewhere in the UK
2
4
-
6
4
4
2
1
Scottish driver, distance not known 5
-
1
-
-
-
-
-
4
Vehicle parked and unattended
-
-
-
-
-
-
-
-
Non - UK driver 4
-
-
-
2
3
-
-
-
Up to 2 km
14
13
9
2
11
11
8
20
Over 2 up to 5 km
15
4
11
1
7
5
5
23
Over 5 up to 10 km
12
6
3
3
6
4
11
5
Over 10 up to 20 km
5
11
5
-
6
4
2
5
Over 20 up to 50 km
3
18
5
6
11
5
9
5
Over 50 km
1
11
11
8
6
5
2
2
Total
56
70
49
31
54
39
42
69
Car driver
Postcode, invalid or not known
32
24
52
27
31
24
49
197
Driver from elsewhere in the UK
5
6
16
31
17
38
15
25
Scottish driver, distance not known 5
1
-
-
9
10
1
23
96
Vehicle parked and unattended
5
2
-
4
-
2
5
24
Non - UK driver 4
1
5
-
6
4
2
1
2
Up to 2 km
85
107
159
91
182
76
156
545
Over 2 up to 5 km
56
94
130
59
110
54
138
400
Over 5 up to 10 km
42
100
75
46
98
32
126
324
Over 10 up to 20 km
29
110
73
44
78
50
102
184
Over 20 up to 50 km
26
106
65
40
62
41
64
102
Over 50 km
16
35
60
42
36
30
18
41
Total
298
589
630
399
628
350
697
1,940
Other driver or rider 2
Postcode, invalid or not known
7
12
39
6
15
5
19
51
Driver from elsewhere in the UK
3
2
4
1
5
29
2
13
Scottish driver, distance not known 5
-
2
1
-
1
-
2
28
Vehicle parked and unattended
-
-
-
-
-
-
-
2
Non - UK driver 4
-
4
-
1
-
2
1
2
Up to 2 km
10
19
16
9
15
9
15
47
Over 2 up to 5 km
17
7
18
7
12
9
15
65
Over 5 up to 10 km
6
23
19
6
12
11
20
71
Over 10 up to 20 km
8
22
16
4
9
13
19
62
Over 20 up to 50 km
5
27
17
15
17
12
23
27
Over 50 km
11
30
19
14
4
17
11
6
Total
67
148
149
63
90
107
127
374
All drivers and riders
Postcode, invalid or not known
47
43
97
37
49
30
74
265
Driver from elsewhere in the UK
10
12
22
39
27
71
19
39
Scottish driver, distance not known 5
1
3
1
10
12
1
26
136
Vehicle parked and unattended
5
2
-
4
-
2
5
26
Non - UK driver 4
1
9
-
10
7
5
2
4
Up to 2 km
131
151
208
106
232
102
203
698
Over 2 up to 5 km
106
106
169
69
140
68
162
526
Over 5 up to 10 km
65
129
101
57
122
50
165
427
Over 10 up to 20 km
43
145
98
50
101
67
127
262
Over 20 up to 50 km
37
152
90
61
91
60
101
137
Over 50 km
30
77
92
65
46
52
31
49
Total
476
829
878
508
827
508
915
2,569
Table 16 cont'd
Estimated distance between the home of the driver or rider and the location of the injury accident by type of vehicle and police force area in which the reported accident occurred 1
Year: 2014
Lothians & Scottish Borders
Edinburgh
Highlands & Islands
Fife
Renfrewshire & Inverclyde
Lanarkshire
total
Pedal cycle rider
Postcode, invalid or not known
5
20
6
2
4
5
72
Driver from elsewhere in the UK
-
2
5
-
-
-
11
Scottish driver, distance not known 5
-
1
-
-
-
-
12
Vehicle parked and unattended
-
-
-
-
-
-
-
Non - UK driver 4
3
9
1
-
-
-
15
Up to 2 km
25
101
12
17
16
21
394
Over 2 up to 5 km
11
63
2
10
4
20
194
Over 5 up to 10 km
12
29
4
1
3
4
108
Over 10 up to 20 km
4
9
8
2
2
3
60
Over 20 up to 50 km
8
6
1
1
-
1
35
Over 50 km
3
1
4
3
-
-
17
Total
71
241
43
36
29
54
918
Motorcycle rider
Postcode, invalid or not known
5
8
10
3
-
2
50
Driver from elsewhere in the UK
8
1
10
1
1
2
46
Scottish driver, distance not known 5
-
-
1
-
1
1
8
Vehicle parked and unattended
-
-
1
-
-
-
1
Non - UK driver 4
1
5
9
-
-
-
20
Up to 2 km
20
31
10
13
9
14
185
Over 2 up to 5 km
13
34
3
6
5
14
146
Over 5 up to 10 km
7
24
3
7
7
10
108
Over 10 up to 20 km
14
13
3
10
1
5
84
Over 20 up to 50 km
7
9
6
7
2
9
102
Over 50 km
9
2
17
-
1
4
79
Total
84
127
73
47
27
61
829
Car driver
Postcode, invalid or not known
70
176
44
28
42
113
909
Driver from elsewhere in the UK
35
25
35
11
9
27
295
Scottish driver, distance not known 5
1
3
4
3
22
68
241
Vehicle parked and unattended
25
40
8
-
7
11
133
Non - UK driver 4
21
42
14
-
-
5
103
Up to 2 km
266
331
91
155
158
436
2,838
Over 2 up to 5 km
217
281
74
100
100
299
2,112
Over 5 up to 10 km
210
193
54
107
72
204
1,683
Over 10 up to 20 km
144
149
97
85
55
142
1,342
Over 20 up to 50 km
131
115
88
47
36
89
1,012
Over 50 km
47
43
68
15
17
25
493
Total
1,167
1,398
577
551
518
1,419
11,161
Other driver or rider 2
Postcode, invalid or not known
29
60
17
10
14
27
311
Driver from elsewhere in the UK
14
9
6
1
2
25
116
Scottish driver, distance not known 5
-
-
-
-
6
8
48
Vehicle parked and unattended
7
7
3
-
2
-
21
Non - UK driver 4
1
15
3
-
-
-
29
Up to 2 km
29
38
10
14
11
34
276
Over 2 up to 5 km
24
72
10
12
18
33
319
Over 5 up to 10 km
24
71
12
8
12
37
332
Over 10 up to 20 km
25
95
17
12
9
34
345
Over 20 up to 50 km
44
55
28
21
13
22
326
Over 50 km
27
18
31
8
6
8
210
Total
224
440
137
86
93
228
2,333
All drivers and riders
Postcode, invalid or not known
109
264
77
43
60
147
1,342
Driver from elsewhere in the UK
57
37
56
13
12
54
468
Scottish driver, distance not known 5
1
4
5
3
29
77
309
Vehicle parked and unattended
32
47
12
-
9
11
155
Non - UK driver 4
26
71
27
-
-
5
167
Up to 2 km
340
501
123
199
194
505
3,693
Over 2 up to 5 km
265
450
89
128
127
366
2,771
Over 5 up to 10 km
253
317
73
123
94
255
2,231
Over 10 up to 20 km
187
266
125
109
67
184
1,831
Over 20 up to 50 km
190
185
123
76
51
121
1,475
Over 50 km
86
64
120
26
24
37
799
Total
1,546
2,206
830
720
667
1,762
15,241
1. The distance is estimated using the postcode of the house of the driver or rider, if this is available - please see Annex D.
2. 'Other' includes taxis, minibus, bus or coach, ridden horse, agricultural vehicles and goods vehicles.
3. Due to a small problem with a few records, some of the figures in this table will not match exactly those of other tables.
4. Fife, Lothian & Borders and Tayside do not collect data for foreign drivers.
5. Due to a problem with the methodology in producing this table, there was an error in with these figures in previous editions of this table.
Table 16
Estimated distance between the home of the driver or rider and the location of the reported injury accident by type of vehicle: Scottish residents only excluding cases for which the distance cannot be estimated
Year: 2014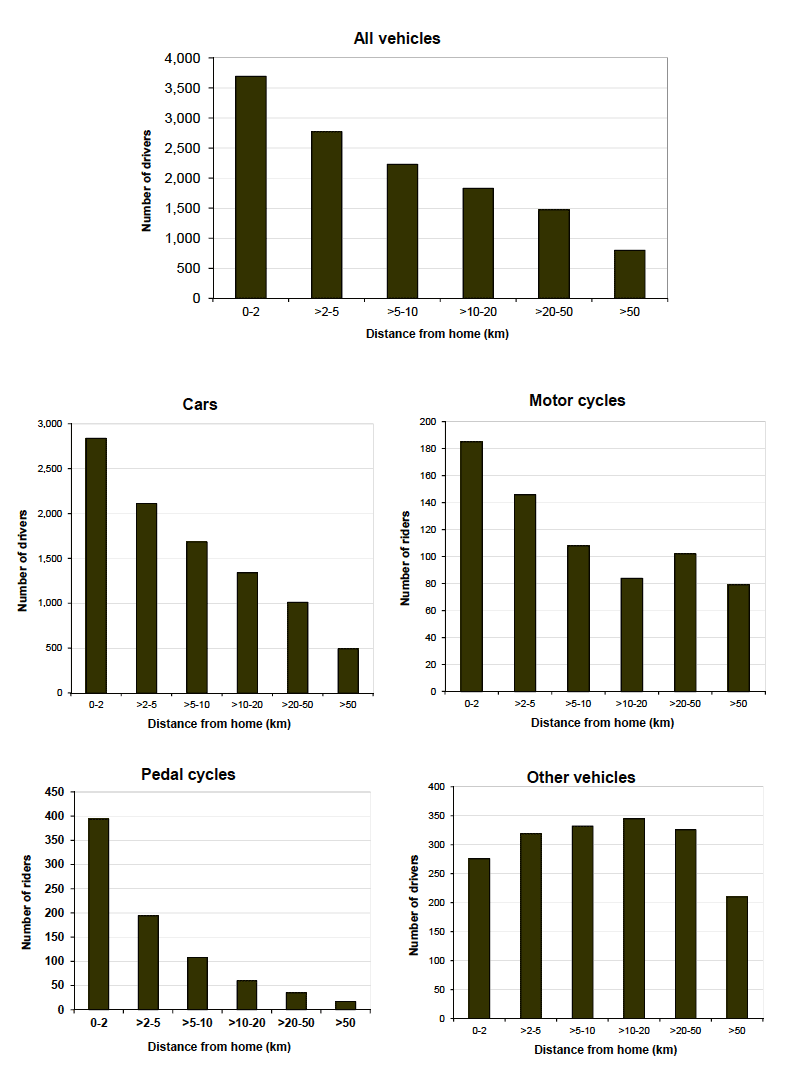 ---