Road Accident Data Collection Form Design Research Project
Appendices
Appendix A Issues known to Transport Scotland
Table A-1: Data inaccuracies reported to Transport Scotland
Part of form
Issues
Example
Proposed solution
Contributory factors
CF believed to be a matter of fact, and hence should not be classed as a CF
Code 901 – Stolen vehicle
Add to vehicle variables
CF is potentially misleading or similar to other factors
Code 303 - Disobeyed double white line
Re-label using neutral terminology
CF not very useful
Code 308 - Following too closely
None specified.
CF with 'strangely low usage'
Code 401 - Junction overshoot
Important to note in every relevant case.
Casualty record
Recording casualties appropriately
Casualty Class – narrow range unnecessarily complicates analysis
Expand list, at least to: "driver, rider, passenger, pedestrian".
Pedestrian location and movement
Pedestrian Direction – frequently miscoded
Abandon compass points, use bearings.
Recording of vehicle passengers
Car Passenger - Not always recognised as referring only to car
Record Passenger Location, regardless of vehicle.
Vehicle record
Consistency with other data included in the form
First Point of Impact - Not always consistent with hit and run variable
Another check.
Confusion/ lack of knowledge leads to inaccuracies in recording of data
Vehicle Movement Compass Point - Suggestion that direction of travel is not always recorded correctly.
Better guidance or training
Accident record
Accurate recording of location
Grid co-ordinates not always correct
Training of officers? GPS?
Accurate recording of road details (e.g. type, class, junction)
e.g. Difference between "lane" and "carriageway" is not understood; Recording of private drives; Sometimes minor road is recorded as first road
Form redesign, training.
Appendix B 20 Guidelines for Useable Web Form Design
Taken from Bargas-Avila, Brenzikofer, Roth, Tuch, Orsini, & Opwis, 2010, page. 9
1) Let people provide answers in a format that they are familiar with from common situations and keep questions in an intuitive sequence.
2) If the answer is unambiguous, allow answers in any format.
3) Keep the form as short and simple as possible and do not ask for unnecessary input.
4) If possible and reasonable, separate required from optional fields and use color and asterisk to mark required fields.
5) To enable people to fill in a form as fast as possible, place the labels above the corresponding input fields.
6) Do not separate a form into more than one column and only ask one question per row.
7) Match the size of the input fields to the expected length of the answer.
8) Use checkboxes, radio buttons or drop-down menus to restrict the number of options and for entries that can easily be mistyped. Also use them if it is not clear to users in advance what kind of answer is expected from them.
9) Use checkboxes instead of list boxes for multiple selection items.
10) For up to four options, use radio buttons; when more than four options are required, use a drop-down menu to save screen real estate.
11) Order options in an intuitive sequence (e.g., weekdays in the sequence Monday, Tuesday, etc.). If no meaningful sequence is possible, order them alphabetically.
12) For date entries use a drop-down menu when it is crucial to avoid format errors. Use only one input field and place the format requirements with symbols (MM, YYYY) left or inside the text box to achieve faster completion time.
13) If answers are required in a specific format, state this in advance communicating the imposed rule (format specification) without an additional example.
14) Error messages should be polite and explain to the user in familiar language that a mistake has occurred. Eventually the error message should apologize for the mistake and it should clearly describe what the mistake is and how it can be corrected.
15) After an error occurred, never clear the already complete fields.
16) Always show error messages after the form has been filled and sent. Show them all together embedded in the form.
17) Error messages must be noticeable at a glance, using color, icons and text to highlight the problem area and must be written in a familiar language, explaining what the error is and how it can be corrected.
18) Disable the submit button as soon as it has been clicked to avoid multiple submissions.
19) After the form has been sent, show a confirmation site, which expresses thanks for the submission and states what will happen next. Send a similar confirmation by e-mail.
20) Do not provide reset buttons, as they can be clicked by accident. If used anyway, make them visually distinctive from submit buttons and place them left-aligned with the cancel button on the right of the submit button.
TRL are working with Transport Scotland to produce a revised STATS19 form that all Police in Scotland could use to collect STATS19 data. The revised form aims to make the data collection consistent and more accurate across Scotland.
We have designed an electronic form in Excel that provides drop-down menus for options and some checks of the data entered.
The following cases are fictional road collisions that have been created to test the redesigned STATS19 form. Please complete STATS19 data for the cases below as directed in your email:
two cases using your current method, if possible
two cases using the revised form that has been developed in Excel,
Some information is not available for these fictional cases, such as the vehicle registration number and home postcodes. Please fill in what you can from the information given.
Photos are based on those from collisions from the On-The-Spot project. TRL undertook this project for the Department for Transport, which involved attending the scene of collisions and carrying out in-depth collision investigation.
Please let us know if you have any comments about the project or the redesigned form.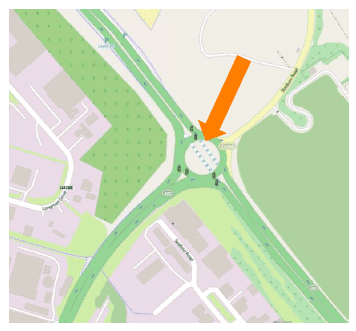 Call on radio to attend accident at Longman roundabout, Inverness on 14/1/2015, 5:23pm
© OpenStreetMap contributors http://www.openstreetmap.org/copyright
Accident occurred at Longman roundabout, junction of A82 and A9, speed limit 50mph.
Vehicle 1, a Ford Transit (similar to shown below), driven by a male aged 34, wearing seatbelt, travelling in the dry in good conditions on A82, aiming to deliver a package to a company in Stadium Road.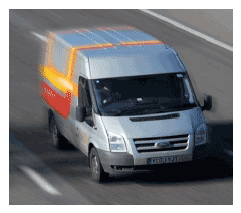 Vehicle 2: a Vauxhall Astra driven by a female (DoB 5/7/72), travelling from A82 to A9 towards Perth to visit a friend.
Both vehicles were on roundabout (street lit) in left hand lane, vehicle 1 behind vehicle 2. Traffic signal on roundabout changed to red, veh 2 driver claimed to stop at red light. Damage to front of veh 1, rear of veh 2.
Driver of vehicle 1 complained of whiplash.
Attend an incident on 17/1/2015, 11:25pm at Barnton Street, Stirling, 100m North of junction with Maxwell Place. Nearest pelican crossing is south of Maxwell Place Junction.
Witness says pedestrian, male aged 24, emerged from between parked cars into Barnton Street. Vauxhall Astra, driven by male (DoB 17/05/77) at scene with damage to front of vehicle.
Witnesses stated that pedestrian had been drinking at local bar.
Vehicle driver stated "I was on my way home from work, travelling North up Barnton Street, when all of a sudden a pedestrian appeared ahead crossing the road from the left. The road was dry, I braked but couldn't stop in time."
Pedestrian was taken to hospital with suspected head injury and fractured left leg. Vauxhall Astra driver was treated for shock.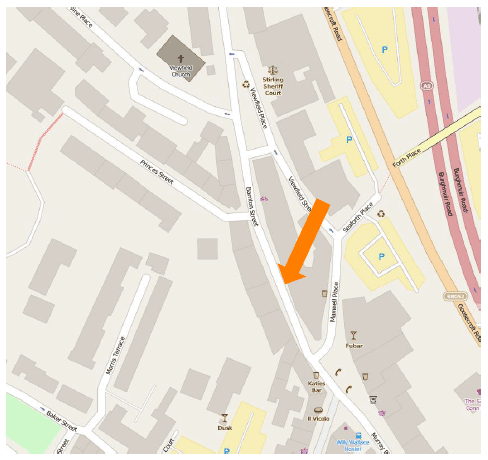 © OpenStreetMap contributors http://www.openstreetmap.org/copyright
Call to attend a road collision on 8/1/2015 at 2:45pm on Queen's Road, Aberdeen. Daylight, but wet.
A Ford Focus vehicle, driven by male (DoB 24/12/39) with a female passenger (aged 72) was reported to be reversing out of their driveway from their house on the south side of Queen's Road. Vehicle at scene of accident located on driveway with damage to rear nearside. Motorbike also found at scene (Triumph Street Triple) facing westbound towards A90. Male motorcyclist (DoB 2/10/68) being treated by paramedics on arrival at the scene
Ford focus driver said that they were on their way shopping and didn't see the motorbike.
Witness suggested that motorbike swerved and slowed, but collision occurred and motorcycle fell onto rider. Paramedics at scene checked motorcyclist, who had bruising and grazing to legs.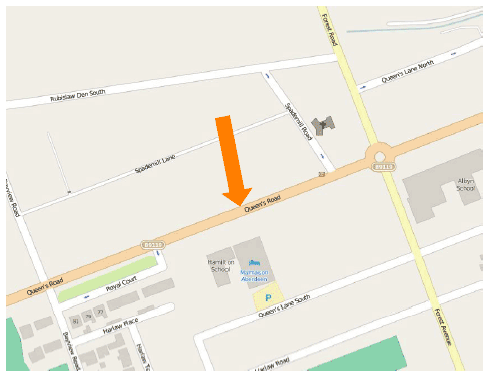 © OpenStreetMap contributors http://www.openstreetmap.org/copyright
Accident attended on 6/1/2015 12:30pm
Blue Peugeot 206 on northbound carriageway of M74 between junctions 10 and 9 near Kirkmuirhall.
Police arrived to find vehicle on its roof on the verge.
Driver (Female, DoB 10/12/1974) was trapped in vehicle, fire and rescue service attended. Driver had multiple injuries including suspected fractured leg and ribs.
Undamaged HGV and driver and Ford Focus car and driver stopped on hard shoulder. Ford Focus driver was travelling behind the Peugeot in the middle lane as the HGV in lane 1 signalled and pulled into lane 2. Peugeot braked sharply, skidded, lost control, rolled and ended up on the verge.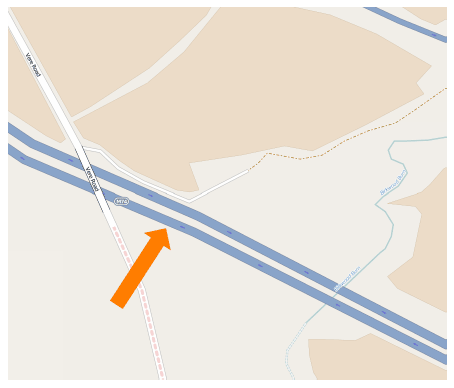 © OpenStreetMap contributors http://www.openstreetmap.org/copyright
Appendix D Example STATS19 forms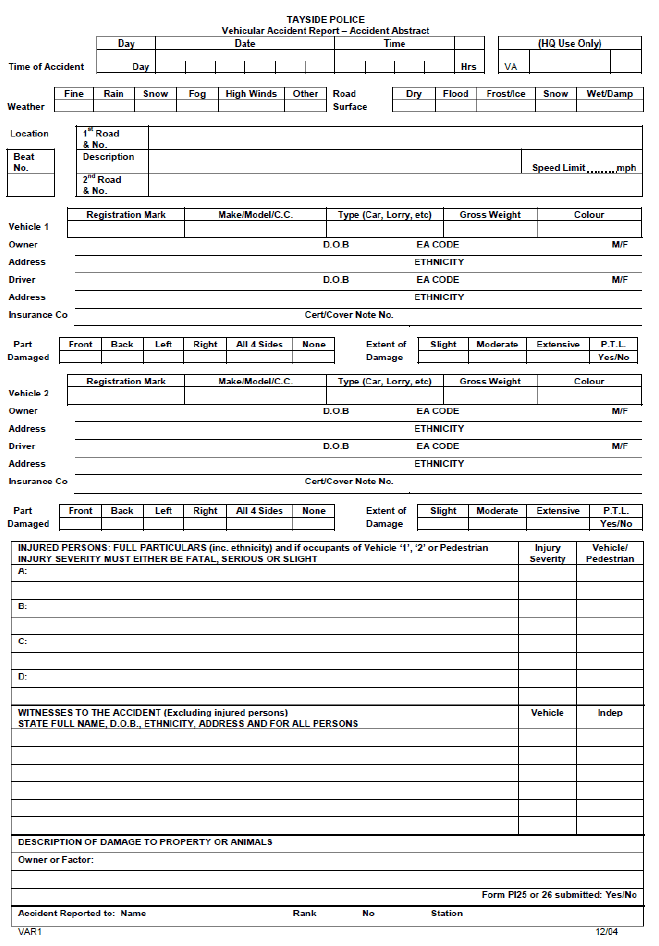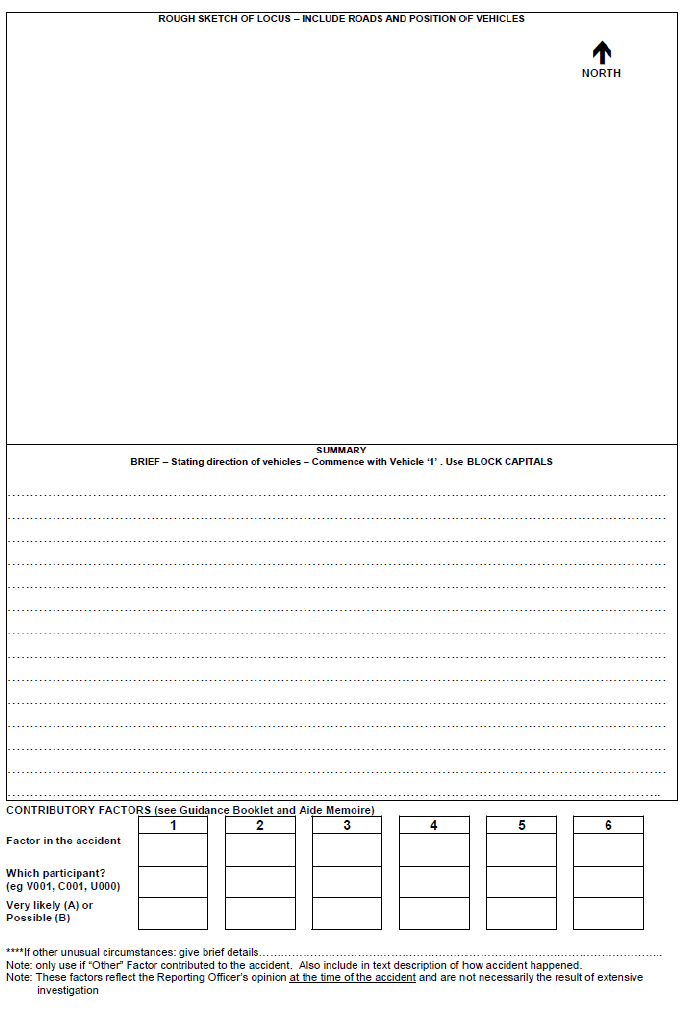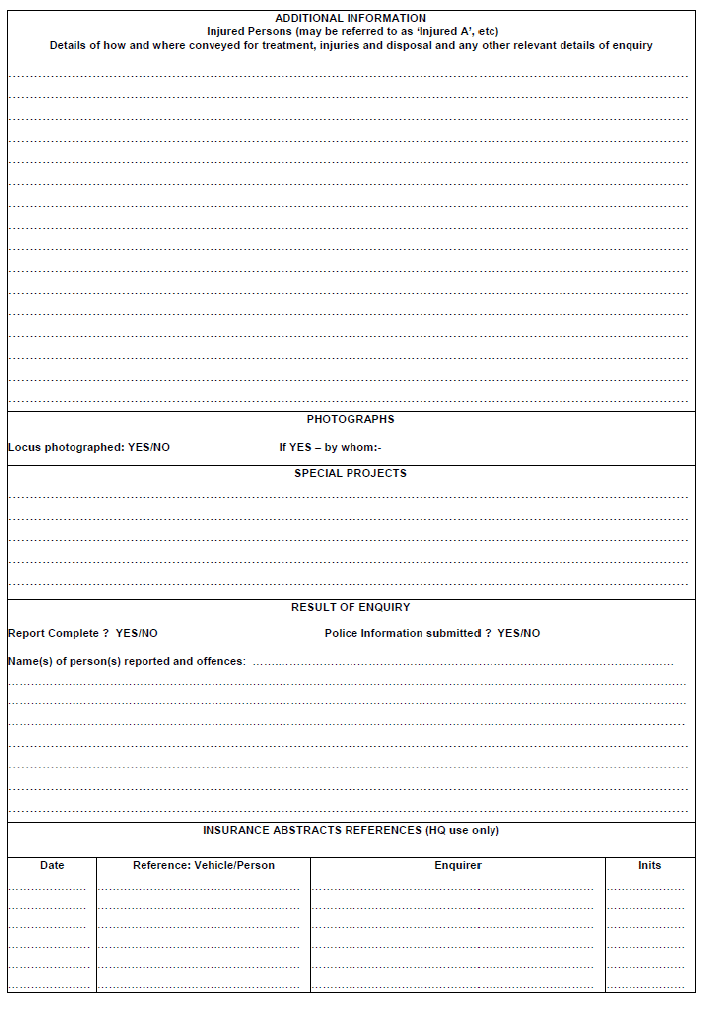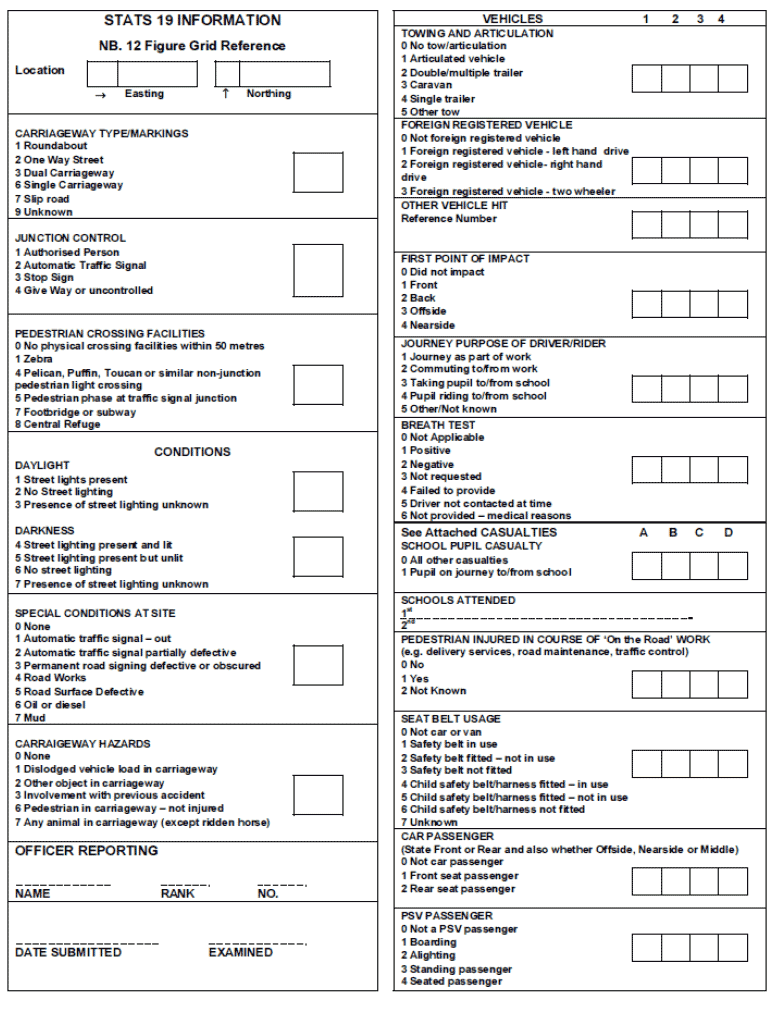 D.2 Ayrshire – U-Division (PDA) form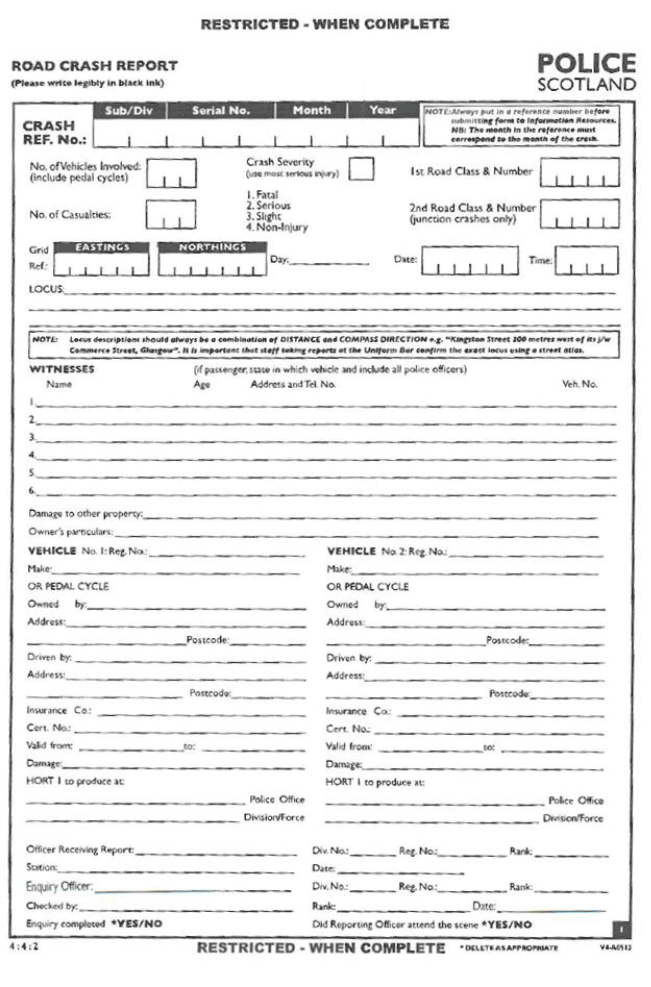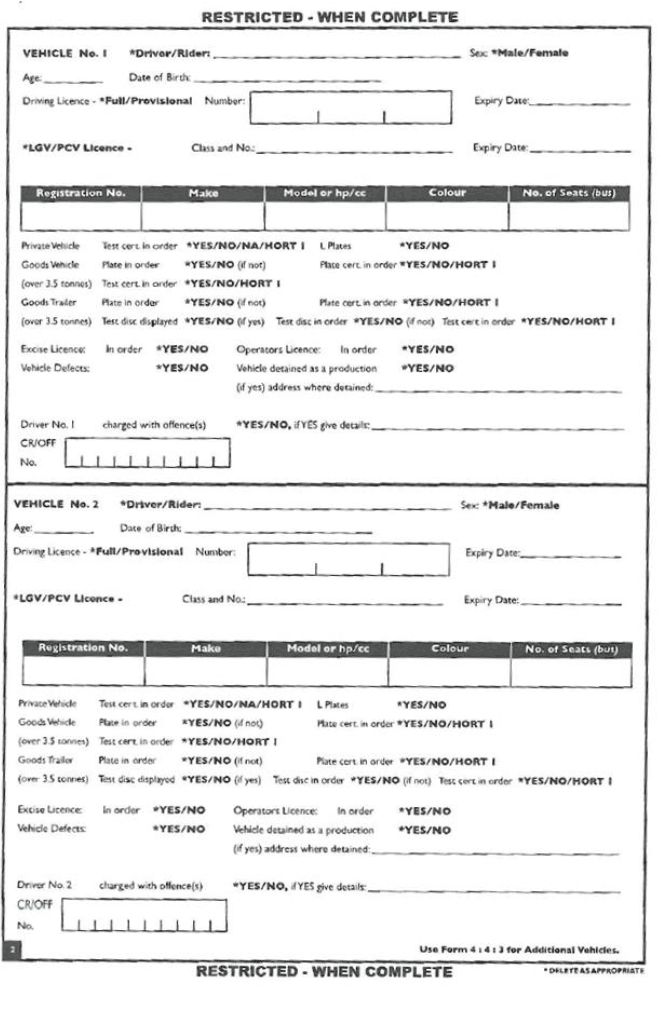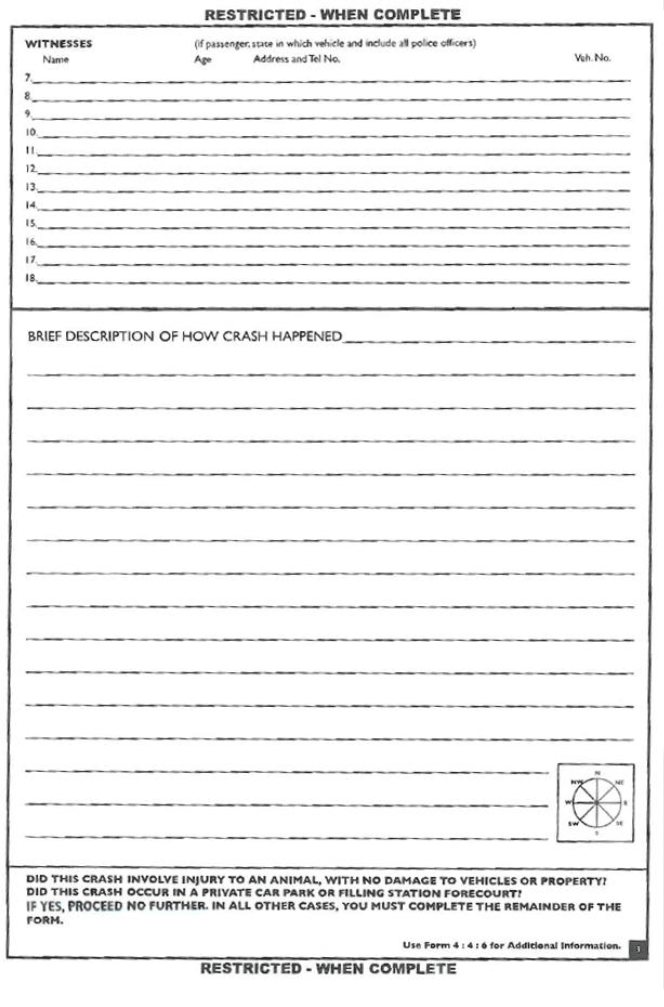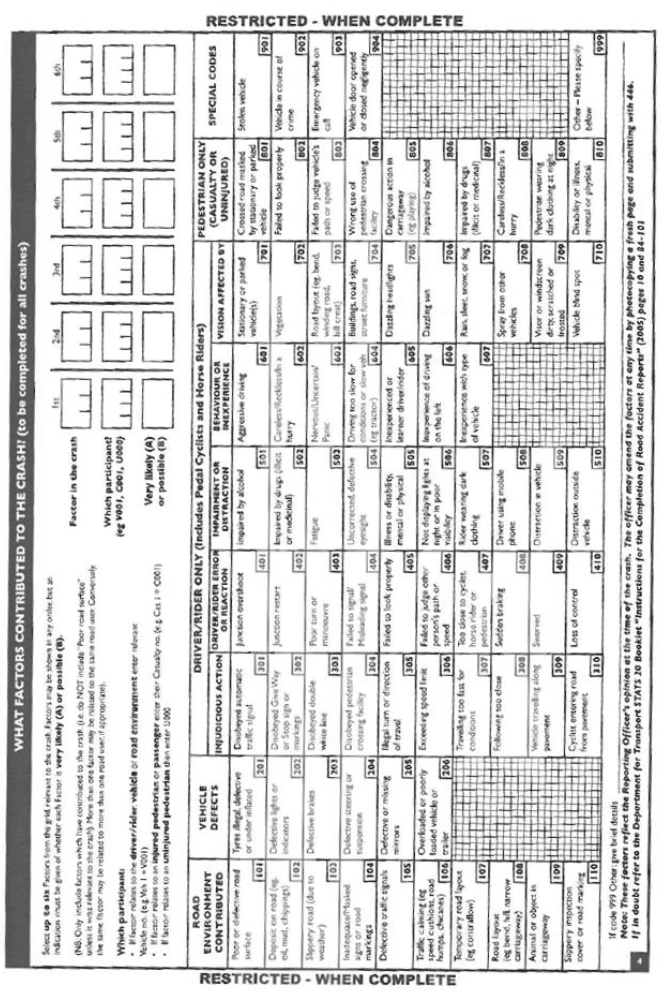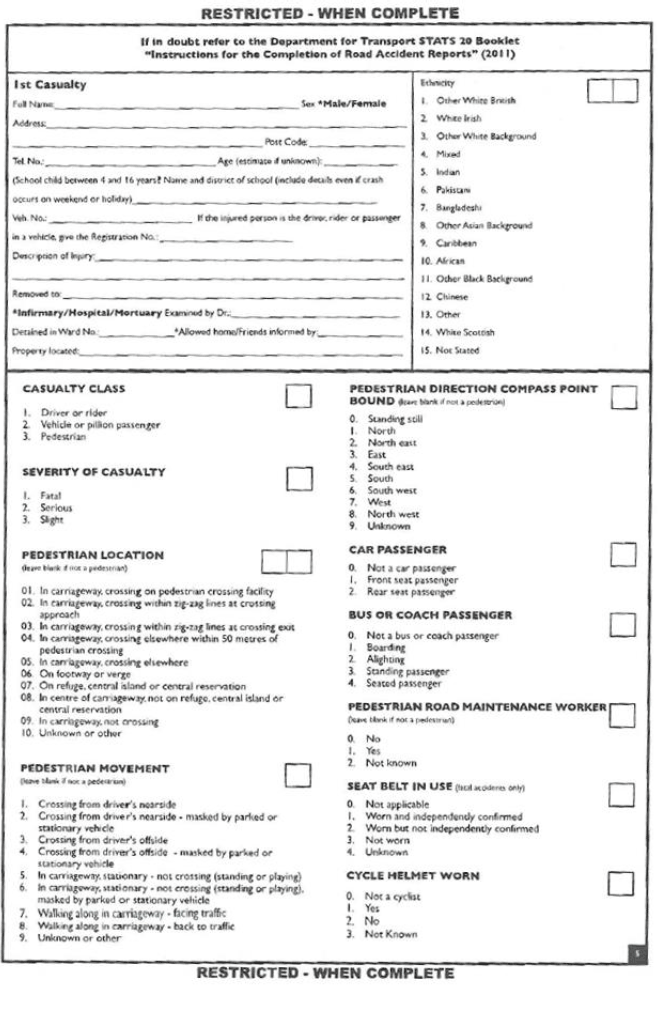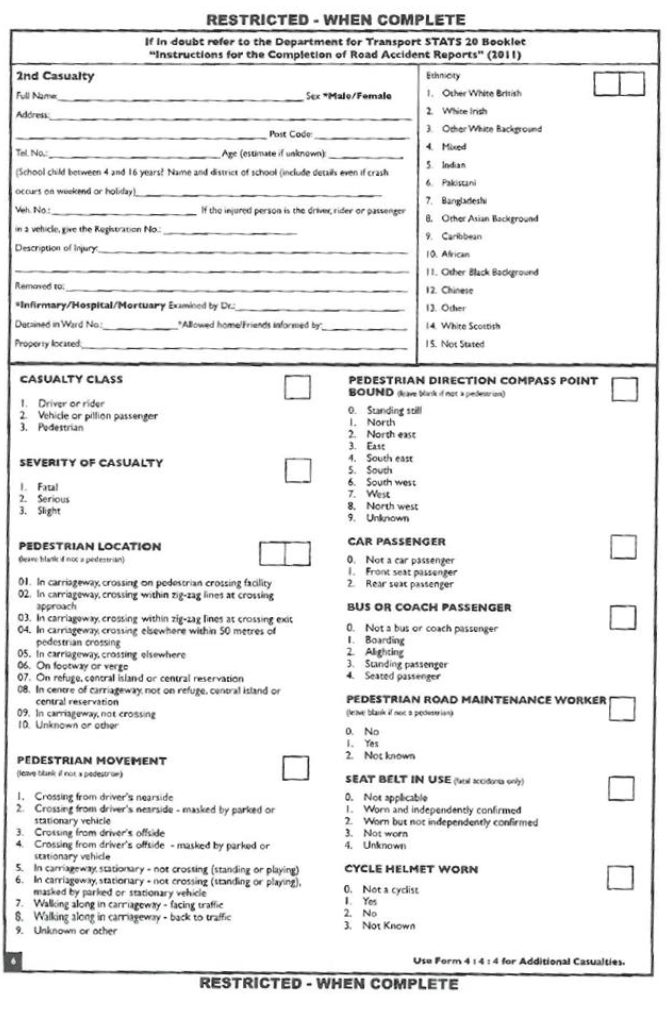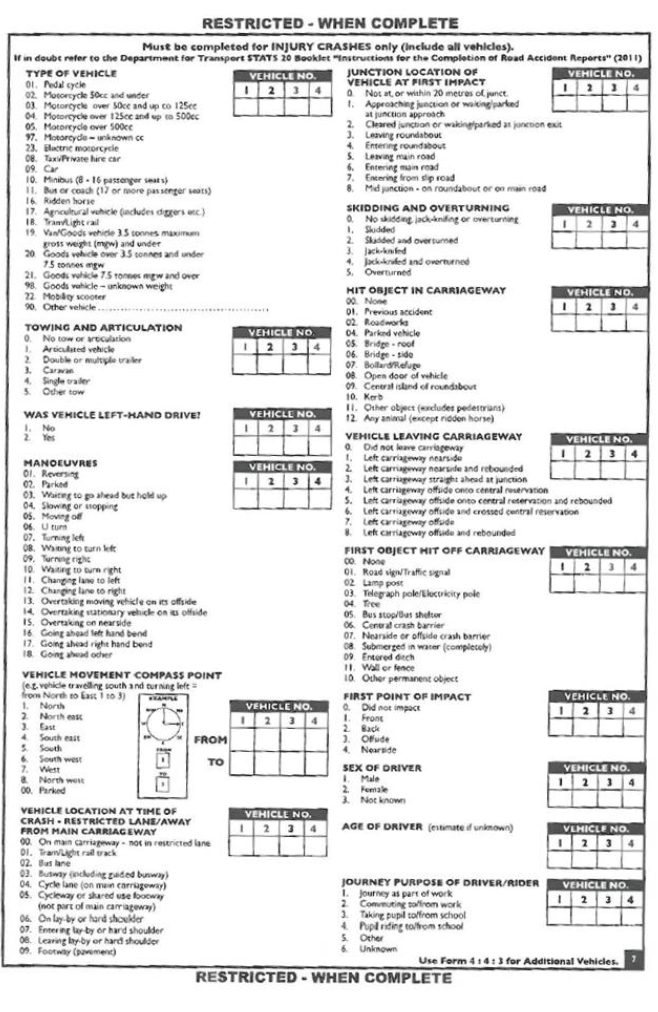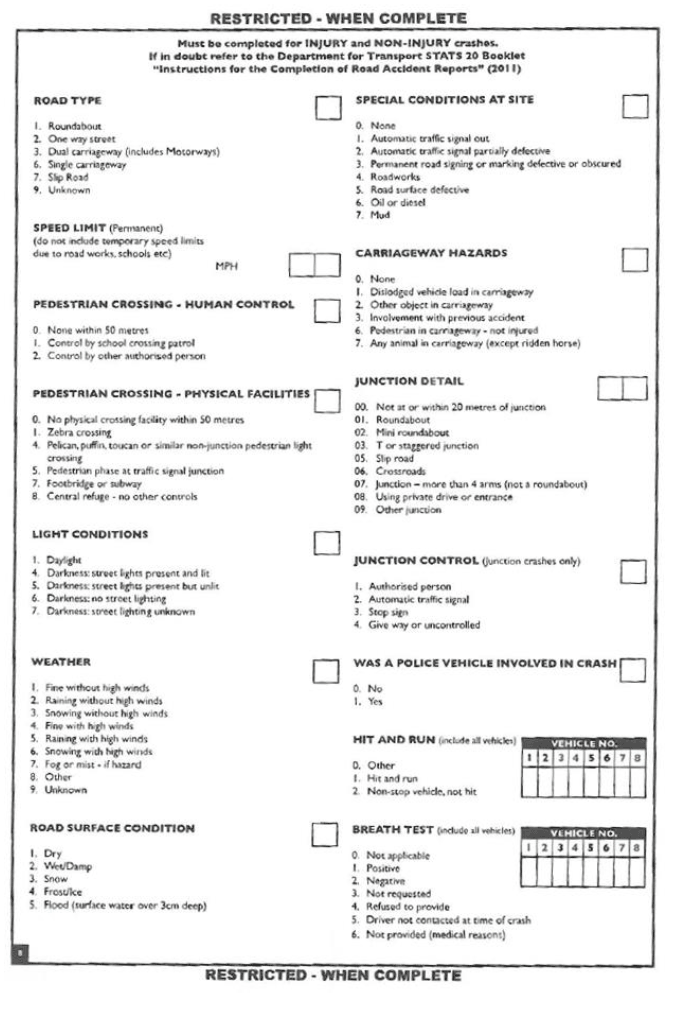 Appendix E Feedback on form and suggested revisions
Table E-1: Suggestions for revisions to form following vignette study
ID
Source
Requirement
Response

1

Project team

Add sheets for additional vehicles and casualties and ensure formulae which reference other sheets look at all.

Additional columns added in vehicle and casualty sheets, with 'freeze panes' used so that labels are visible when a user scrolls right. This was simpler to implement and probably easier to complete for multiple vehicles and casualties without having to use macros which may not be acceptable to IT systems

2

Literature review

Make accident circumstances go down the page only

Done

3

Literature review

Add dd/mm/yy to date label

Done, also hh:mm added to time label

4

Literature review

Right align left labels

Done

5

Literature review

Do not use bold font for labels

Done

6

Feedback

2.23 Breath test – I think it would be helpful to add the guidance info as to what 'not applicable' and 'positive' means as I think this causes confusion

Done

7

Feedback

2.8 Vehicle movement – the compass point requirement also causes confusion for some and it would be helpful to include some guidance re this

Picture and guidance added

8

Feedback

3.9 casualty severity – just a typo 'impatient' rather than 'inpatient'

Done

9

Feedback

3.10 pedestrian location – in the drop down the 2 lines referencing zig-zags don't include the word crossing as in the guidance notes and that confused me at first

Done – the word 'crossing' has been added to the form

10

Feedback

Contributory factors page –typo in last line of info at top – 'vehicle'

Done

11

Feedback

We noticed that some of the validation checks are not compatible with older versions of Excel, so key benefits of the form may be lost to divisions not using the current version of Excel.

Validation rules were revised to be based on named ranges rather than cell references which should solve this problem. Compatibility check with earlier versions of Excel carried out.

12

Feedback

Including some additional validation checks could be useful, to ensure that mutually exclusive options cannot be selected (e.g. car passenger and wearing a cycle helmet).

Checks added within casualty form for car passenger, bus/coach passenger and seat belt and cycle helmet worn based on casualty class.

Not referenced to type of vehicle

13

Feedback

A validation could also be added for things like driver sex/driver casualty sex (e.g. if casualty class is driver then sex of casualty is equal to that for related vehicle). Perhaps it would be possible to 'grey out' or pre-select options based on previous responses as mentioned as a possibility in the draft interim report.

Driver sex validation added

14

Feedback

Some further refinement and routing of some categories could be useful (e.g. under vehicle type, selecting 'HGV' then a separate drop-down with the weight/class).

Vehicle type routing refined to two levels. In each case the second level headings are only shown if required and are reduced to the relevant options based on the first level.

pedal cycle
motorcycle

motorcycle 50cc and under
motorcycle over 50cc and up to 125cc
motorcycle over 125cc and up to 500cc
motorcycle over 500cc
motorcycle – unknown cc
electric motorcycle

taxi/Private hire car
car
minibus (8 - 16 passenger seats)
bus or coach (17 or more passenger seats)
goods vehicle:

goods vehicle over 3.5 tonnes and under 7.5 tonnes mgw
goods vehicle 7.5 tonnes mgw and over
goods vehicle – unknown weight

other:

ridden horse
agricultural vehicle (includes diggers etc.)
tram/light rail
van/goods vehicle 3.5 tonnes maximum gross weight (mgw) and under
mobility scooter
other vehicle

15

Feedback

In order to help with filling in the contributory factor data, perhaps a form like the one attached (factor form) would be useful. It gives an overview of all the contributory factors and could be included as an additional sheet on the form.

Project has shown the majority of respondents like the logical flow of the revised form as it only shows the Contributory factors that are relevant based on the initial selections of participant and type of factor rather than the full list of 78 factors

16

Feedback

What process is followed to add another vehicle/casualty record if there are more than 3?

See number 1

17

Feedback

The accident date field does not accept dates prior to 2015, which means the system cannot accept older submissions including corrections to previously submitted returns.

Dates from 2014 can now be entered

18

Feedback

The 'unknown' option should be removed from the following variables: road type, 2nd road class, special conditions at site, weather, carriageway hazards, towing/articulated, vehicle movement from/to, skid/overturn and sex of casualty. These are for self-reported accidents which do not apply to Scotland.

Removed for accident circumstances, remains for vehicle and casualty details to allow for vehicles which left the scene whose details are unknown

19

Feedback

It might be worth indicating that the driver/casualty age can be estimated but if no reasonable estimate can be made then the field must be blank and not 0 or 999.

Added as comment as suggested

20

Feedback

We also noted that the form generates text responses (e.g. vehicle type = 'car'), whereas STATS19 forms collect data as codes (e.g. car would be '001'), and wondered how the details would be converted into the relevant code as part of the Excel file.

This has not done as this was not a requirement of the project, but could be created in the future.

This could be added to the excel form by looking up the text entered in the lists of variables and fields, which are mostly contained within the workings of the revised form. This would be a final stage once the form layout was agreed for roll out by Police Scotland and the whole process considered.

21

Feedback

Some initial text giving background, purpose and maybe a few key statistics from previous year and providing instructions for inputting acc, veh, cas and CFs

This has been added, with links to each of the accident, vehicle, casualty and contributory factors forms, to STATS29 and reported road casualties Scotland 2013

22

Feedback

There is nowhere to enter the name, address, postcode, for drivers / witnesses

This has not been done as these data are not part of STATS19. These could be included in a revised form but would be for Police Scotland to consider

23

Feedback

There is nowhere to enter the name, address, postcode, for casualties

This has not been done as these data are not part of STATS19. These could be included in a revised form but would be for Police Scotland to consider

24

Feedback

Nowhere to enter a brief summary of the collision

This has not been done as these data are not part of STATS19. These could be included in a revised form but would be for Police Scotland to consider

25

Feedback

Nowhere to enter the full details of the vehicle such as driver details, insurance details, etc.

This has not been done as these data are not part of STATS19. These could be included in a revised form but would be for Police Scotland to consider

26

Feedback

In the 'weather' field can we possibly have 'Fine without high winds' as the first drop down box option as this will likely be the most common choice. I feel if we have 'Fine with high winds' as the first option officers won't read it properly and will select it thinking it is actually 'Fine without high winds'

This has been amended as suggested

27

Feedback

I note a minor spelling error which you may already be aware of, in the contributory factors field, the phrase – 'More than one vehicle or pedestrian may have the same factor' has the word vehicle spelt as 'vehiocle'.

Done

28

Feedback

Create paper based version?

This has not been done as our consultation found that Police Officers did not use a paper form. See also Table 4 giving the advantages and disadvantages of various different formats of form

29

Vignette analysis

Blank data

Added validation to remind users to complete certain key data fields, including grid ref

30

Vignette analysis

Some respondents had not completed 'junction detail' for non-junction accidents as it was inside a box labelled 'junction accidents only'

Junction detail field taken outside of box.

31

Project Team

Text included to indicate fields that are automatically calculated (accident severity, number of vehicles, number of casualties)

Done

32

Vignette analysis

Some respondents had used V1 rather than just 1 in vehicle reference which caused some of the logic checks to return errors

Validation used to only allow integer values.

Text also added to say e.g. 1, 2

33

Vignette analysis

Some respondents had not completed the vehicle reference for the pedestrian

Check included to ask for vehicle which hit a pedestrian
Further copies of this document are available, on request, in audio and large print formats and in community languages (Urdu; Bengali; Gaelic; Hindi; Punjabi; Cantonese; Arabic; Polish).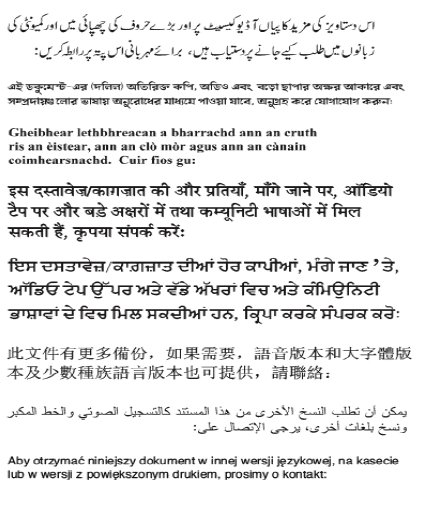 Transport Scotland, Buchanan House,
58 Port Dundas Road, Glasgow, G4 0HF
0141 272 7100
info@transportscotland.gsi.gov.uk
www.transportscotland.gov.uk
© Crown copyright 2015
You may re-use this information (excluding logos and images) free of charge in any format or medium, under the terms of the Open Government Licence. To view this licence, visit http://www.nationalarchives.gov.uk/doc/open-government-licence/ or e-mail: psi@nationalarchives.gsi.gov.uk
Where we have identified any third party copyright information you will need to obtain permission from the copyright holders concerned.
Any enquiries regarding this document / publication should be sent to us at info@transportscotland.gsi.gov.uk
This document is also available on the Transport Scotland website:
www.transportscotland.gov.uk
---