1 Introduction
1.1 Scotland's Transport Network
An effective transport system is crucial to supporting the Scottish Government's purpose to create a more successful country, with opportunities for all of Scotland to flourish, through increasing sustainable economic growth. Scotland's transport network includes trunk roads, local roads, railways, airports and ports. The trunk road network is one of the largest and most visible community assets for which the Scottish Government is responsible. It is used daily for hundreds of thousands of journeys and is fundamental to the economic, social and environmental wellbeing of Scotland. It connects economic centres and remote communities while making a contribution to the wealth of the nation.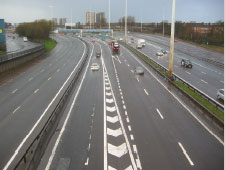 In order for the trunk road network to fulfil its potential, it is vital that it is appropriately maintained. This includes not just carriageways and footways, but also bridges, lighting, traffic signs, drainage networks and much else besides. It is widely acknowledged that inadequate maintenance of the road network will only store up problems for the future. The Scottish Government is committed to ensuring the trunk road network is maintained in a manner that supports its vision, aims and objectives.
Trunk Roads and Local Roads
The Scottish Government sets the overall policy framework for roads and road transport, including trunk and local roads policy, road safety policy, and bus and taxi policy. The public bodies responsible for day-to-day operation and management can be categorised by the road types they look after, namely, local or trunk.
Trunk Roads – the trunk road network is comprised of roads that are considered to be of strategic importance to Scotland's economy, primarily motorways and other major route corridors, ranging from the ten-lane M8 in the centre of Glasgow, to single carriageways in rural areas. The operation, maintenance and improvement of the Scottish trunk road network is the responsibility of Scottish Ministers, delivered via Transport Scotland.
Local Roads – all other roads, except private roads, on the Scottish road network, including the A class roads that are not trunk roads, B and C class roads and unclassified roads, which range from multi-lane dual carriageways to single line rural roads, are the responsibility of individual local authorities.
1.2 Transport Scotland Road Asset Management Plan
The Road Asset Management Plan (RAMP) sets out how Scotland's trunk road network is maintained strategically and efficiently in order to protect our assets and provide the best possible service with the resources available. The RAMP presents the type and number of trunk road assets that we are responsible for, including carriageways, footways, structures, lighting and drainage. For each asset type, the RAMP describes its current condition and the range of activities used to manage and maintain it throughout its life. 
The RAMP describes the asset management techniques that we use to assess outcomes against investment, prioritise maintenance and ensure cost-effective use of resources. It also describes how we engage with road users to understand their views about the service they expect from the trunk road network and how the findings are used to monitor the performance of our maintenance activities.
The RAMP is available on the Transport Scotland website. It is used by us and our service provider staff to provide full visibility of trunk road management and maintenance activities and to drive continual improvement. It may also be of interest to those who wish to know more about the service we propose to deliver and how we intend to do so.
This is the second version of the Scottish Trunk Road Network's RAMP. We have made considerable advances in our asset management practices since the first publication in 2007, however we will strive to refine and continually improve our asset management practices.
Figure 1.1 summarises the context within which our RAMP has been developed. Our starting point is to ensure alignment with, and thereby support, the Scottish Government's Purpose and Strategic Objectives and Transport Scotland's Corporate Delivery Priorities. This is articulated in our Asset Management Policy and given substance in our Asset Management Strategy.
The RAMP sets out how our Asset Management Strategy is currently delivered. Delivery of the Strategy is supported by our Performance Management Framework and our Road Asset Management Manual.
Figure 1.1: Document Hierarchy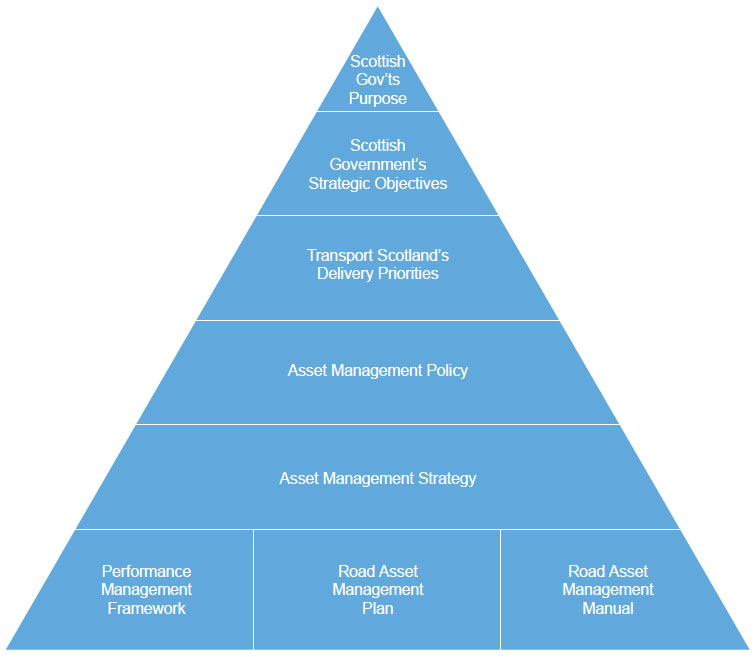 1.4 Our Asset Management Framework
In Transport Scotland we recognise that effective management of all our assets relies on good asset management processes and practices that are fully embedded in all parts of the organisation and our supply chain. Our Asset Management Framework follows best practice to define the context in which we operate, our planning tools, our enablers and our delivery priorities. The Framework is shown in Figure 1.2 and subsequent chapters of this RAMP discuss how the different elements of the Framework influence and contribute to our processes.
Figure 1.2: Asset Management Framework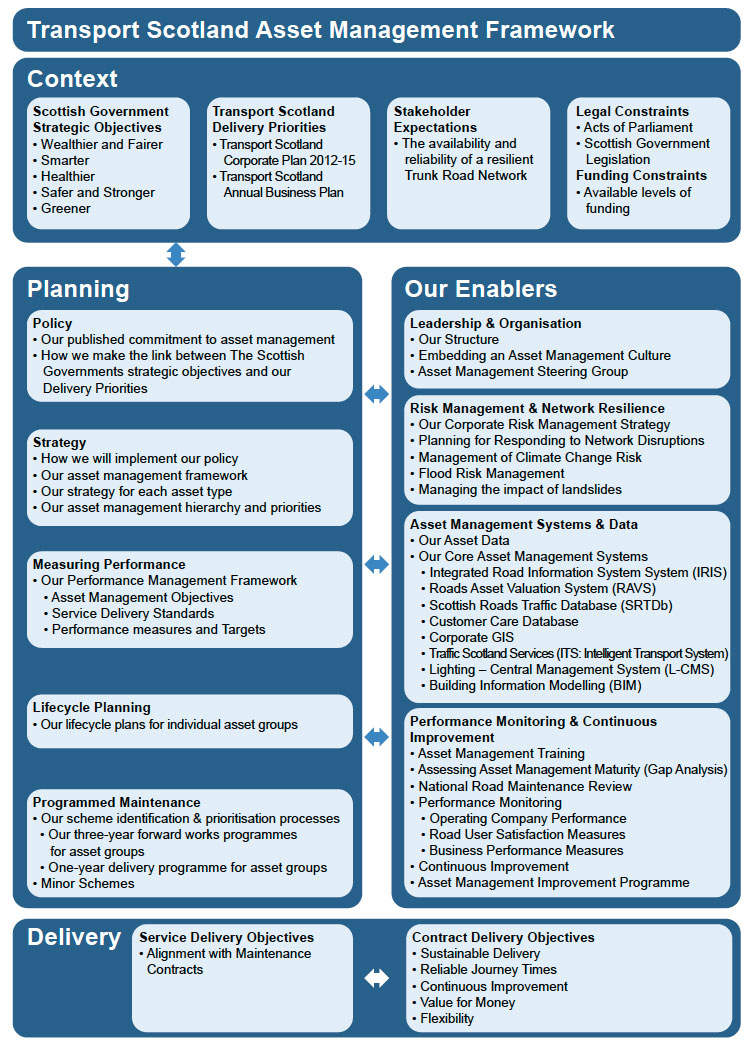 Chapter 2 (Leadership and Organisation) outlines our approach to asset management and describes the organisational structure of Transport Scotland, specifically focusing on governance, roles and responsibilities in relation to trunk road asset management duties and accountabilities. 
Chapter 3 (Asset Management Policy, Strategy and Objectives) presents our Asset Management Policy, Strategy and Objectives that provide the overall context and direction for asset management planning.
Chapter 4 (Measuring Performance) explains how our Asset Management Objectives are translated into Performance Measures and Targets that will be used to monitor performance and drive improvement in our management and maintenance activities.
Chapter 5 (Lifecycle Planning) describes the asset lifecycle activities that are common across asset types.
Chapter 6 (Programmed Maintenance) sets out how our commitments will be delivered via our road maintenance contracts.
Chapter 7 (Risk Management and Network Resilience) explains how we identify, analyse, assess and manage risks associated with service delivery and how we plan for responding to network disruptions.
Chapter 8 (Asset Management Systems and Data) provides an overview of the asset data used to support our asset management practices and our asset management systems.
Chapter 9 (Performance Monitoring and Continuous Improvement) outlines our approach to monitoring performance and driving continual improvement in asset management, including gap analysis and benchmarking activities used to identify our programme of asset management improvement tasks.
Chapter 10 (Financial Management and Valuation) outlines the financial context within which we are required to maintain the trunk road network. 
The Appendices describe, in more detail, the lifecycle activities for each asset type.
1.5 Improvement and Innovation
We are committed to the development and implementation of good practice to gain benefits from lessons learnt at national, regional and local levels and we are committed to the sharing of knowledge and experiences in implementing asset management with other road authorities across the country.
We will measure and monitor the performance of our assets and asset management regime and report in a manner that is beneficial to the organisation and supports continual review and monitoring using our Performance Management Framework. Lessons learnt provide feedback for future planning and implementation to achieve continual improvement in asset performance.
We will review our strategy regularly and update it as required to ensure its continuing alignment with the Scottish Government's Purpose and Strategic Objectives and our Delivery Priorities. The RAMP will be updated to reflect changes in our strategy and/or improvements in the way that we manage our assets.
---