9 Performance Monitoring and Continuous Improvement
9 Performance Monitoring and Continuous Improvement
9.1 General
Asset management, like any business activity or process, is continually evolving and innovating. In Transport Scotland we use formal gap analysis and benchmarking techniques to drive continual improvement alongside regular liaison and sharing with similar organisations. We also aim to align with the latest good practice guidance and provide our staff with appropriate training to continually improve asset management capabilities across the organisation.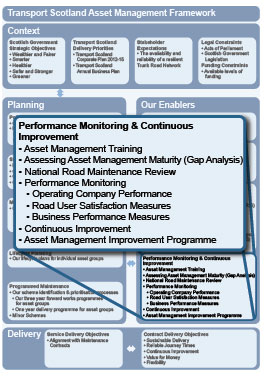 Recognising the importance of competent staff to deliver our asset management aspirations, we continue to review the skills available within our organisation and identify potential gaps. We continue to develop and roll-out asset management training courses across our organisation to address these gaps and ensure that our asset management capabilities are continually improved and aligned with the latest good practice. We are currently working with an Institute of Asset Management Endorsed Training Provider to develop and undertake a series of formal asset management training courses including: 
Executive Briefings – introduction to the benefits, principles and implementation of asset management.
Asset Management Briefing Workshops – introduction to the benefits, principles and implementation of Asset Management, with key concepts for best practice maintenance and renewals.
Asset Management Principles – targeted at specific areas of asset management, enhancing knowledge and developing a set of discipline experts across Transport Scotland.
Asset Management eLearning Courses – designed for those who have had some exposure to asset management and want to gain a solid understanding of its key systems and approaches, while limiting the time spent away from their day to day duties.
9.3 Assessing Asset Management Maturity
We commenced our formal approach to Road Asset Management in 2005, when we undertook our first gap analysis of our asset management activities. This resulted in our first Asset Management Improvement Programme which was implemented between 2006 and 2010.
In April 2009 the Institute of Asset Management launched the PAS 55[2] Assessment Methodology (PAM) Toolkit to allow organisations to assess their asset management maturity. In recognition of this, we carried out further gap analyses in May 2010 and August 2013 using the toolkit. A key outcome was the identification of a number of areas of improvement that we must focus on to further improve and embed asset management as our way of working. The gaps identified formed the basis of our current Asset Management Improvement Programme (see Section 9.7).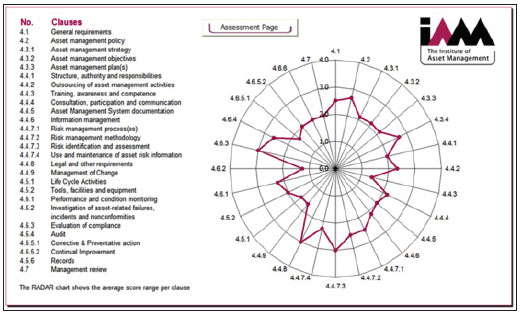 A new suite of Asset Management Standards describing asset management and asset management systems (ISO 55000/1/2) were published by the International Standards Organization (ISO) in January 2014. We are currently undertaking a task to map our existing PAS 55 assessment to the ISO 55000 maturity assessment. Going forward Transport Scotland will be undertaking future gap analysis using this latest methodology, ensuring we continue to develop our asset management strengths and capabilities and providing a common approach for comparison with similar organisations.
9.4 National Roads Maintenance Review
The National Roads Maintenance Review focused on exploring what could be done to improve efficiency within available maintenance budgets, and identifying opportunities for innovation, collaborative working and shared services. The review was jointly led by those responsible for maintaining all of Scotland's road network  –  Transport Scotland, COSLA, SCOTS, SOLACE and the Scottish Road Works Commissioner. Issues considered by the review included:
How the Scottish Government can work better with local authorities.
Lessons from international road management practice.
Productivity and technology innovation.
Resourcing.
Standards and prioritisation.
Wider economic issues, impacts, costs and benefits.
The National Road Maintenance Review was completed in July 2012, resulting in a process being put in place to deliver recommendations on improving the management and maintenance of Scotland's roads. The review has:
Identified a strategic framework to change which will embed best practice, ensure value for money and assist road authorities optimise the delivery of road maintenance services.
Established 30 evidence based initiatives which are estimated to deliver up to 10% efficiency savings.
Recommended that a central resource is established to encourage councils to design and deliver a package of shared service initiatives.
A Strategic Action Group has been set up to oversee the partnership working on road maintenance; the development of collaborative approaches on strategic issues; and ensure delivery of all outputs flowing from the National Road Maintenance Review. The group meets bi-annually and is co-chaired by the Minister for Transport and Islands and COSLA, and includes representatives from Transport Scotland, local authorities and the Scottish Road Works Commissioner.
Further information on the National Roads Maintenance Review and the 30 initiatives can be found at: www.transportscotland.gov.uk/road/maintenance/national-roads-maintenance-review
A key component of the Performance Management Framework described in Chapter 4, is the identification of performance measures that align with our asset management objectives. We already have a number of sources of relevant performance measures, including Service Provider Key Performance Indicators, Road User Satisfaction Measures and Business Key Performance Measures. 
Monitoring the Performance of our Operating Companies
PAG are responsible for monitoring and reporting on the performance under the contract of the Operating Companies who manage and maintain the trunk road network on our behalf.
FIGURE 9.1: EXTRACT FROM 2013/14 PAG ANNUAL REPORT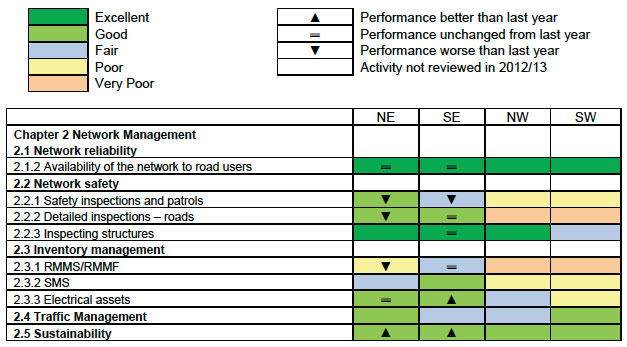 PAG uses a rating system to assist in benchmarking performance against the 21 Performance Indicators, 20 Monitoring Indicators and 14 Payment Adjustment Factors specified in the Operating Company Contract. Performance is reviewed and discussed at monthly progress meetings. PAG also publish an annual report on the performance of the Scottish trunk road Operating Companies in their service delivery. The rating system is applied throughout the report to reflect overall Operating Company performance for the various areas reviewed and provides a comparison with OC performance in previous years.
The latest PAG annual public report on the performance of the Operating Companies can be found at www.performanceauditgroup.co.uk/publicat
Road User Satisfaction Measures
Since 2009 we have been undertaking annual surveys of a representative sample of road users to identify trunk road issues that are important to them and the levels of service they expect or desire. This allows us to gauge current levels of satisfaction and compare and trend current and past levels of satisfaction in order to identify areas for improvement. The questions cover a variety of topics such as:
Asset condition – opinion of the condition of the trunk road network and associated assets.
Road works – opinion on how these are informed and operated in order to try and keep disruption to the travelling public to a minimum.
Severe weather planning – opinion on Transport Scotland's performance in keeping routes open and in communicating the risk of severe weather. 
Communications – information from customers on how they access information on the status of trunk roads and their opinion of this service.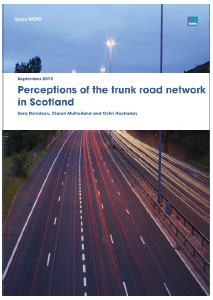 In order to express the survey findings in a way that stakeholders can understand, the results have been translated into four level of service bandings; namely poor, fair, good and excellent. The majority of provisions were rated as good or excellent in the 2015 survey. 
FIGURE 9.2: SUMMARY OF ROAD USER SATISFACTION FINDINGS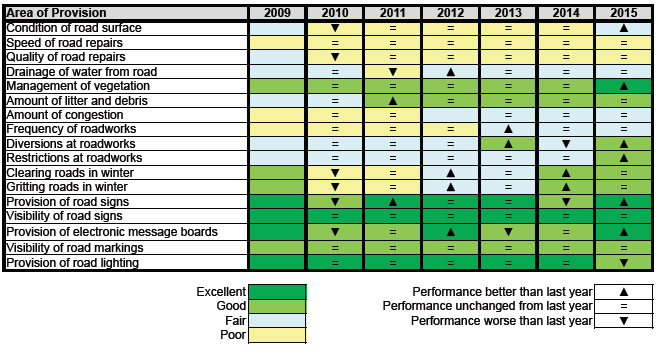 We are currently undertaking a study, with consultant support, to establish if any correlation exists between our engineering condition measures and customer satisfaction results. Further information on the surveys and their findings can be found in the link:  www.transportscotland.gov.uk/road/maintenance/road-asset-management-plan
In our recent 2015 survey, we also asked a series of customer standards questions. We asked our road users when they think Transport Scotland must intervene for number of typical carriageway defects such as flooding, cracking, rutting and fretting[3]. The findings from these questions will be used to better understand the carriageway condition range that is acceptable to road users.
Figure 9.3:  Customer standards question for fretting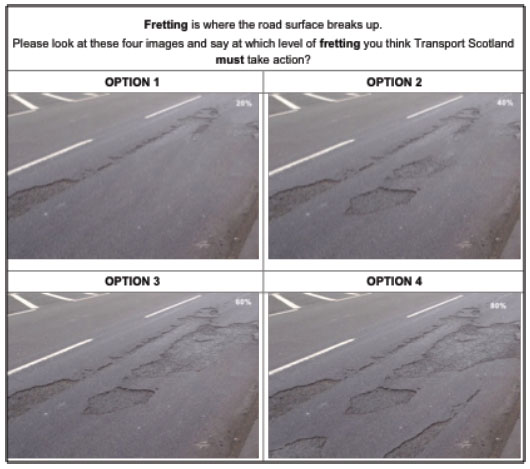 Business Performance Measures
The Trunk Road and Bus Operation Directorate has a number of other roles and responsibilities that are not fully covered by the aforementioned OC contract KPIs and road user measures. A number of engineering measures (such as road condition measures, bridge condition, asset value, backlog etc.) are also evaluated, monitored and reported at set intervals. 
We regularly provide Scottish Ministers with an overview of the trunk road assets we manage and maintain, their condition, backlog and current pressures, and financial forecasts covering a 5- to 10-year period to ensure that decisions are taken with an understanding of their medium to long-term implications.
In Transport Scotland we are driving continual improvement in our asset management practices through:
Regular liaison and sharing of information with other road authorities, both formal and informal, nationally and internationally. We have regular knowledge sharing exercises with the other three UK strategic roads authorities; Highways England, Welsh Government and Transport NI.
Encouraging both our own staff and our supply chain to challenge practices on an ongoing basis, looking for areas for improvement and efficiencies. In April 2015 we launched our innovation fund to encourage our Operating Companies to submit proposals for studies, trials or research aimed at delivering innovation and improvement.
Being actively involved in key research and development work, for example, through the UK Roads Liaison Group. We annually commission research and development work to deliver improvements in safety, construction, operation and maintenance of the Scottish road network through the Scottish Road Research Board (SRRB). The SRRB is a partnership between Transport Scotland and the Society of Chief Officers for Transportation in Scotland (SCOTS) and the Scottish Road Works Commissioner (SRWC).
Keeping abreast of latest issues, sharing information and experiences, reviewing innovations and developing and informing advice on best practice through involvement in appropriate groups and national forums (such as the World Road Association, SCOTS Groups, UK Roads Liaison Group and UK Bridges Board) and attendance at conferences and seminars.
9.7 Asset Management Improvement Programme
We see our commitment to asset management as a long term investment in the Scottish trunk road network and have an ongoing improvement plan to ensure that we remain a world class network operator. To support this we have identified a number of improvement tasks, as shown in Figure 9.2, that we are delivering with external consultant support through our Multiple Framework Agreement for Asset Management. 
Figure 9.4:  Planned Improvement Tasks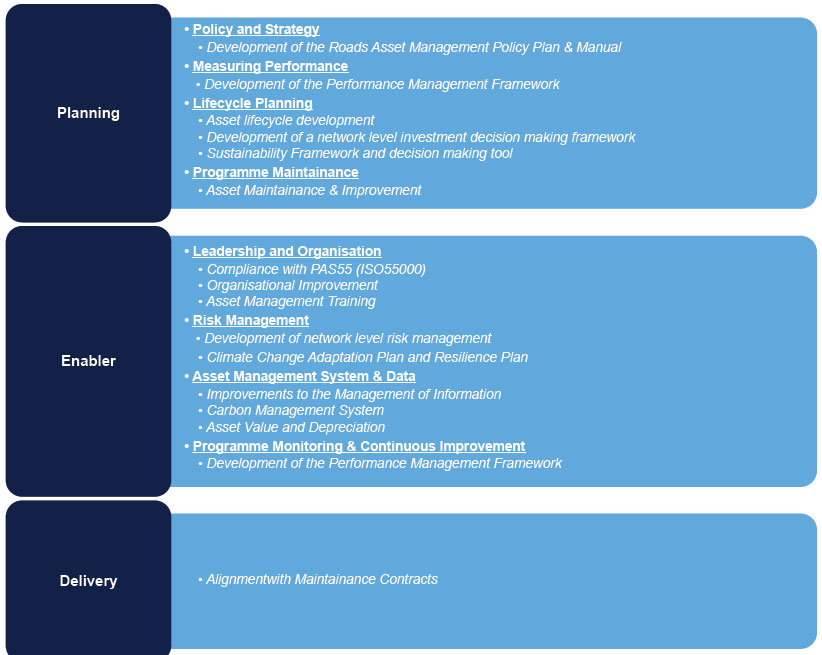 We will continue to ensure that our asset management improvements are embedded into and delivered through our Operating Company Contracts. We are currently developing our 5th Generation Contracts. Through our Asset Management and Procurement Newsletter, we will continue to disseminate information to both Transport Scotland and supply chain staff regarding the latest advances in the field of roads asset management, and how these are being implemented.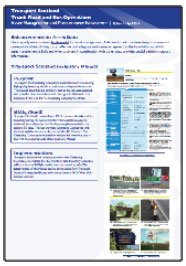 9.8 Management and Control of the Plan
The RAMP is a controlled document with named individuals responsible for endorsing the plan, communicating the plan, monitoring of improvement actions and authorising updates as and when required. Within Transport Scotland, the Trunk Road and Bus Operations Directorate is responsible for managing and maintaining the assets described in the RAMP. The persons with responsibility for the delivery of this RAMP and their roles within the process are as detailed below in Table 9.1.
Table 9.1: RAMP Ownership Details

Role

Position in Transport Scotland

Approval of the RAMP

Transport Scotland Board

Asset Management Steering Group

RAMP Sponsorship within Trunk Road and Bus Operations. Allocate and prioritise trunk road resources to facilitate implementation of asset management strategies.

Head of Asset Management & Procurement

Head of Engineering & Commercial Services

Implementation of the RAMP and monitoring of improvement actions, development and updating of the RAMP and associated documentation.

Head of Asset Management

Head of Network Maintenance

Chief Bridge Engineer – Head of Structures

Day-to-day implementation of appropriate lifecycle plan, identifying asset specific investment requirements and updating of procedures and documentation as required.

Asset Owners/Champions

Ensuring data management procedures are followed and continued development of information management systems for all assets.

Head of Asset Information
Considerable enhancements have been made to Transport Scotland's asset management practices since the publication of the first RAMP in 2007. Transport Scotland is committed to continually improving asset management practices and these will be reflected in future periodic updates of the RAMP.
---