Scottish Transport Statistics No 30: 2011 Edition
Figure 5.12 Atmospheric concentrations of selected pollutants recorded at urban and rural monitoring sites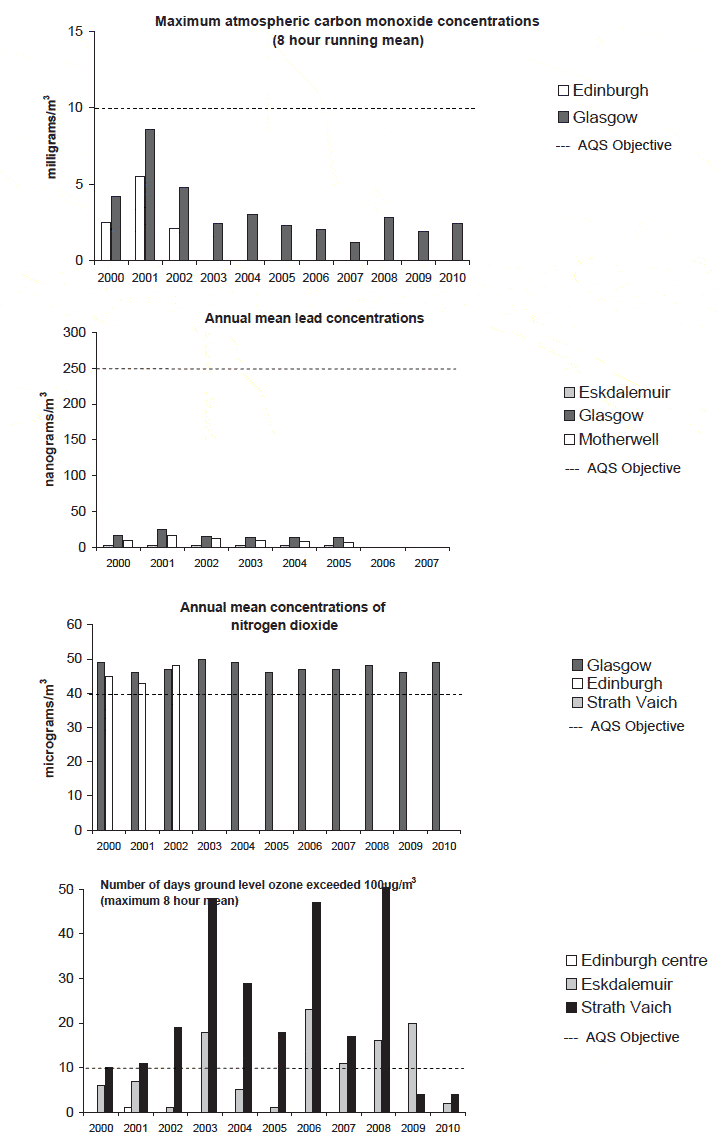 Table 5.12 Atmospheric concentrations of selected pollutants (*) recorded at Air Quality Monitoring Stations
Air Quality
monitoring station1
2000
2001
2002
2003
2004
2005
2006
2007
2008
2009
2010
Benzene2
micrograms per cubic metre
Edinburgh Med school
1.7
0.4
..
..
..
..
..
..
..
..
..
Carbon monoxide3
milligrams per cubic metre
Edinburgh Centre
2.5
5.5
2.1
*
..
..
..
..
..
..
..
Edinburgh St Leonards
..
..
..
*
1.3
1.7
1.3
1.2
1.5
3.2
0.8
Glasgow Centre
4.2
8.6
4.8
2.4
3.0
2.3
2.0
1.2
2.8
1.9
2.4
Lead4
nanograms per cubic metre
Eskdalemuir
3
2
3
3
2
3
..
..
..
..
..
Glasgow
17
25
15
14
14
13
..
..
..
..
..
Motherwell
9
16
12
10
8
7
..
..
..
..
..
Nitrogen dioxide5
micrograms per cubic metre
Edinburgh Centre
45
43
48
*
..
..
..
..
..
..
..
Edinburgh St Leonards
..
..
..
..
25
25
27
27
31
24
31
Glasgow City Chambers
49
46
47
50
49
46
47
47
48
46
49
Strath Vaich
..
..
..
..
..
..
..
..
..
..
..
Aberdeen Errol Place
24
25
27
31
26
24
27
24
25
26
22
Dumfries
..
38.0
38
38
37
36
37
38
37
35
40
Glasgow (Centre)
36
34
32
*
36
33
31
31
35
42
44
Glasgow (Kerbside)
72
71
74
75
68
62
68
70
82
78
84
Grangemouth
..
19
16
22
17
16
18
16
17
18
19
Inverness
..
..
22
23
23
21
21
22
21
21
24
Ozone6
micrograms per cubic metre
Edinburgh Centre
30
30
35
*
..
..
..
..
..
..
..
Edinburgh St Leonards
..
..
..
..
53
53
52
48
49
52
33
Eskdalemuir
47
46
48
51
53
51
58
54
57
56
55
Strath Vaich
66
68
69
73
76
67
72
68
73
67
61
daily 8-hour running mean exceeding 100ug/m3
Edinburgh Centre
0
1
0
*
..
..
..
..
..
..
..
Edinburgh St Leonards
..
..
..
..
12
13
16
9
14
3
0
Eskdalemuir
6
7
1
18
5
1
23
11
16
20
2
Strath Vaich
10
11
19
48
29
18
47
17
65
4
4
Particulates (PM10)7
micrograms per cubic metre
Edinburgh Centre
23
25
27
*
..
..
..
..
..
..
..
Edinburgh St Leonards
..
..
..
..
19
18
20
19
15
*
14
Glasgow Centre
28
22
20
21
*
20
21
20
19
25
23
Aberdeen Errol Place
19
15
18
22
19
19
20
17
16
15
13
Grangemouth
..
20
17
19
16
15
18
16
15
13
14
Source: Scottish Government - Not National Statistics
(1) The Aberdeen, Dumfries, Edinburgh Centre, Glasgow Centre, Glasgow Kerbside, Glasgow City Chambers, Grangemouth and Inverness sites are urban monitoring sites, and Eskadale and Strath Vaich are rural sites.
(2) Maximum running annual mean concentation of Benzene.
(3) Maximum annual eight hour running mean.
(4) Annual average concentrations of atmospheric lead.
(5) Annual mean concentration of atmospheric nitrogen dioxide.
(6) Annual mean ground level ozone concentration.
(7) Annual mean atmospheric PM10 concentration.
(*) Since 2003, results where data capture is less than 75% are not shown. Prior to 2003, a 50% data capture threshold is used.
---