2 Option Generation, Development and Sifting Process 2.1 Approach 2.2 Initial Generation of Interventions 2.3 Existing Proposals 2.4 Development of Intervention Packages 2.5 Deliverability of Interventions 2.6 Output from Option Sifting Process
2 Option Generation, Development and Sifting Process
2.1 Approach
This Chapter describes the method used for generating intervention packages for consideration in the appraisal process of the STPR. This follows on from the identification of constraints and opportunities presented in Report 1 and the setting of expectations and objectives shown in Report 2.
The methodology for generating, developing and sifting proposed intervention packages is shown in Figure 2. The generation and sifting process was informed by:
The Government's central Purpose of increasing sustainable economic growth;
Key Strategic Outcomes of the National Transport Strategy, and the network investment hierarchy;
Constraints and opportunities across Scotland's transport network highlighted in Report 1;
National objectives and specific objectives for urban networks, Strategic nodes and corridors, as listed in Report 2; and
Aspirations and proposals of key stakeholders.
Figure 2 Approach to Intervention Generation and Development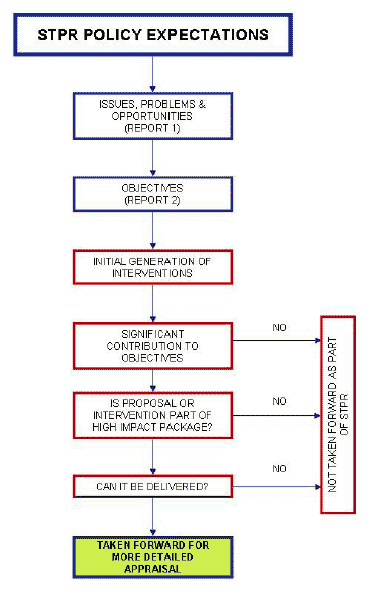 2.2 Initial Generation of Interventions
Interventions were developed in progressive stages, with a series of iterative refinements to improve their focus and effectiveness. Further recognition of the investment hierarchy was considered when identifying appropriate levels of interventions. The hierarchy is:
Firstly, maintain and safely operate existing assets;
Secondly, promote a range of measures, including innovative solutions, to make better use of existing capacity (interventions may include technology based, fiscal and 'soft measures' in addition to engineering solutions); and
Thirdly, promote targeted infrastructure improvements.
The STPR will therefore not bring forward recommendations for infrastructure improvements without first considering the requirement for, and effectiveness of, interventions in the first two categories.
Initial development of interventions was undertaken through internal workshops involving members of the Consultant's team and the Scottish Government with knowledge and experience in a variety of transport fields. This approach brought a wide range of experience, expertise and views to the intervention development process. All members of the workshops were familiar with the issues, constraints and opportunities detailed in Report 1, together with the objectives detailed in Report 2.
Interventions were initially developed with a focus on addressing the specific issues within the urban networks, strategic nodes and corridors. Further development work was then undertaken to address, where possible, national and cross corridor issues to identify appropriate interventions.
2.3 Existing Proposals
It is important to take due cognisance of the views of stakeholders when developing the potential options to be taken forward within the STPR. Consequently, a review of existing proposals was undertaken, largely by desk research and dialogue with Regional Transport Partnerships and the other STPR Reference Groups. This identified proposals that may address particular stakeholder objectives but did not necessarily match those of the STPR. Some stakeholder-generated proposals were considered for the STPR providing they were within the context of Government policy and the STPR objectives. Those which were within context and scope were taken forward to the subsequent development of intervention packages. Those considered not being in context or scope are listed in Appendix B.
2.4 Development of Intervention Packages
A key principle of the STPR is that interventions should make a significant contribution to the objectives defined in Report 2. Emerging interventions were assessed against these criteria. Those which did not meet the criteria were considered for packaging together with other complementary interventions. Those which were not packaged in this manner were not taken forward for further appraisal and are listed in Appendix B.
The packaging process brought together complementary interventions to optimise their chances of appraisal success in the progression following initial and detailed appraisal stages at a scale of operation commensurate with the STPR. Initial packages were therefore defined at a high level and could contain specific interventions essential to their definition and others that were valuable but not essential. Interventions that were taken forward to the formal appraisal process were then reviewed and, if appropriate, defined in a greater level of detail.
2.5 Deliverability of Interventions
Developed intervention packages were assessed against deliverability criteria. This included consideration of any major potential legal, technical, financial or environmental obstacles to delivery within the STPR timescale. It is expected that the STPR will not specifically include interventions that are the responsibility of Local Authorities and Regional Transport Partnerships to develop and deliver. However, it is recognised that a range of delivery partners will be needed for measures which address both national and local objectives. Those that were not considered viable due to deliverability issues were not taken forward, and are listed in Appendix B.
2.6 Output from Option Sifting Process
Table 2.1 lists those interventions that were considered to merit further appraisal within this review. Further details of these interventions and the specific objectives that they meet are contained in Appendix A.
Table 2.1: Interventions taken forward from Sifting Process
National, Urban Networks, Strategic Nodes and Corridors

Intervention ID

Intervention Title

National

301

Expansion of Trunk Road Intelligent Transport System

302

Enhancing Rail System Capacity through Targeted Improvements

303

Further Electrification of the Strategic Rail Network

304

Integrated Ticketing

305

Reconfiguration of the National Rail Timetable

307

Creation of Strategic Park-&-Ride/Choose Sites and Quality Bus Corridors

308

Strategic Road Safety Plan

Aberdeen

67

Aberdeen Airport Public Transport Interchange

115

Aberdeen Bus Priority Measures and Park-&-Ride Network

162

Suburban Light/Heavy Rail Services Across Aberdeen

Dundee

15

Suburban Rail Services Across Dundee

60

Dundee Northern Relief Road

61

Grade Separation of Junctions on the A90 Kingsway in Dundee

62

Dundee Bus Priority and Park-&-Ride Network

63

Co-locate Dundee Bus Station with Rail Station

Edinburgh

72

Expand Edinburgh South-East Bus Priority and Park-&-Ride Network

76

Upgrade Edinburgh Haymarket Public Transport Interchange

77

Edinburgh Waverley Public Transport Interchange

84

Rail Service Frequency Enhancements between Edinburgh and Newcraighall

114

Suburban Rail Services Across Edinburgh

121

Priority Vehicle Lane on the M8 between Junctions 1 and 3

122

Priority Vehicle Lane on the M90/A90 between Halbeath and the Forth Road Bridge

129

Priority Vehicle Lane on the A720 Edinburgh City Bypass

156

Intelligent Transport System Initiatives on the A720 Edinburgh City Bypass

Glasgow

25

Divert Cumbernauld and Falkirk Grahamston Services to Glasgow Queen Street Low Level

41

M77 Corridor Bus Priority Measures and Park-&-Ride Network

43

Glasgow Subway Upgrade and Modernisation

44

Divert Whifflet and Edinburgh (via Shotts) Rail Services to Glasgow Central Low Level

48

Construction of Glasgow Crossrail

50

New-Cross Glasgow Rail Tunnel connecting Shields, Muirhouse, Cowlairs and Bellgrove

51

Lengthen Trains and Platforms in Strathclyde

53

Glasgow Light Rapid Transit Network and Busway System

116

M74 Bus Priority Measures and Park-&-Ride Network between Glasgow City Centre and Areas to the South-East

175

New River Clyde Rail Crossing and Glasgow Outer-Suburban Circular Rail Service

182

New Glasgow City Centre Rail Terminal at St Enoch

Inverness

55

Inverness Southern Bypass from the A96 to the A82

Perth

161

Grade separation of Broxden and Inveralmond roundabouts

1 Inverness to Wick / Thurso and Northern Isles

1

Augment Far North Line Rail Services with Express Coach Services

109

Speed Enforcement Measures on the A9 north of Inverness and on the A99

110

Online Trunk Road Improvements on the A9 North of Tore Roundabout and the A99

126

Rail Infrastructure and Service Enhancements on the Far North Line

2 Inverness to Ullapool and Western Isles

78

Speed Enforcement Measures on the A9 between Inverness and Tore and on the A835

79

Online Trunk Road Improvements on the A835 between Tore Roundabout and Ullapool

3 Inverness to Fort William and Western Isles

2

Speed Enforcement Measures on the A82 between Inverness and Fort William, the A87, the A887 and the A830

9

Online Trunk Road Improvements on the A82 between Fort William and Inverness, the A87, the A887 and the A830

4 Aberdeen to Inverness

3

Upgrade A96 to Dual Carriageway between Inverness and Nairn

4

New Bypasses on the A96

5

Speed Enforcement Measures on the A96

6

A96 Road Safety Improvements

8

A96 Dual Carriageway between Inverness and Aberdeen

56

Inverness Bus Priority Measures and Park-&-Ride

58

Rail Service Enhancements between Inverness and Nairn

142

Rail Service Enhancements between Aberdeen and Inverness

152

Express Coach Service Facilities between Aberdeen and Inverness

5 Dundee to Aberdeen

16

Rail Service Enhancements between Aberdeen, Dundee, Edinburgh and Glasgow

145

Rail Freight Enhancements between Mossend, Grangemouth and Aberdeen via Perth

167

Roll-On Roll-Off Rail Freight Enhancements between Mossend, Grangemouth and Aberdeen/Inverness via Perth

6 Inverness to Perth

10

A9 Dualling

11

A9 Upgrading

13

Rail Enhancements on the Highland Mainline between Perth and Inverness

146

Rail Freight Enhancements between Mossend, Grangemouth and Inverness

7 Glasgow to Oban/Fort William and Western Isles

29

Online Trunk Road Improvements on the A82 South of Fort William, A83, A85 west of Tyndrum and A828

30

Speed Enforcement Measures on the A82 between Glasgow and Fort William, the A83 between Tarbert and Kennacraig, the A85 between Tyndrum and Oban, the A828 and on the A830

8 Aberdeen to North East Scotland

170

Online Trunk Road Improvements on the A90 north of Aberdeen

9 Glasgow to Perth

23

Upgrade of M80 Junction 1/M8 Junction 13

26

Lengthen Trains and Platforms between Glasgow and Dunblane/Alloa

42

M80/A80 Corridor Bus Priority Measures and Park-&-Ride Network

128

Speed Enforcement Measures on the M80/M9/A9 Corridor between Glasgow and Perth

153

Grade Separation of Junctions on the A9 between Keir Roundabout and South of Perth

157

Intelligent Transport System Initiatives on the M80 and A80

10 Edinburgh to Stirling

17

Lengthen Trains and Platforms Between Edinburgh and Dunblane

18

Rail Service Frequency Enhancements between Edinburgh and Dunblane

20

M9 Bus Priority Measures and Park-&-Ride Network

21

Grangemouth Road Access Upgrades

22

Rail Access Improvements to Grangemouth

12 Edinburgh to Perth

35

Rail Service Enhancements between Perth and Edinburgh

36

New Rail Line between Perth and Inverkeithing

154

Intelligent Transport System Initiatives on the M90 and A90

163

Rail Freight connections to the Port of Rosyth

13 Edinburgh to Glasgow

32

New Light Rapid Transit Line between Edinburgh and Livingston

33

Rail Service Frequency Enhancements between Edinburgh and Livingston South

34

M8 and A71 Bus Priority and Park-&-Ride Network between Edinburgh, Livingston and Bathgate

40

M8 Bus Priority Measures and Park-&-Ride Network between Glasgow City Centre and Areas to the East

100

Electrification of Edinburgh to Glasgow via Shotts

102

Extensive Rail Service and Infrastructure Enhancements between Edinburgh and Glasgow via Falkirk High

103

Upgraded Rail Line between Edinburgh and Glasgow via Carstairs

104

New High Speed Rail Line between Edinburgh and Glasgow

105

Rail Service Frequency Enhancements between Edinburgh and Glasgow via Shotts and Carstairs

134

Improved Road Links to Edinburgh Airport

137

Rail Service Frequency Enhancements between Edinburgh and Bathgate

140

Intelligent Transport System Initiatives on the M8 between Glasgow and Harthill

141

Intelligent Transport System Initiatives on the M8 between Edinburgh and Harthill

172

New connection between the M74 and M8

14 Edinburgh to Dundee

69

Cross Forth Ferry Facilities

93

Rail Service Enhancements Between Edinburgh and Dundee

95

Light Rapid Transit connections between Fife and Edinburgh

96

Fife Bus Priority Measures and Park-&-Ride Network

97

Rail Service Frequency Enhancements between Edinburgh and Fife

108

New Rail Connections in Fife

180

Online Trunk Road Improvements on the A92

15 Glasgow to Stranraer and South West

91

Rail Service Frequency Enhancement between Glasgow and Kilmarnock

92

Rail Service Frequency Enhancement between Glasgow and the Ayrshire Coast

15 Glasgow to Stranraer and South West

112

Lengthen Trains and Platforms between Glasgow and the Ayrshire Coast

113

Lengthen Trains and Platforms between Glasgow and Kilmarnock

158

Selective Upgrades to the A77

159

Selective Upgrades to the A737

165

Double-deck Trains between Glasgow and the Ayrshire Coast

166

Double-deck Trains between Glasgow and Kilmarnock

173

Extension of Glasgow Southern Orbital from East Kilbride to M73/M74

16 Stranraer to North West England and beyond

171

Online Trunk Road Improvements on the A75

174

Roll-On Roll-Off Rail Freight Enhancements between Stranraer, Kilmarnock and the Border

176

Intelligent Transport System Initiatives on the A75

17 Glasgow to Inverclyde and Islands

39

M8 Bus Priority Measures and Park-&-Ride Network between Glasgow City Centre, Glasgow Airport and Areas to the west

87

Lengthen Trains and Platforms and Reduce Journey Times between Glasgow and Inverclyde

88

Rail Service Frequency Enhancements and Reduce Journey Times between Glasgow and Inverclyde

89

Speed Enforcement Measures on the M8 and A8 between Glasgow and Inverclyde

90

New Bypass Around Greenock

111

Reopen Rail Freight Connection to Greenock Port

127

New Rail Line between Kilmacolm and Paisley Canal

132

Grade Separation of Junctions on the A8 between Langbank and Greenock

135

New Rail Line between Wemyss Bay and Largs

139

Intelligent Transport System Initiatives on the M8 between Glasgow and Inverclyde

18 Glasgow to North West England and beyond

85

Intelligent Transport System Initiatives on the M74

86

Enhancements to Rail Freight between Glasgow and the Border via West Coast Main Line

130

Enhancements to Rail Freight between Glasgow and the Border via Dumfries

131

New Motorway Link between the M73 and Coatbridge

18 Glasgow to North West England and beyond

150

Roll On-Roll Off Rail Freight Enhancements between Glasgow and the Border via Lockerbie/Dumfries

168

Priority Vehicle Lane on the M74 between Hamilton and Glasgow

181

Online Trunk Road Improvements on the A76

19 Edinburgh to North West England and beyond

169

Online Trunk Road Improvements on the A68, A7 and A702

20 Edinburgh to North East England and beyond

80

New Light Rapid Transit Line between Edinburgh and Haddington

82

Rail Service Enhancements between Edinburgh and Dunbar

83

New Rail Line from the East Coast Mainline between Longniddry and Haddington

119

New Light Rapid Transit Line from Edinburgh to Dalkeith and Penicuik

120

New Rail Line from the Borders Rail Link at Eskbank to Penicuik

177

Online Trunk Road Improvements on the A1
---