8 – (STRATEGIC) PARK-&-RIDE / PARK-&-CHOOSE STRATEGY
8 – (STRATEGIC) PARK-&-RIDE / PARK-&-CHOOSE STRATEGY
Intervention description
A.68 This intervention supports the objectives to make public transport more competitive against the car. Located on major commuting routes, these sites would also assist in maintaining and enhancing the labour catchment areas in the city regions and reducing emissions. It would deliver a series of strategic Park-&-Ride / Park-&-Choose sites using common branding / marketing across Scotland. The sites would be served by either rail services or express bus links to and from the city centres and areas of economic activity, including appropriate bus priority measures at congested locations. These would interface with existing urban bus priority systems. Proposed sites for this strategy include creation of new facilities:
Serving Aberdeen: Dyce (A96) and Charleston;
Serving Dundee: Invergowrie, Forfar Road, A92 and Forgan;
Serving Edinburgh: Halbeath, Lothianburn , Pitreavie, and Tranent;
Serving Glasgow: Bargeddie (M8), St James (M8), Glasgow Southern Orbital (M77), Fullarton (M74), Robroyston (M80) and outside Ayr (M77);
At Bannockburn, serving Edinburgh, Glasgow and Stirling; and
A new station at Dalcross with Park-&-Ride facilities and interchange facilities with Inverness Airport.
A.69 In addition, this could incorporate expansion and complementary branding at existing sites at Bridge of Don, Hermiston, Ingliston and Todhill (Sheriffhall), with increased frequency for the current bus services from these sites.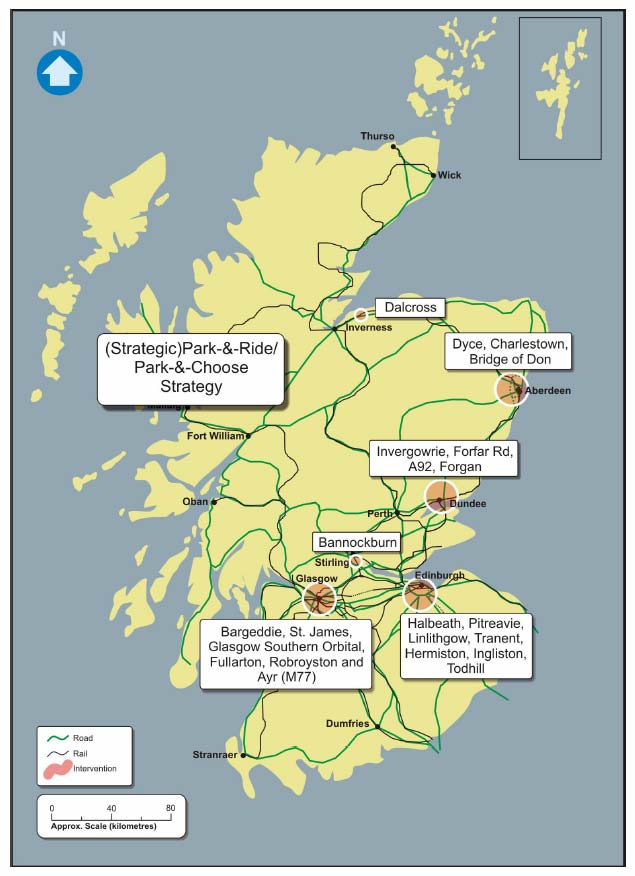 Contribution towards the Scottish Government's Purpose
A.70 This intervention would help to keep the city centres moving by reducing road congestion in the peak periods. It would also assist in maintaining the labour catchment, and reducing emissions. In the case of Edinburgh where this is a key objective the proposed measures would increase the number of people able to access areas of economic activity, particularly central Edinburgh. It is a similar picture for Glasgow where sites are proposed on all major radial roads.
A.71 This intervention could be taken forward in conjunction with other interventions aimed at providing priority vehicle lanes on sections of the strategic road network (i.e. Using Intelligent Transport Systems (ITS) on Parts of the Road Network to Enhance Capacity and Operations).

Links to Other Strategies
A.72 This strategy could be taken forward in conjunction with interventions aimed at providing priority vehicle lanes on sections of the strategic road network. In particular, there are links between this intervention and the proposed Forth Replacement Crossing.
A.73 The Scottish Government are, during 2008, developing a national strategy for Bus Park and Ride facilities. The Buses for Scotland High Level Forum met in March 2008 and were strongly in support of such a strategy and the further development of Bus Park & Ride sites in Scotland.
Current Status of Project
A.74 Currently, no part of this intervention has an approved design in place, although the proposal for new Fife Park-&-Ride / Park-&-Choose sites has been the subject of a preliminary design by SEStran, and considered in published proposals as part of the Forth Replacement Crossing Study. Similarly SPT have undertaken development work in connection with Park-&-Ride in their area, and other development work (to various stages of design) may have been undertaken in the development of Regional Transport Strategies. Most measures envisaged as part of the intervention have not been presented to the public. However, in general the measures are expected to be supported in principle as they would improve public transport provision, encourage mode shift and reduce congestion along busy commuter routes.
Indicative Costs
A.75 The total cost of this intervention is estimated to be in the range of £50 - £100 million.
Deliverability
A.76 Deliverability of the bus priority measures will depend on the ability to develop appropriate interventions which do not restrict the available road capacity for other traffic to an unacceptable extent. It will also be important to define Park-&-Ride interventions which, once implemented, are self-financing and do not need ongoing subsidy for their operating costs. The intervention is considered to be operationally feasible. Patronage levels would require to be sustained in order to operate the intervention over its projected life.
---