9 – USING INTELLIGENT TRANSPORT SYSTEMS (ITS) ON PARTS OF THE ROAD NETWORK TO ENHANCE ROAD CAPACITY AND OPERATIONS
9 – USING INTELLIGENT TRANSPORT SYSTEMS (ITS) ON PARTS OF THE ROAD NETWORK TO ENHANCE ROAD CAPACITY AND OPERATIONS
Intervention description
A.77 This intervention supports the objectives of improving journey time reliability and journey times for prioritised users. It would involve the introduction of enhanced Intelligent Transport Systems (ITS), principally Active Traffic Management (ATM), on the motorway and trunk road network in Central Scotland:
M8;
M90 and A90 approaching Edinburgh;
A720 around Edinburgh; and
M74, M77 and M80 approaching Glasgow.
A.78 Phase 1 would consist of variable speed limits, variable message signs, ramp metering at key junctions and average speed enforcement measures as appropriate. Phase 2 would consist of additional functionality such as further provision of ramp metering and hard shoulder running within the existing road space. Phase 3 would consist of improved functionality through targeted use of the hard shoulder as an additional 'managed lane' for priority vehicles – e.g. High-Occupancy Vehicles (HOVs), buses and, Heavy Goods Vehicles. In some cases, road widening could be used to generate an additional lane for this purpose.
Contribution towards the Scottish Government's Purpose
A.79 The implementation of an Intelligent Transport System (ITS), based on an expansion of the existing capabilities of the Traffic Scotland system, would have significant benefits for the movement of people and goods. This would contribute to objectives on a number of corridors that link into the urban networks of Edinburgh and Glasgow, and in particular would contribute to the objective to improve the operation of the urban Glasgow motorway network.
A.80 This system would also be able to support the operation of the strategic Park-&-Ride / Park-&-Choose intervention by providing opportunities to use the hard shoulder on approach to the urban networks for priority vehicles.

Links to Other Strategies
A.81 ATM schemes would link to both the Strategic Road Safety Plan and the Road Asset Management Plan. Managed lanes for Heavy Goods Vehicle use link to the Freight Action Plan.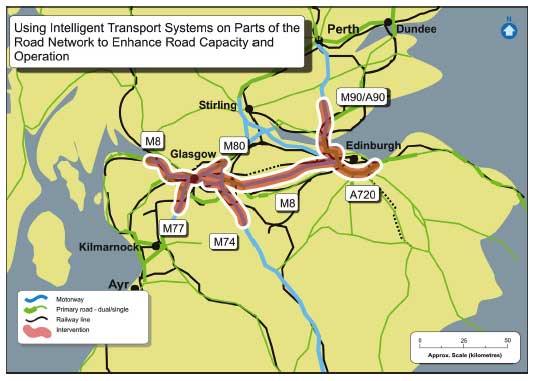 Current Status of Project
A.82 The technology to implement Active Traffic Management (ATM) has been tested and proven elsewhere in the UK, and some parts of the Scottish network have already had significant investment in ITS measures. A preliminary design for the M90 in Fife has been carried out by Fife Council (supported by SEStran), and has been considered in the Forth Replacement Crossing Study. This is an important intervention to the economies of Glasgow, Edinburgh and the Central Belt, with significant public interest at both local and regional levels. Previous experience in implementing these measures and the subsequent improvements show that they are well received.
Indicative Costs
A.83 The M42 pilot scheme cost approximately £5.6 million per kilometre for a full scheme on an existing 3-lane motorway. Based on this, estimated costs for the routes suggested here are in the range £250m - £500m for the Phase 1 schemes, a further £100m - £250m for the Phase 2 schemes and £100m - £250m for Phase 3.
Deliverability
A.84 ATM is deliverable by Transport Scotland on the road network, and the required technology and resources are available. Detailed feasibility analysis will be required to assess the deliverability and effectiveness of each phase of the intervention. This intervention would have moderate environmental benefits by minimising congestion and stationary traffic and safety benefits by reducing the potential for collisions.
A.85 It would be necessary to provide additional control facilities/environment to monitor the network and provide an appropriate level of resilience while supporting an efficient response to incidents i.e. closure of hard shoulder in event of accident, breakdown etc. Monitoring of an actively managed hard shoulder would require post intervention monitoring to assess the effect on emergency services etc.
---