11 – IMPLEMENT TARGETED PROGRAMME OF MEASURES TO IMPROVE LINKS TO THE LOCH RYAN PORT FACILITIES FROM THE TRANS EUROPEAN NETWORK
11 – IMPLEMENT TARGETED PROGRAMME OF MEASURES TO IMPROVE LINKS TO THE LOCH RYAN PORT FACILITIES FROM THE TRANS EUROPEAN NETWORK
Intervention description
A.98 This intervention supports the objective to have efficient and effective linkage to the port facilities at Loch Ryan, in particular improving the linkage of the Trans-European Network. This intervention would include measures such as:
Physical works aimed at providing safer overtaking opportunities such as 2+1 sections, climbing lanes and overtaking lay-bys and improvements to the operation of junctions around Dumfries;
Improvements to the strategic access around Stranraer (A751); and
Driver Information System.
A.99 It is envisaged that individual elements would be delivered in a targeted programme to improve journey time reliability for travel to the port facilities at Loch Ryan.
Contribution towards the Scottish Government's Purpose
A.100 The physical aspects of this intervention would improve journey time reliability, by addressing additional constraints along the route. This would result in efficiency gains for freight traffic travelling to and from the Loch Ryan ports.
A.101 In addition the physical aspects would be complemented by the introduction of Intelligent Transport Systems (ITS) on the A75, to provide driver information; which would provide a significant contribution towards the objective of efficient and effective links to the ports.
A.102 The programme of works would also contribute towards the need to maintaining and safely operate the network. Reductions in accident numbers would be expected at the improved locations, with up to 50 per cent reduction in certain sections. Severity rates are likely to be reduced by new 2+1 and re-aligned sections.

Links to Other Strategies
A.103 This intervention includes a range of safety-related and asset management interventions, as addressed in the Strategic Road Safety Plan and the Road Asset Management Plan.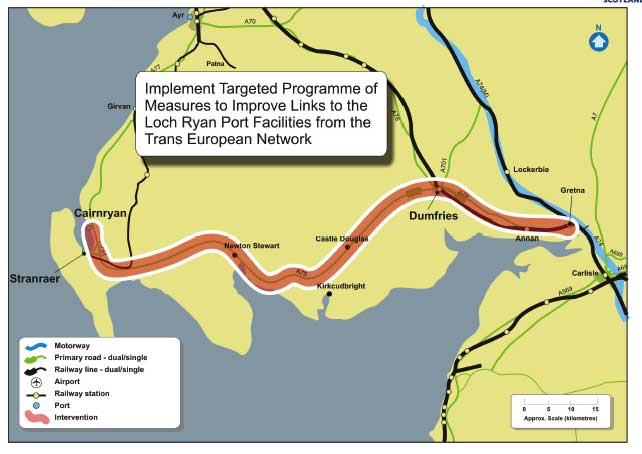 Current Status of Project
A.104 Transport Scotland has invested in widening the A75 at a number of sections along the length of the trunk road to provide safe overtaking opportunities. This intervention provides further enhancements to the A75 and ensures the continuation of localised improvements to this carriageway to improve safety along the route.
Indicative Costs
A.105 The total estimated cost of this route improvement is in the range £10-£50 million.
Deliverability
A.106 These minor interventions can be developed and implemented within the short-medium term as required. Due to the rural nature of much of the corridor, design work would have to take account of the local terrain in order to minimise disruption to the port facilities which provide important tourist and freight links between Northern Ireland and Scotland.
---