25 – LIGHT RAPID TRANSIT CONNECTIONS BETWEEN FIFE AND EDINBURGH
25 – LIGHT RAPID TRANSIT CONNECTIONS BETWEEN FIFE AND EDINBURGH
Intervention description
A.260 This intervention supports the objectives to increase public transport capacity between Fife and Edinburgh and supports connections to the proposed national developments at Rosyth, the Forth Replacement Crossing and Edinburgh Airport identified in the second National Planning Framework (NPF2).
A.261 The intervention would consist of a bus based rapid transit service over the Forth providing improved connections across the Forth Estuary. In particular it would connect the communities in Fife with the business and commercial opportunities in Edinburgh and West Lothian.
Contribution towards the Scottish Government's Purpose
A.262 This intervention would ease congestion by offsetting the forecast decrease in capacity for road users and would result in a slight increase in the 60-minute commutable market area for Edinburgh.
A.263 This intervention could provide an efficient means to access West Edinburgh, including Edinburgh Airport from Fife complementing the heavy rail connections via a new interchange at Gogar (as part of Edinburgh to Glasgow Rail Improvements Programme).
A.264 Overall the proposed intervention performs strongly against the stated objectives and could be implemented in conjunction with strategic Park-&-Ride and the provision of priority vehicle lanes.

Links to other strategies
A.265 This intervention is dependent on the Forth Replacement Crossing. Provision for segregated public transport services is being considered in that intervention's development and is highlighted in the SEStran Regional Transport Strategy.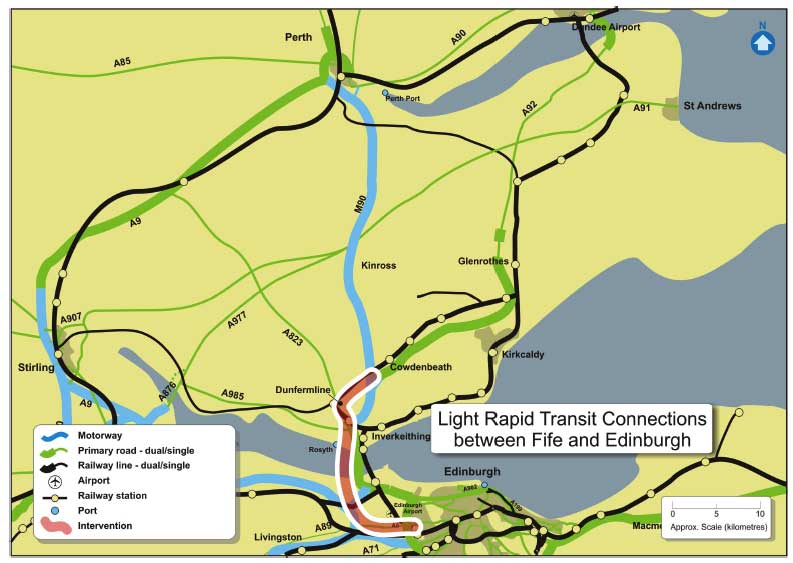 Current status of project
A.266 Options for provision for Light Rapid Transit (LRT) interventions are being considered as part of the planning of the Forth Replacement Crossing. There has been no specific detailed consultation on this individual intervention, however it is expected that any measure which increases public transport capacity and promotes modal shift to more sustainable transport would achieve public support.
Possible costs
A.267 The total cost is estimated to be in the range of £10m to £50m.
Deliverability
A.268 The deliverability of this intervention is considered technically and operationally feasible. The intervention is dependent on the provision of a segregated LRT route across the Forth. There are no significant technical issues or operational issues related to the implementation of this intervention or during its projected life.
---