27 – ENHANCEMENTS TO RAIL FREIGHT BETWEEN GLASGOW AND THE BORDER VIA WEST COAST MAIN LINE
27 – ENHANCEMENTS TO RAIL FREIGHT BETWEEN GLASGOW AND THE BORDER VIA WEST COAST MAIN LINE
Intervention description
A.281 This intervention would allow an increase in the number of freight paths on the West Coast Main Line between Glasgow and the Border by enhancing the rail infrastructure. This would include measures such as:
Lengthening of loops;
Removal of speed limits that are below 75mph for freight trains;
Increasing the loading gauge on the route; and
Increasing freight terminal capacity.
A.282 This intervention may also include a new line between Mossend and Coatbridge, which would involve providing an overbridge across the A8 and M8 when works are complete.
A.283 Widening of the track cuttings in places may require land take, or the construction of earth retaining structures where space is limited.
Contribution towards the Scottish Government's Purpose
A.284 This intervention would improve capacity for rail freight between Scotland and England by providing enhanced facilities on the West Coast Main Line. This would contribute to the freight objective identified on Corridor 18 (Glasgow to North West England and the Border) to transfer freight from road to rail.
A.285 There would be environmental benefits by providing additional paths for freight trains as rail would be expected to capture a greater proportion of cross-border freight traffic thereby reducing road-related emissions. New rail infrastructure could adversely affect the environment; however, it is possible that any such impacts could be mitigated at project design level.
A.286 This intervention could interact with any similar proposals developed by the department for transport on the West Coast Main Line south of Carlisle.

Links to other strategies
A.287 The significance of international rail freight access was highlighted in the National Transport Strategy (NTS) (Freight Action Plan and Scotland's Railways) and the second National Planning Framework (NPF2).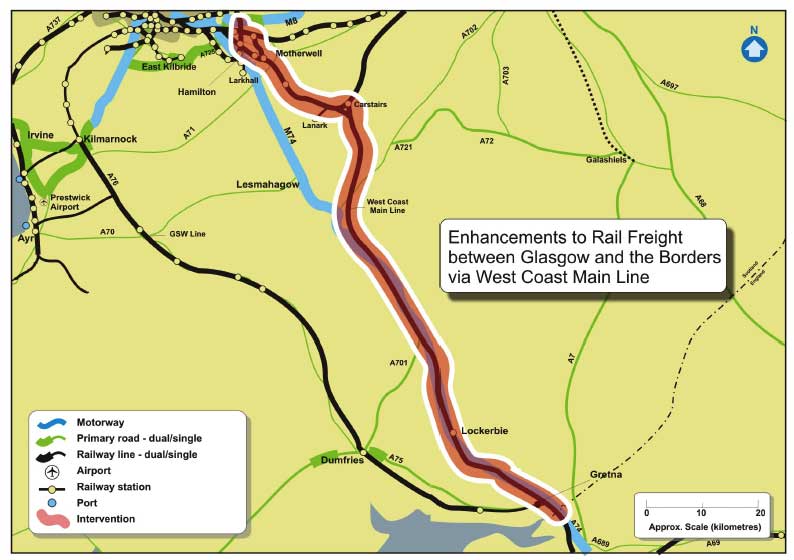 Current status of project
A.288 There has been no detailed consultation specifically on this individual intervention; however it is expected that any measure which promotes modal shift to more sustainable transport would achieve public support.
Possible costs
A.289 Estimated costs for this intervention are estimated to be in the range £250m - £500m. This is substantially cheaper than the alternative intervention for enhanced freight capacity via the Dumfries route, leading to this intervention being preferred on the basis of affordability.
Deliverability
A.290 The deliverability of the intervention is considered technically and operationally feasible. There are a number of technical issues associated with this intervention which involve the increased paths for freight trains possibly requiring new track, improved signalling and new rolling stock. The rail line between Coatbridge and Mossend involves the need to cross the A8 which would affect existing road users during the implementation of this intervention.
A.291 During construction, the reduced capacity and available paths for West Coast Main Line could affect trains on this route and cause delays for existing users. The new enhancements would provide additional capacity and diversionary routes for rail freight. The provision of W12 Gauge would permit larger containers to be carried, maximising the use of limited freight paths.
---