Switched on Scotland: A roadmap to widespread adoption of plug in vehicles
5 Market Development
The Roadmap stated that the transition of plug-in vehicles from niche technology to mainstream markets represents a considerable challenge. While recent growth is encouraging, plug-in vehicles still only account for a small percentage of overall car and van sales. Strategies need to continue to focus on commercialisation and stimulating market growth.
| | |
| --- | --- |
| Goal | Plug-in vehicles become more desirable than fossil fuelled alternatives. |
Public sector organisations have been procuring an increasing number of plug-in vehicles, supported by the Transport Scotland-funded Switched On Fleets initiative, which was managed by the Energy Saving Trust Scotland (EST) and Route Monkey. This initiative offered free, evidence-based analysis, identifying new opportunities for the cost effective deployment of plug-in vehicles in each of Scotland's 32 Community Planning Partnerships (CPPs). Transport Scotland provided £2.5 million of grant funding to enable local authorities and their partners, including NHS Boards, emergency services, colleges and universities, to buy or lease plug-in vehicles.
The first phase of Switched on Fleets ran from 2014 to 2016, and resulted in over 240 new vehicles being introduced across the fleets of 50 public sector organisations (Figure 4). To enable them to build on this success, another £1.2 million of Transport Scotland funding for vehicles has been provided to the 32 CPPs in 2016/17.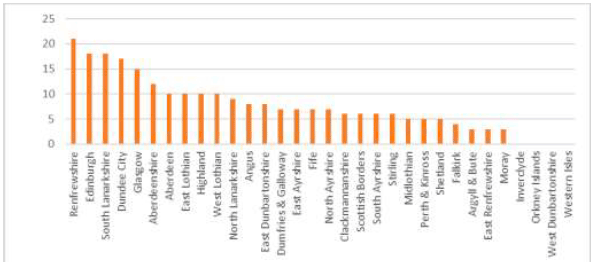 Figure 4 – Number of Plug-in vehicles introduced through the Switched on Fleets initiative, by CPP[6]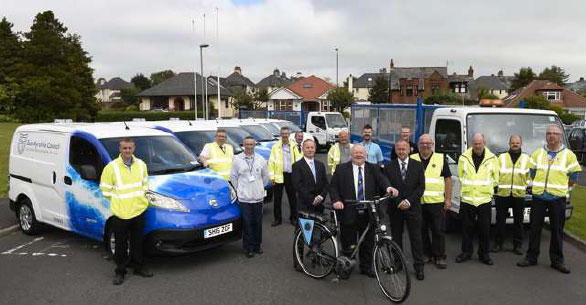 Figure 5 – East Ayrshire Council staff with some of their fleet vehicles, including 7 electric vans funded through the Switched On Fleets initiative (Source: East Ayrshire Council).
On behalf of Transport Scotland, EST and Transport and Travel Research are managing a major monitoring programme for every plug-in vehicle procured or leased via Switched On Fleets. This will involve vehicle tracking (e.g. via on-board telemetry) for a period of 3 years to build a knowledge base of how the vehicles are being operated. Surveys will also be undertaken throughout the programme to gain insights into drivers' and fleet managers' attitudes to plug-in vehicles. This data will help inform the effective deployment of plug-in vehicles within fleets as well as influencing future vehicle procurement decisions.
In addition to the UK Government's plug-in car and van grant, Transport Scotland are providing over £7 million of funding to EST in 2016/17 for a Low Carbon Transport Loan Scheme for both consumers[7] and businesses[8]. Consumers can apply for a loan of up to £35,000 to cover the cost of purchasing a plug-in vehicle, while businesses can apply for a loan of up to £100,000 which can be used towards a wide range of measures to reduce the business' transport carbon footprint (including the purchase of plug-in cars and vans, up to £35,000 for each vehicle purchased).
Since the publication of the Roadmap, Transport Scotland, COSLA, SCOTS, and local authorities have worked together to explore the potential for local plug-in vehicle incentives to be introduced in Scotland. This resulted in the publication of 'A National Framework for Local Incentives' in October 2016[9]. The Framework identifies a range of local measures relating to four key areas (planning, parking, road access and taxis and private hire vehicles), that can be implemented and provides guidance and examples of good practice to support successful implementation.
Transport Scotland also supported a study commissioned by LowCVP on local measures to encourage the uptake of low emission vehicles.
Local authorities across Scotland are already offering a range of local incentives to promote uptake of plug-in vehicles including free parking, procurement and using licensing to encourage uptake for taxis and private hire vehicles. Dundee City Council, for example, has already made changes to the local licensing regime to encourage taxi and private hire drivers to switch to plug-in vehicles and are in discussion with the industry to introduce further incentives and conditions to promote the use of plug-in taxis in this city. Whilst in Edinburgh, for the past seven years the price of a parking permit has been linked to the CO2 emissions produced by the vehicle, with lower emitting cars paying less.
Providing information on the benefits of plug-in vehicles and the needs, behaviours and preferences of different customers helps providers and users engage with the market. Both OLEV and EST have produced comparisons of different plug-ins and guidance documents for fleet managers on how to incorporate plug-ins into fleets. There has also been a programme of engagement activities including workshops, roadshows and events, which are described further in Chapter 11.
The E-cosse partnership (discussed further in section 10.1) has also continued its programme of open forums that bring together practitioners from across the public, private and third sectors to share knowledge and expertise to advance plug-in vehicle adoption.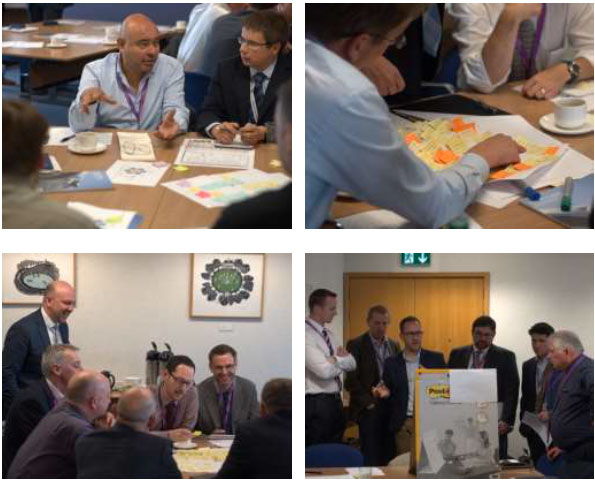 Figure 6 – E-cosse Workshop, Edinburgh. September 2016. (Source: Urban Foresight)
---