Switched On Scotland Phase Two: An Action Plan For Growth
Executive Summary
In September 2013, Transport Scotland published the Switched On Scotland Roadmap, which set out a long-term vision and strategic approach to advance widespread adoption of electric vehicles (EVs). The Roadmap anticipated that markets for EVs would develop in three distinct phases – launch, growth and take-off – and identified 37 actions to provide comprehensive support in the launch phase.
This action plan defines the activities that Transport Scotland will undertake in the second phase of implementing the Roadmap, in the period 2017-2020. This places an emphasis on growth, focusing on actions that accelerate the uptake of EVs as part of both a wider sustainable transport system and a smart energy grid.
It is informed by extensive consultation, with four workshops bringing together the views of over 130 people from 60 different organisations.
The approach taken in this action plan is summarised in Figure 1. Ten outcome-focused actions are defined which collectively will deliver three positive impacts, namely: decreased costs; enhanced convenience; and a change in culture whereby EVs are preferred to fossil fuelled vehicles.
The first level of actions establish foundations for growth, making provision for the continued development of infrastructure and support that responds to the changing needs of the market:
Action 1: Support the increased deployment of public charging infrastructure by developing the ChargePlace Scotland network.
Action 2: Provide financial support for the purchase of EVs and installation of private charging infrastructure.
Action 3: Work with partners on procurement approaches that encourage investments in EVs.
Action 4: Continue to work with partners to promote EVs as an alternative to fossil fuelled vehicles.
Action 5: Embed support for EVs in strategies for transport, energy, climate change, air quality and the built environment.
The second level of actions recognise the importance of emerging electric mobility services in improving the cost, convenience and overall experience of using EVs. This includes developments in business models, technologies and incentives that will bring new customers into the market for EVs, create new revenue streams and incentivise private-sector investments. Four specific actions are identified to support these developments:
Action 6: Improve the user experience of the ChargePlace Scotland network.
Action 7: Support the development of innovative EV charging hubs across Scotland.
Action 8: Support local authorities in deploying measures that encourage adoption of EVs.
Action 9: Consider the impact of emerging technologies and business models on EV adoption and infrastructure deployment.
The final action in this 10-point plan recognises Transport Scotland's role in providing evidence-based analysis and feedback that will help to sustain progress and motivate more people to switch to EVs. This will establish the contribution made by EVs to related policy areas including climate change, renewable energy, air quality and public health. It will also help to evaluate the impact of different activities and build positive support amongst individuals and organisations.
Action 10: Support improvements in the collection, analysis, interpretation and dissemination of data and evidence on the economic, environmental and social benefits of EVs.
The outcome-focused approach established by this 10-point plan will ensure that Transport Scotland can work with partners to deliver a comprehensive package of support across a range of different types of vehicles and applications.
This action plan, alongside the long-term strategy established by the Switched On Scotland Roadmap, will help to sustain the considerable progress that has been achieved to date and make Scotland one of the best places in the world to drive an electric vehicle.
Figure 1 - Overview of the 10-point plan for growth of EV markets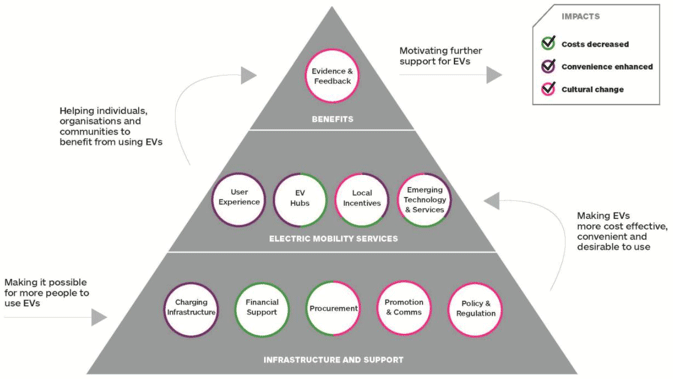 ---