FOREWORD From the Minister for Transport, Infrastructure and Climate Change
FOREWORD
From the Minister for Transport, Infrastructure and Climate Change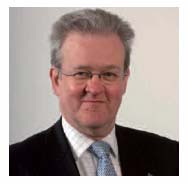 Increasing sustainable economic growth is the Government's Purpose to which all else is directed and contributes. Our strategic objectives – to make Scotland wealthier and fairer; smarter; healthier; safer and stronger; and greener – are all predicated on our efforts to bring more economic success to our country.
This Corporate Plan sets out the key role Transport Scotland will play over the coming years in helping us deliver our Purpose. In order to deliver increasing sustainable economic growth, our recently published Government Economic Strategy identifies five strategic priorities that are internationally recognised to be critical to economic growth. Transport Scotland is well placed to deliver these priorities, particularly Infrastructure Development and Place and Equity, where it will focus the Government's investment on making connections across Scotland and improving reliability and journey times, in order to maximise the opportunities for employment, business, leisure and tourism. It will work towards providing sustainable, integrated and cost-efficient public transport alternatives to the car, connecting people, places and work across Scotland, according greater priority to achieving more balanced growth to give all across Scotland the chance to succeed.
I am delighted that, in planning for the coming three-year period, Transport Scotland has taken a focused approach to its corporate planning in order to deliver our strategic priorities. This helps us focus transport policy and the initiatives we take forward on achieving real improvements in the quality of life for the people of Scotland.
As the Plan notes, the programme of major road and rail infrastructure projects that we have asked Transport Scotland to take forward is estimated to give net economic benefits in the region of £12.5 billion.
Transport Scotland has achieved much in its first few years and this Plan demonstrates ambition to build on this progress and help us deliver our Purpose of increasing sustainable economic growth.

Stewart Stevenson
Minister for Transport,
Infrastructure and Climate Change
DELIVERY PRIORITIES
Improved connections across Scotland
Better journey times, better reliability
Greener transport alternatives, reduced emissions
Increased safety, more innovation
WORKING PRINCIPLES
Transport Scotland continues to operate on the basis of five core Working Principles:
Strive to become a centre of excellence in transport delivery, both nationally and internationally
Promote transport integration
Maintain a clear outward focus on the needs of transport users
Work in partnership with other transport providers and wider government in our planning and delivery
Make the most efficient use of public resources, and equip our staff to do the best possible job
---