2. DEFINITION OF A TOURIST DESTINATION
2. DEFINITION OF A TOURIST DESTINATION
2.1 A tourist destination as defined by "The Traffic Signs Regulations and General Directions 2002", means a permanently established attraction or facility which:
(a) attracts or is used by visitors to an area; and
(b) is open to the public without prior booking during its normal opening hours; and
(c) is recognised by VisitScotland
2.1.1. Tourist attractions include visitor centres, theme parks, historic buildings and properties, ancient monuments, museums, zoos, parks and gardens, natural attractions (such as nature reserves, beaches and viewpoints), tourist shops, sports centres, golf courses (including Championship courses), concert venues, theatres and cinemas.
2.1.2. Tourist facilities include hotels, guesthouses, bed & breakfast establishments, restaurants, holiday parks, touring caravan and camping parks, picnic sites, youth hostels and Tourist Information Centres.
2.1.3. These are not exhaustive lists but give an indication of the types of establishments in each category.
2.2 Establishments which are primarily retail outlets (including retail parks, shopping centres and garden centres) will only be eligible for white on brown tourist signs if the destination is recognised by VisitScotland as a 'Tourist Shop' through its visitor attraction quality assurance scheme. Applications will still need to meet all the other relevant criteria in order to be eligible for tourist signs.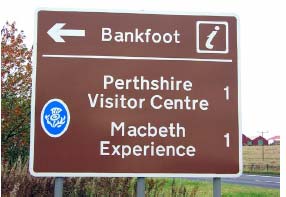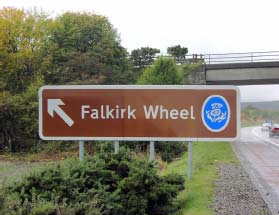 ---