9. TOURIST ACCOMMODATION AND EATING ESTABLISHMENTS
9. TOURIST ACCOMMODATION AND EATING ESTABLISHMENTS
9.1 All accommodation and eating establishments should be signed with the "Thistle" symbol to Diagram T301.1, Schedule 14 of TSRGD (see Chapter 8).
9.2 Signs to eating establishments and tourist accommodation will not normally be provided where the facility is located within a town or village. If the town or village is bypassed by the trunk road then local facilities signs may be provided (see Chapter 10).
9.3 Where the facility is within a town or village but it is difficult to find or where there is a demonstrable traffic management need, signing may be provided at the discretion of the trunk road authority. However, such signing should comply with the local authority's tourist signing policy.
9.4 In any case, there will be a presumption against signing facilities within towns or villages which have frontages directly onto the trunk road.
9.5 Tourist signs will normally only be permitted to tourist accommodation and eating establishments within 6 miles of the trunk road.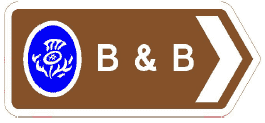 Figure 9.1 – Examples of signs to accommodation and eating establishments
---