£28 million for zero emission heavy duty vehicles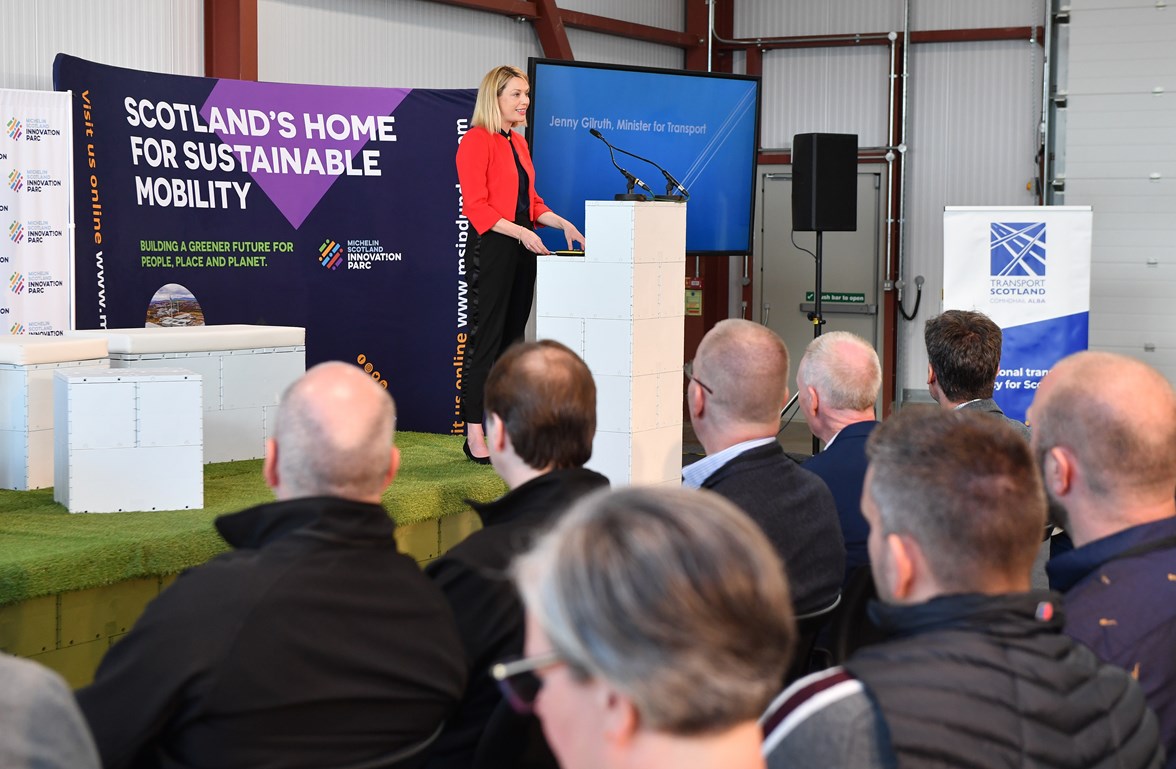 The Scottish Government is providing £28 million across the next four years to accelerate the manufacturing and deployment of heavy duty zero emission vehicles.
The Zero Emission Mobility Innovation Fund is delivered in partnership with Scottish Enterprise and links to other national funding programmes for manufacturing and supports Scotland's Mission Zero for transport.
The new Fund has been developed in consultation with industry leaders through Scotland's Zero Emission Mobility Industry Advisory Group. This new funding approach responds to their call for innovative funding models to drive net zero transformation across Scotland's heavy duty vehicle supply chains.
The latest report by the advisory group, outlining how Scotland can become a global player in zero emission transport, has also been published.
The new vision statement by the Zero Emission Mobility Industry Advisory Group and the £28 million Innovation Fund, was formally launched by the Scottish Government Transport Minister Jenny Gilruth, at the Scottish Zero Emission Mobility Manufacturing Conference, hosted today at Michelin Scotland Innovation Parc (MSIP) in Dundee, marking the second anniversary of the inception of the Innovation Parc.
Minister for Transport Jenny Gilruth said:
"I'm pleased to welcome our new £28 million Zero Emission Mobility Innovation Fund (ZEMIF) as part of our Mission Zero for Transport. Responding directly to calls from the industry leaders, this funding will help position Scotland at the forefront of zero emission heavy duty vehicle manufacturing.
"Businesses will also be able to benefit from the many clusters of innovation that the Scottish Government has also invested to develop, such as the exciting Michelin Scotland Innovation Parc, the LOCATE drive train test facility, the Eden Centre at the University of St Andrews and the Driving the Electric Revolution Scotland Industrialisation Centre.
"Through innovative collaborations between industry, academia and government, exciting spaces to test new ideas and the new ZEMIF fund – Scotland is fast becoming a global destination as part of the green transport revolution."
Derek Shaw, Scottish Enterprise Director of Innovation and Place said:
"The decarbonisation of heavy duty vehicles is a key area of focus for Scottish Enterprise as we work to encourage collaboration, investment and innovation across the sustainable transport ecosystem, from Scottish transport manufacturers, to the supply chain, as well as, across government and academia.
"Transport is Scotland's largest greenhouse gas emitting sector and the innovation fund aims to drive net zero transport transformation and encourage Scotland's heavy duty vehicle supply chain businesses to embrace economic opportunities.
"It is an opportunity for Scotland to showcase its strengths in this area with hubs such as the Michelin Scotland Innovation Parc to companies such as Alexander Dennis and Emergency One already highlighting how Scotland can take the right route to sustainable mobility through zero emission heavy duty vehicles.
"We want to see more businesses get on board and use the innovation fund as the catalyst to create solutions that lead to a net zero economy."
Colin McIlraith, Chief Operating Officer, Michelin Scotland Innovation Parc said: "We know from working directly with industry that a shift towards net zero for our transport sector will only be possible with government support. Today's announcement of the Zero Emission Mobility Innovation Fund is a huge step in supporting that. It will enable forward thinking innovative companies to bring about real change.
"I'm pleased MSIP could be a part of this by hosting today's event, on what is the second anniversary of MSIP's inception. As Scotland's home for sustainable mobility, I can't think of a better place to launch this new innovation fund."
Ben Todd from Ballard Motive Solutions, co-chair of the Zero Emission Mobility Industry Advisory Group said: "The Zero Emission Mobility Industry Advisory Group welcomes the creation and launch of the new innovation fund. The Fund emerged as a key priority from our stakeholder engagement and supports Transport Scotland's Mission Zero aim of decarbonising transport while delivering a Just Transition.
"It will provide focused support for innovators to scale up their manufacturing capability in Scotland as well as support for the development and testing of new technologies with a particular focus on batteries, fuel cells and zero emission heavy duty vehicles."
BACKGROUND
The £28m ZEMIF programme will support components and systems, with an initial focus on niche and Heavy Duty Vehicles, as well as the deployment of zero emission technologies. It is split into two component funds:
Innovation2Manufacture: up to £5m annual pot to support Scottish manufacturers that have a proof-of-concept ZE vehicle, component or system that is moving towards low-volume manufacturing, together with collaborators such as academic expertise, testing sites, vehicle supply chain stakeholders. Projects could include: developing a new manufacturing process for a zero-emission refuse collection vehicle, new tooling to support fuel cell development for niche light commercial vehicles, a project to test and manufacture transport technology developed at a university innovation centre or test facility.
Innovation2Deployment: up to £2m annual pot to support private sector end users (support for public sector fleets is provided through the LCED Switched on Fleets programme) to deliver innovation projects that utilise technology that is new-to, or close-to-market to decarbonise transport. This will initially focus on the deployment of ZE vehicles, components or system, but if successful, may be expanded to include other technologies, so long as projects are Scottish-based and user-led. Example projects include: trialling pre-market deployment of retrofit technology to decarbonise niche vehicles, support the testing and demonstration of pre-market zero emission vehicle by an operator.
ZEMIF is open to manufacturers in Scotland developing zero emission components, systems and vehicles through to small scale manufacturing.
Businesses may link to and benefit from investment in key innovation assets such as the Michelin Scotland Innovation Parc, the Eden Centre at the University of St Andrews, the Driving the Electric Revolution Scotland Industrialisation Centre (due to open in late 2022), and the LOCATE drive train test facility (due to open in 2023), These complement Scotland's National Manufacturing Institute Scotland (NMIS), a £65 million industry-led international centre of manufacturing expertise where industry, academia and the public sector work together to transform the sector's skills, productivity and innovation to attract investment and make Scotland a global leader in advanced manufacturing.
Manufacturing of motor vehicles and transport equipment and associated metals etc. accounts for around a quarter of manufacturing employment in Scotland with over 48,000 employees and equates to a turnover of over £8bn.
Scotland's Zero Emission Mobility Industry Advisory Group (ZEM IAG) was established in 2019 to bring together industry stakeholders to advise on shaping a collective approach to the development of the zero emission mobility sector.
The IAG set a vision in 2019 for Scotland to become:
a global player in supply chains for zero emission mobility (H2 and Battery) for heavier and niche vehicles
an international centre of expertise in energy-transport system integration
a global destination for innovation in sustainable, zero emission mobility.
Established as a short-life group, the ZEM IAG held four meetings and three workshops. A final scoping report was published in January and the latest report is a co-produced vision of a successfully decarbonised sector with case studies to illustrate where progress has been made to date.