Accelerating bus decarbonisation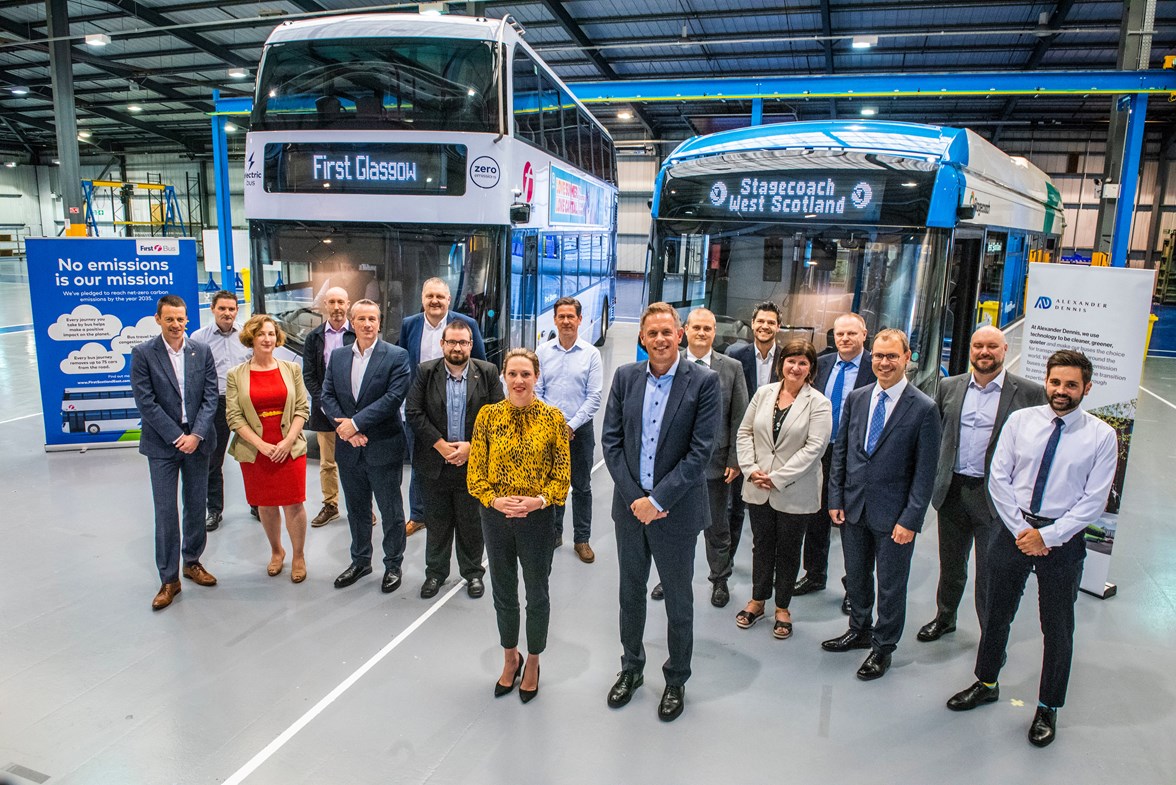 Scotland's Bus Decarbonisation Taskforce has published its pathway to a zero-carbon bus sector, with the Scottish Government launching a new £500,000 scheme to support its delivery, focusing on supporting smaller operators and local authorities – including community and school transport providers.
The Taskforce, made up of leaders from the operating, manufacturing, energy, finance and public sectors, have worked together over the past 18 months to tackle the barriers to a swift roll-out of zero-emission buses. To date, most progress has been made by the largest public service bus operators, and now Scottish Ministers want to make sure smaller operators, and those delivering essential services such as home to school transport, are supported to make the change.
To support this, the Scottish Government has launched a £500,000 Zero Emission Bus Market Transition Scheme, delivered through Energy Saving Trust. This funding will help small and medium sized bus operators, local authorities and community transport organisations assess their options for decarbonisation, and prepare collaborative and competitive business cases ahead of the next multi-million pound phase of ScotZEB – opening in spring 2023.
Smaller operators across Scotland were supported as part of the £62 million ScotZEB allocation in February 2022. This additional funding through the Market Transition Scheme responds to reflections from Taskforce members on the continued ability of smaller operators to compete with larger operators and attract funding at scale. In doing so, the Scottish Government is supporting a just transition to net zero as part of its Mission Zero for transport – ensuring small and medium sized organisations can benefit from the transition to a net zero economy.
The pathway report and Market Transition Scheme were launched at the Alexander Dennis Ltd premises in Larbert, where many of the new electric buses funded through ScotZEB will be built.
Minister for Transport Jenny Gilruth said:
"I'm grateful to the members of the Bus Decarbonisation Taskforce who have co-designed this new pathway for a zero-emission bus fleet across Scotland. The report recognises the big achievements already made through our funding programmes, but also the barriers that various sectors need to overcome to deliver on our Programme for Government commitment.
"For our part in the Scottish Government, I'm pleased to respond through the launch of our Market Transition Scheme. Our smaller operators have great ambitions to respond to the climate emergency and move to zero emission buses, but many simply don't have the resources available to put in the considered and robust businesses cases that we rightly require for our ScotZEB programme. The same is true for home-to-school and community transport operators. This £500,000 investment will help these smaller operators be part of collaborative and competitive bids to the next phase of ScotZEB, opening in spring 2023.
"Whether it's a large or small operator, I want more people to choose bus and know that those buses are contributing even more towards our climate change ambitions than they do now. This report and funding will support that vision as part of our wider 'Mission Zero' for transport."
Scottish Enterprise Managing Director of Innovation and Investment and Taskforce member Jane Martin said:
"We must get into the fast lane when it comes to sustainable transport in Scotland through innovation, collaboration and investment and Scottish Enterprise is working to encourage economic opportunities within this area aligning with our net zero framework to deliver a greener economy.
"I welcome the new pathway to net zero buses launching today as it provides a clear route to help meet Scotland's net zero targets through collaboration with enterprise agencies, Transport Scotland, Scottish Government and, most critically, business and industry.
"Scottish Enterprise supported the Bus Decarbonisation Taskforce as a key element of our work to maximise the economic opportunities for Scotland as we decarbonise heavy duty vehicles. Recent activities include encouraging investment in innovation, supply chains, hydrogen and battery development helping to drive the economy towards achieving lower transport emissions."
William Houston, Owner of Houston's Coaches in Lockerbie said:
"With the funding acquired through the ScotZEB phase 1, Houston's Coaches are able to introduce zero emissions vehicles on to our fleet, and install charging infrastructure. It is a huge step for the company and will be a help with the rising cost of fuel and consumables. Any further support for small operators would be welcome."
Alexander Dennis President and Managing Director Paul Davies said:
"We have been leading the transition to zero emission mobility for a number of years now, doing what we do best, which is investing in innovation. I am delighted to confirm today we are stepping this up further with our extended plans for new product development, which includes an exciting new product aligning to the pathway's plans to increase the supply of smaller zero emission buses.
"We pride ourselves on bringing leading products to market that are designed and built in Britain, which allows us to retain our position as innovative leaders of the ZEvolution, the transition to zero emission mobility. Making new product development commitments at this time is an investment into the future through an attractive product line up that will continue to attract orders and underpin jobs in bus manufacturing."
BACKGROUND
More information on the ScotZEB Market Transition Scheme delivered through EST.
More information on the Bus Decarbonisation Taskforce and Pathway report.
More information on ScotZEB including a breakdown of previous awards.