AWPR - Balmedie to Tipperty fully open to traffic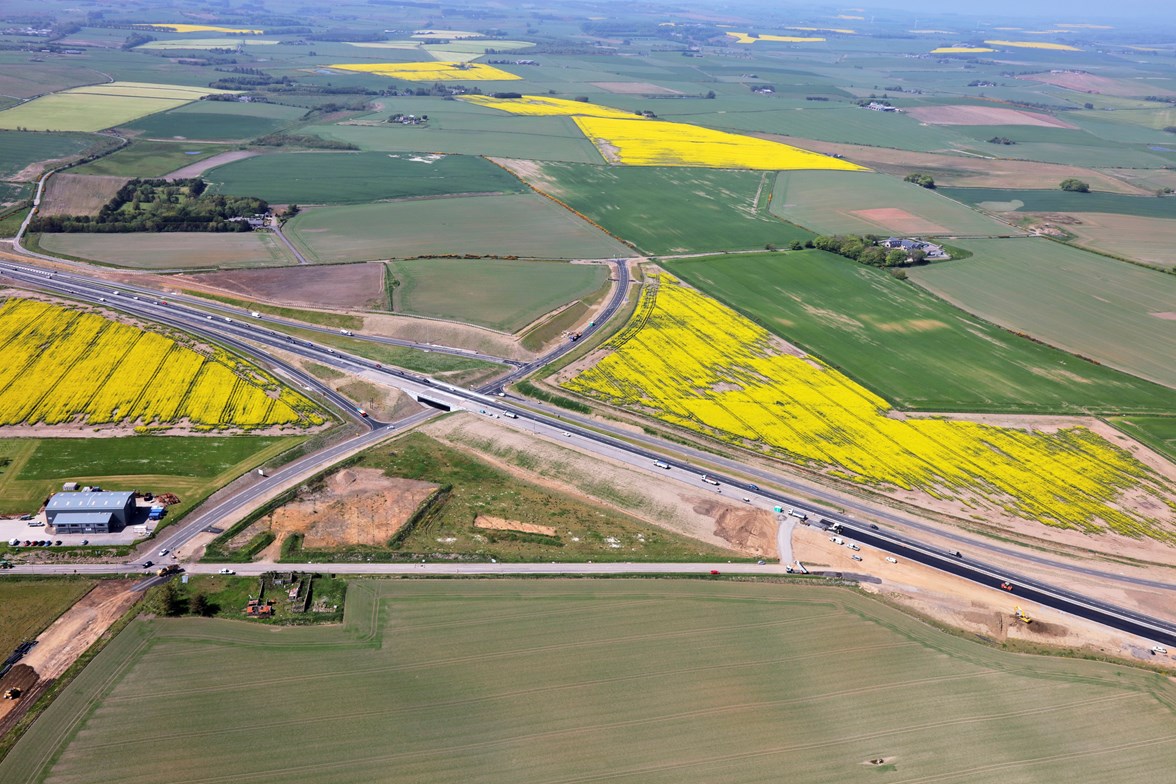 The Cabinet Secretary for Transport, Infrastructure and Connectivity, Michael Matheson, has today announced that the 12 km (approx. 7.5 miles) Balmedie to Tipperty section of the Aberdeen Western Peripheral Road/Balmedie to Tipperty (AWPR/B-T) project will fully open to traffic on Wednesday August 15 in advance of the morning's busy period.
All remaining cones on this section of road will be removed and the national speed limit returned on this section of the A90, with reduced speed limits in place on slip roads. Construction works will continue on some side roads and access roads.
This section of road represents around one-fifth of the entire AWPR/B-T project and includes three new junctions, 9 km (approx. 5.5 miles) of new dual carriageway between Balmedie and Bridgend, as well as 3 km (approx. 2 miles) of improvements to the existing dual carriageway between Blackdog and Balmedie. These improvements link the Balmedie to Tipperty section of the project with the AWPR.
The upgraded road between Balmedie and Tipperty will improve safety and journey time reliability on the A90, and provide safer access between the A90 and the local road network.
Cabinet Secretary for Transport, Infrastructure and Connectivity, Mr Matheson said:
"This comes soon after the opening of the 7 km (approximately 4.3 miles) section of the AWPR between Parkhill and Blackdog, giving road users a dual carriageway from Parkhill all the way to South Ellon roundabout for the first time.
"We said we would open new sections of road as soon as they were ready for traffic and we are delivering on that commitment. This will be very welcome news to the local community, road users and businesses who have been so patient while these works have been on-going. We thank them for their continued support.
"Every day tens of thousands of drivers will now begin to reap the benefits of this section of new road, which was originally a separate project to the AWPR, through enhanced safety, reduced congestion, improved journey time reliability, and safer access to local areas and the wider public network.
"The full benefits of this huge project will be realised when the AWPR/B-T opens in late Autumn 2018. Our investment in this project is expected to bring in an additional £6 billion to the north-east economy and create around 14,000 jobs over the next 30 years."
The contractor adopted a variety of techniques, including construction of temporary lanes and road space, as well as convoy working, to ensure full closures of the A90 were kept to a minimum while these works were being undertaken.
Aberdeen City Council Co-Leader Councillor Jenny Laing said:
"We welcome another significant step in the AWPR B/T project with the opening of the Balmedie to Tipperty section.
"Aberdeen City Council is proud to have invested £75 million in the project and we believe it will bring huge benefits to Aberdeen by enable faster journey times for commuters and help us to unlock the economic potential of the wider North-East region."
Leader of Aberdeenshire Council Cllr Jim Gifford commented:
"It is very pleasing to see the Balmedie-Tipperty section of the route fully open to traffic. As well as improving access to communities along the A90, the development brings some welcome additional capacity on what is an important route for commuting and business traffic.
"It also brings us a step closer to the conclusion of the AWPR/B-T project and it is now even easier to visualise how the development will improve access and journey times across the north-east."
Further traffic management may be required on the A90 for snagging works. Details of any upcoming works will be included in the AWPR/B-T Traffic Management web pages.