South West Scotland's Hidden Heritage
Accessibility options: Read transcript for A75 Dunragit Bypass archaeology video
Stunning archaeological finds unearthed as a result of the construction of the A75 Dunragit Bypass can be rediscovered by reading two publications that are now available.
The Booklet and the Monograph detail the most remarkable treasure trove of ancient sites and artefacts unearthed in the South-West of Scotland, spanning a period of around 8000 years from the Mesolithic to Iron Age period.
A team of archaeologists worked along the route of the new bypass for 19 months ensuring that any important artefacts discovered are preserved for future generations. A wealth of prehistoric finds was uncovered during the excavations conducted by GUARD Archaeology on behalf of Transport Scotland. Items discovered include:
the earliest known house in South-West Scotland, dating back to around 9,000 years ago during the Mesolithic period
Neolithic ceremonial structures dating to around 6,000 years ago
two Bronze Age cemeteries, from around 3,500-4,000 years ago
an Iron Age village dating to around 1900-2,200 years ago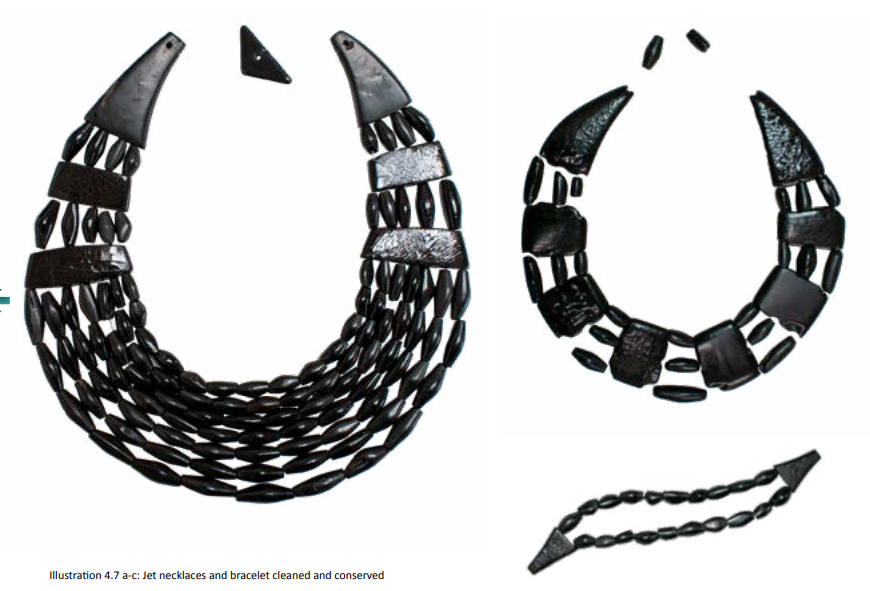 Some of the most interesting artefacts found include:
a rare and complete 167 piece jet bead necklace and bracelet set dating to around 2000 BC
a Romano-British Iron Age Brooch (a dolphin style fibula) dating to around 100 AD
Bronze Age cremation urns 
over 17,000 mesolithic flint tools
Neolithic flint tools including a flint arrowhead
over 13,500 Mesolithic flints
A Transport Scotland spokesperson said:
"These publications provide a fascinating glimpse into the past which could have remained uncovered had work on the A75 Dunragit Bypass not progressed. We would like to take this opportunity to thank the archaeologists for their work in collating and analysing these finds to provide the people of Scotland with a wealth of information on their ancestors."
Warren Bailie, GUARD Archaeology Operations Director, who led the excavations, said:
"I am delighted that members of the public will have the opportunity to learn more about the lives of past generations who lived in the area. The excavations at Dunragit uncovered a depth of prehistoric archaeology spanning eight millennia, revealing the prehistoric heart of Galloway."
The Monograph and Booklet, both entitled Dunragit, the Prehistoric Heart of Galloway by Warren Bailie are freely available to download.
A75 Dunragit Bypass archaeology - video transcript
Narrator: Dunragit bypass in Dumfries and Galloway opened to traffic in 2014. But Dunragit and the surrounding south west of Scotland is also known to be rich in archaeology. So before construction of the new road started archaeologists began to dig to see what they could uncover. The lead archaeologist for the excavation tells us about some of the exciting finds.
Warren Bailie: We started to turn up some artefacts, little stone tools, little bits of prehistoric pottery, not much to begin with. About three weeks into the work, we started to encounter structures and much more complex archaeology and it just expanded and expanded from there to the point where we realised we had several nationally significant sites from various periods from the Mesolithic to the Neolithic, bronze age through to iron age.
Narrator: The most striking find was and ancient jet necklace found in a burial plot thought to have belonged to a woman of high status in the community.
Warren Bailie: These necklaces add to what we already know across Scotland. These are usually linked to high status women. Any cases where the skeleton has been identified has tended to be female when associated with these jet necklaces and other jet jewellery. So this suggests those high status women are part of this society around 2500 B.C probably controlling the trade – gold, jet and other items that would have made their way across the various regions of the UK.