A9 Dualling: Luncarty to Pass of Birnam - Construction update - Spring 2020
Spring 2020 will be remembered for decades to come – when 'normal' life stopped to fight the spread of the coronavirus global pandemic.
Following the Scottish Government announcement at the end of March, our contractor Balfour Beatty implemented a managed shutdown of the site, in line with the Government guidelines including physical distancing.
The safe and secure shutdown of the site ensured that partially built structures and operations were made safe, associated equipment and plant were properly stored and security measures were put in place at site compounds for the duration of the site closure.
During this time only essential services were permitted, such as monitoring the traffic management to ensure the ongoing safe operation of the A9 as a key part of the national trunk road network.
Despite the interruption to this major infrastructure project, significant progress had been achieved by mid-March when the final sets of beams were lifted into placed at Bankfoot North Junction. These beams completed the extension to Hunters Lodge underbridge to accommodate the new A9 southbound carriageway.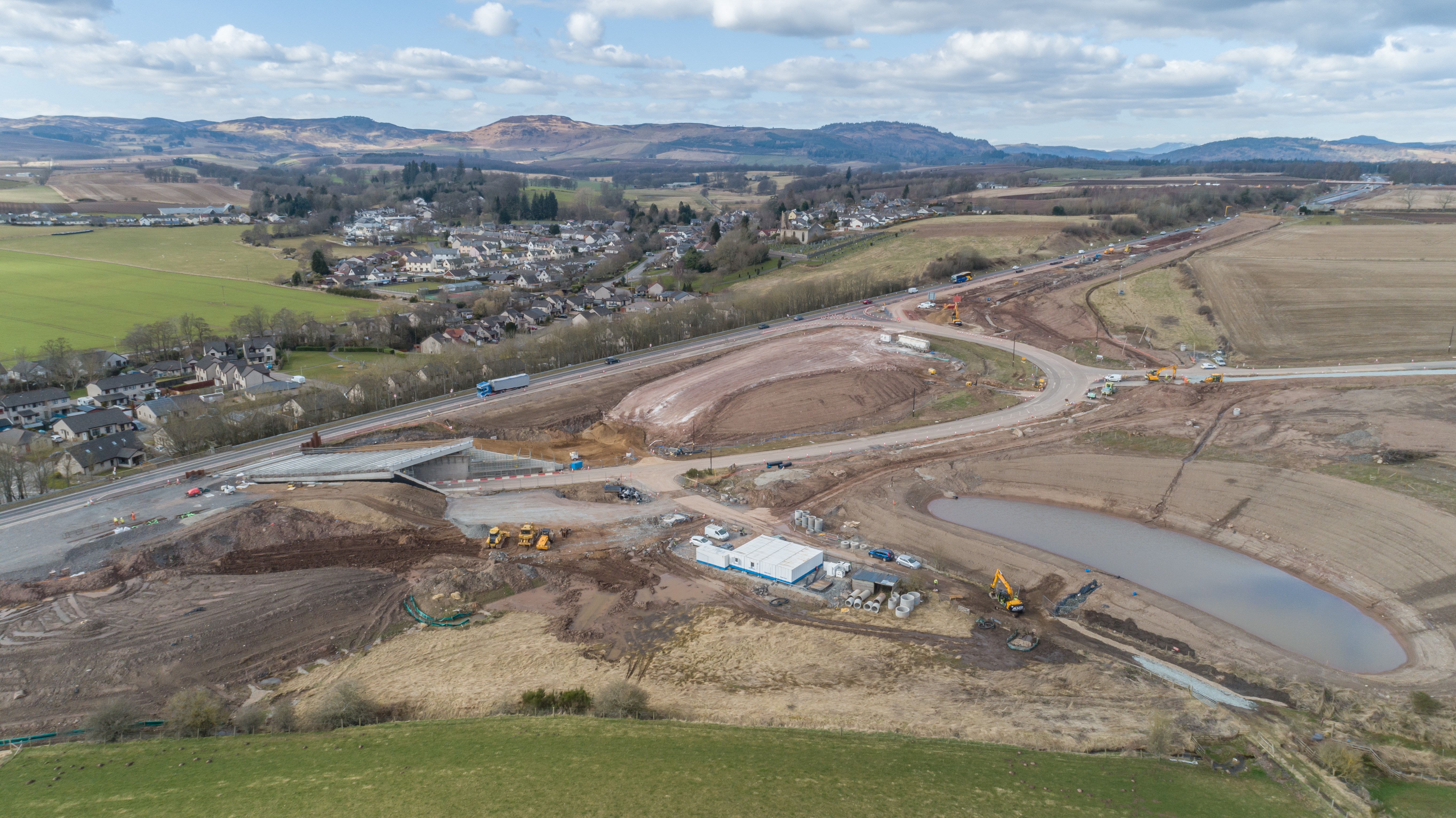 Following the successful traffic switch at the southern end of the project in February 2020, the roadworks focus then shifted to the northern section, with 3,500m3 (8,000 tonnes) of Cement Bound Granular Material (CBGM) laid as the base of the new road, and more than 1,600m3 (4,300 tonnes) of new surfacing placed to create more than 1km of the new A9 southbound carriageway.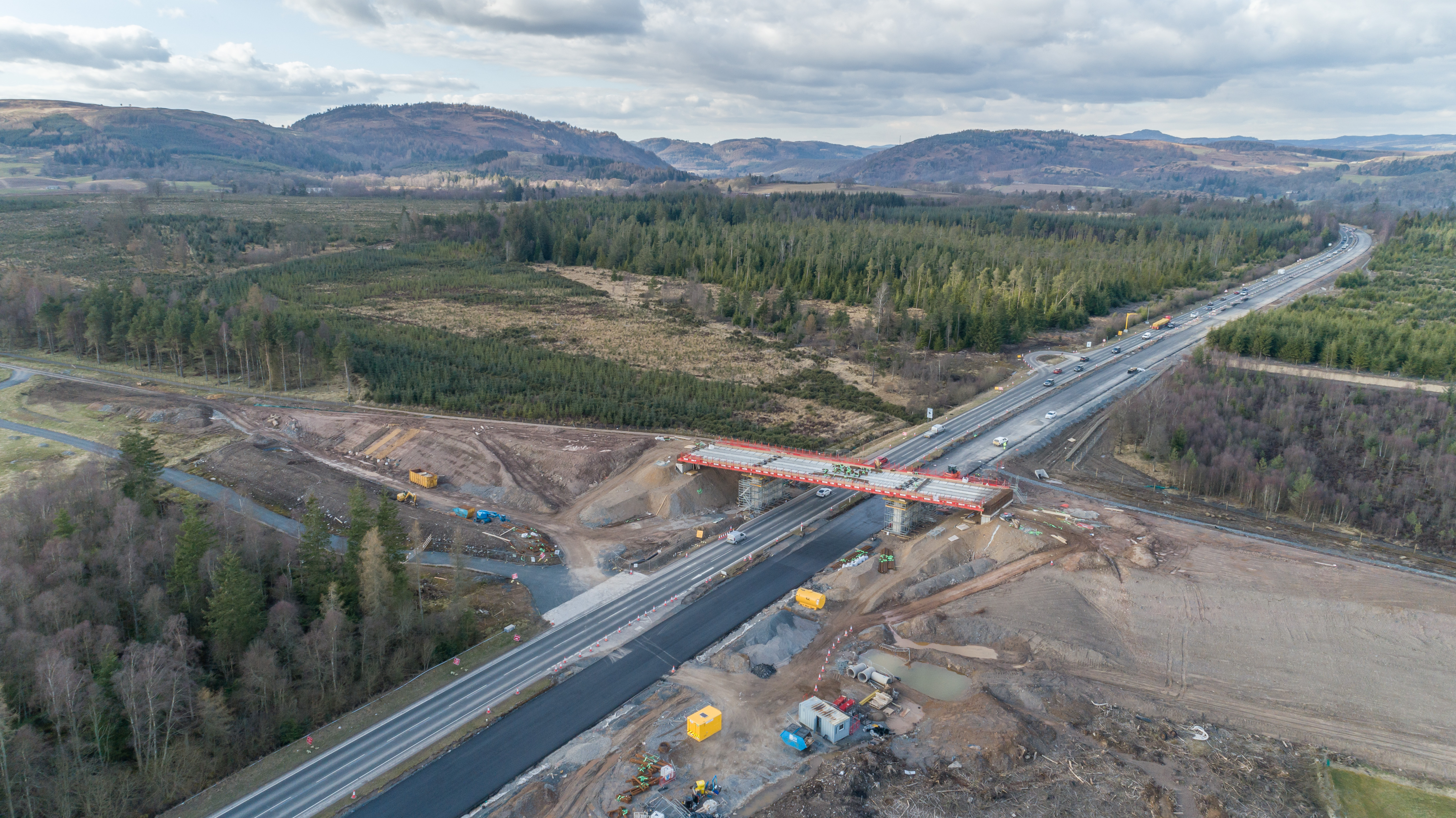 Drainage operations continued to progress between the Stanley/Tullybelton junction and Bankfoot, with the excavated material from the creation of drainage channels being reused as fill elsewhere on site. This sustainable method of working has resulted in 99.9% of the materials required for the likes of earthworks operations, being recycled and re-used on site as of the end of March.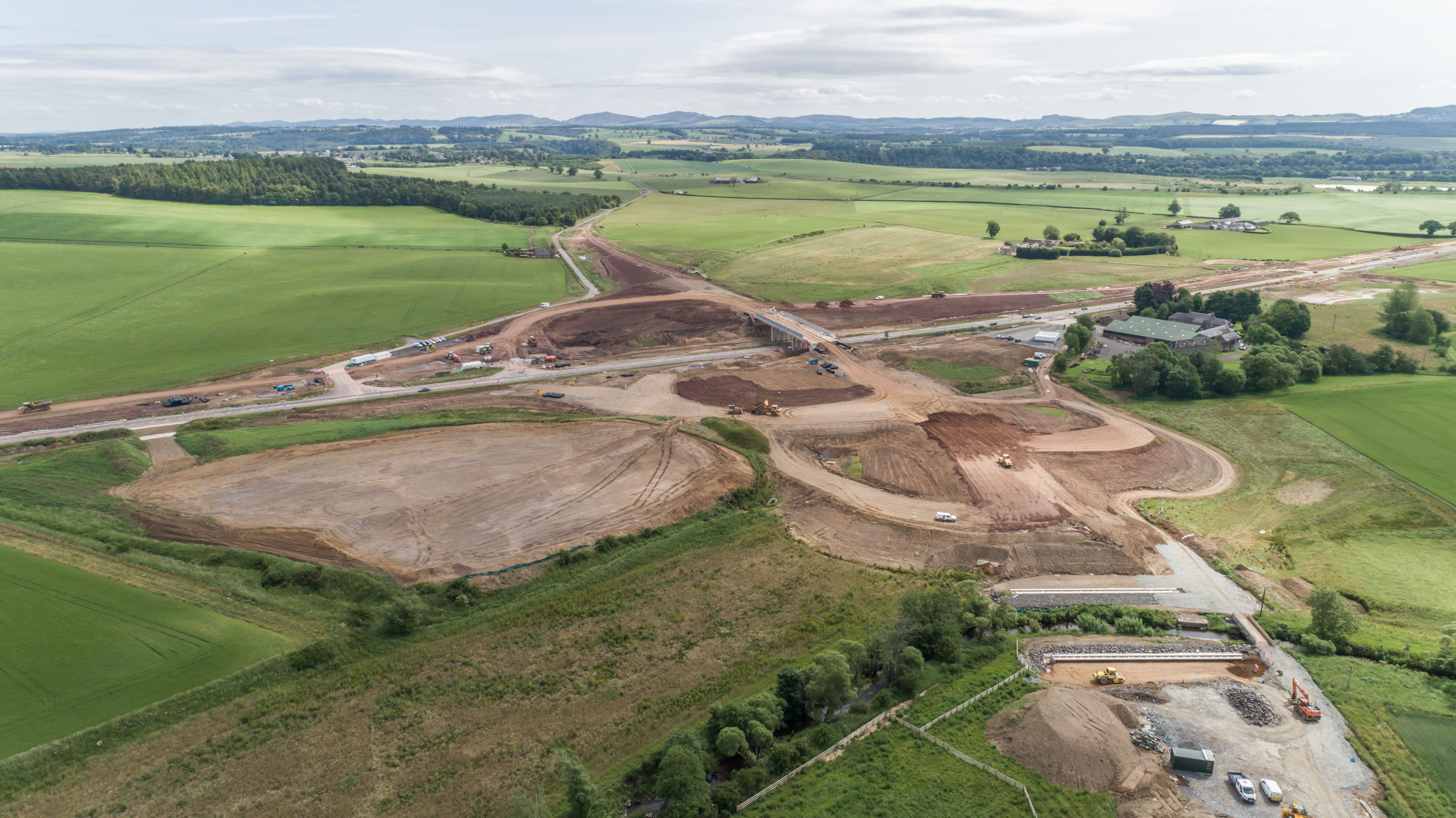 Similarly, Balfour Beatty's initiative to locate a borrow pit on site at Newmill Farm has dramatically reduced the number of vehicle movements on the road network that would have been necessary to transport thousands of tonnes of materials including gravel and sand to site. This has resulted in a more environmentally sustainable method of constructing major infrastructure of this scale. The excavated materials from the borrow pit have been used to construct the road embankments around the Stanley/Tullybelton Junction.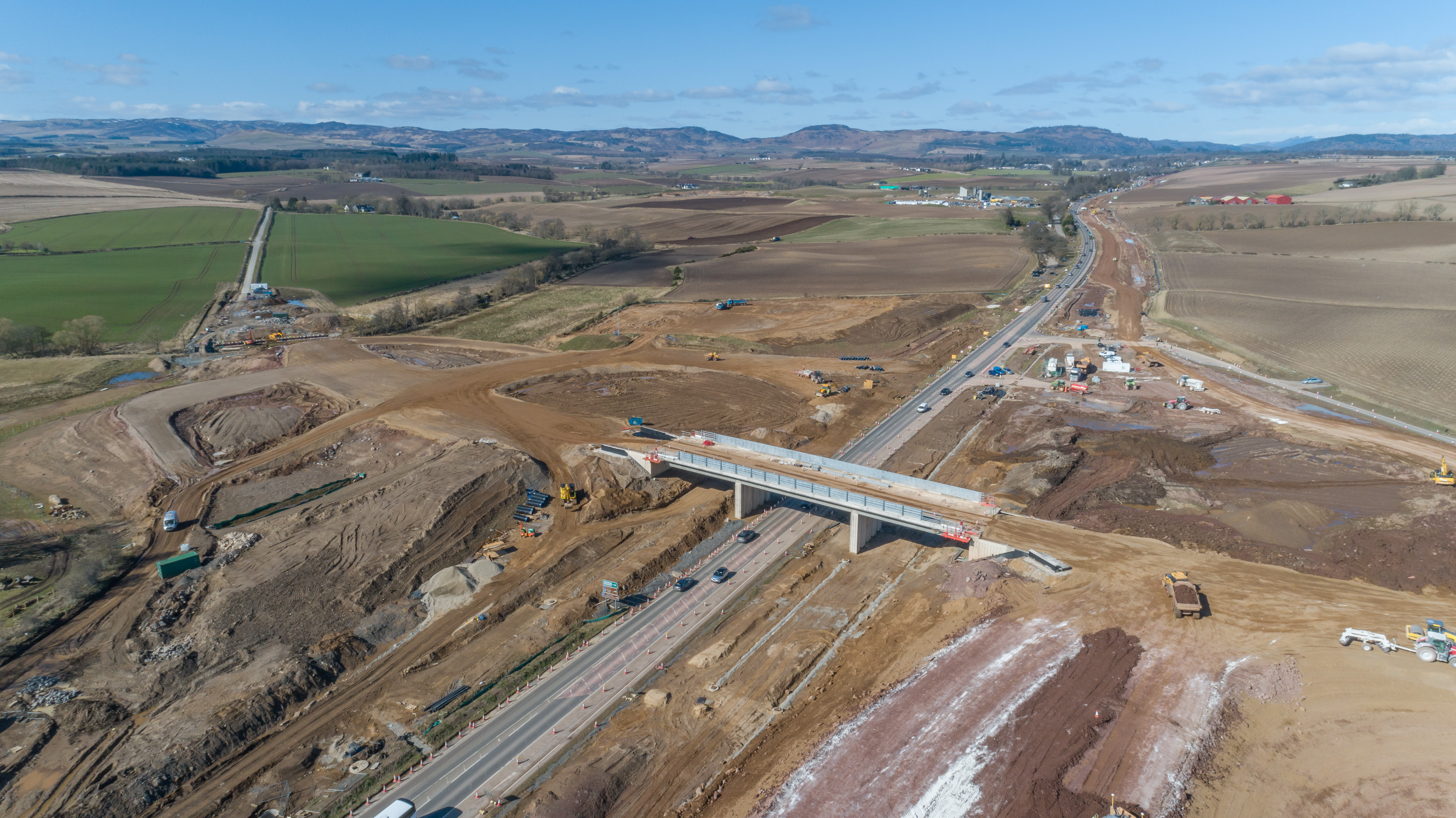 Works on the structures progressed well with concrete for the bridge decks being poured at several structures. With all the concrete beams now installed as planned on the project, completing the bridge decks will allow our contractor to begin to undertake waterproofing and surfacing, in preparation for them opening to traffic.
Preparatory works also began on the new Ordie Burn underbridge which will replace the existing stone bridge to the west of the A9 near Newmill Farm and the new Stanley/Tullybelton Junction, with a BEBO Arch bridge. This unusual structure, will comprise 50 precast concrete sections, to form an arched bridge over the Ordie Burn.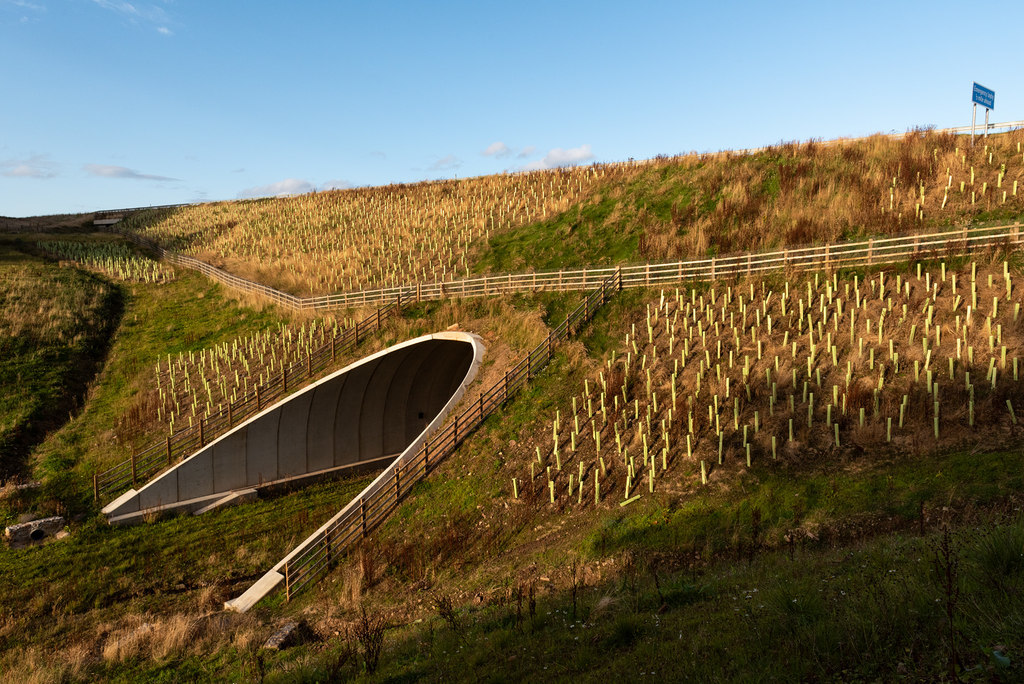 An example of a BEBO® Arch constructed over Limpet Burn as part of the Aberdeen Western Peripheral Route
---