One year on - Bridge Beams, Community Benefits and Barnardos
One year on from the award of the construction contract to dual the A9 from Luncarty to Pass of Birnam, Transport Scotland looks back at what has been achieved on this section of the £3billion programme to upgrade the A9 between Perth and Inverness.  
Michael Matheson, Cabinet Secretary for Transport, Infrastructure and Connectivity, visited the 9.5km site north of Perth during the summer, ahead of the first major construction milestone to install beams at the Stanley/ Tullybelton Junction, to highlight there is more to this project than bridge beams and road surfacing.
Mr Matheson took the opportunity to view the significant construction progress on site and met with some of the local young people who are benefitting from the employment and training being realised as a result of this £96million Scottish Government major infrastructure investment.
Trainee labourers, Patrick Stewart (19) and David McPhee (22) have secured full-time work as General Operatives on the project following successful two-week placements, arranged through a relationship between Transport Scotland's contractor, Balfour Beatty and children's charity Barnardos.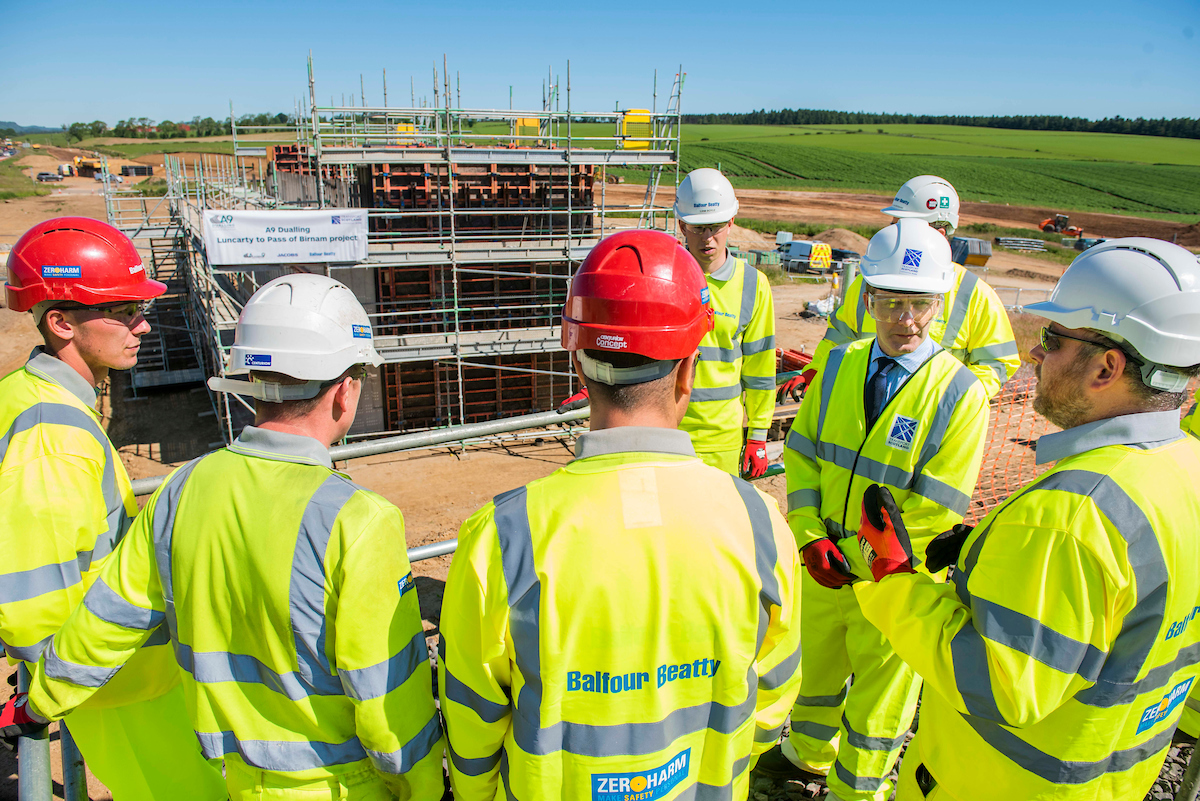 Over the course of the two weeks, the trainees who both live in Perthshire, experienced a variety of construction activities on site and gained valuable experience and skills that they may otherwise not have had.
Meeting the new recruits, Mr Matheson, commented: "It's so rewarding to meet young people starting out on their career working as part of the construction team dualling the A9.
"This is an ambitious programme that will create and sustain construction jobs in Scotland for many years to come, and this opportunity is arguably life-changing for these young trainees. Providing long-term employment and training opportunities for young people is vital to equip them with the skills to build a solid foundation for their future careers."
Transport Scotland has set its contractor ambitious targets to create new job opportunities, work placements, apprentice and graduate positions, as well as educational and community engagement to be delivered during construction, ensuring the project encourages sustainable employment benefits that help to support the local economy.
Gemma Montrose, Project Sponsor for the A9 Dualling: Luncarty to Pass of Birnam project, explains: "Transport Scotland is committed to delivering more than just a road and we are working closely with Balfour Beatty to maximise the wider social benefits of this £96million investment, locally and nationally.
"We are already seeing the positive outputs of these commitments, in the first 12 months of the project, we can report that we are well on the way to achieving our target of creating 30 new jobs over the anticipated two-year duration of the works.
"Transport Scotland has worked hard to ensure that the majority of the opportunities created by our project are filled by workers from the local area, with a focus on 'difficult to reach' groups, including bringing new people to the industry, young people, disadvantaged young people, long-term unemployed and veterans.
"It is important to recognise a huge amount of effort is dedicated by our contractor to work in partnership with organisations such as Remploy and Barnardos to fulfil these commitments."   
Similarly, Transport Scotland places a great deal of emphasis on education to encourage the next generation of engineers.
The project has already engaged with 2,271 pupils and students from nursery though to university level education, which includes supporting Transport Scotland's Academy9 Schools Programme to promote STEM (Science Technology Engineering and Mathematics) subjects and engineering as a career.
Gemma added: "With so much going on, it's easy to overlook the tremendous strides achieved in the last 12 months and the ripple effect these will continue to make to the benefit of the local economy and communities at grass-roots level.
"The project has already been able to spend 64% of its spend on subcontracts with small and medium enterprises (SMEs) and a huge 99.7% of spend on subcontracts is within Scotland, of this, £2.08million has been spent with local businesses within a 30 mile radius of the works. On top of this, a staggering £4,500 of benefit-in-kind has been donated in support of local charities and organisations."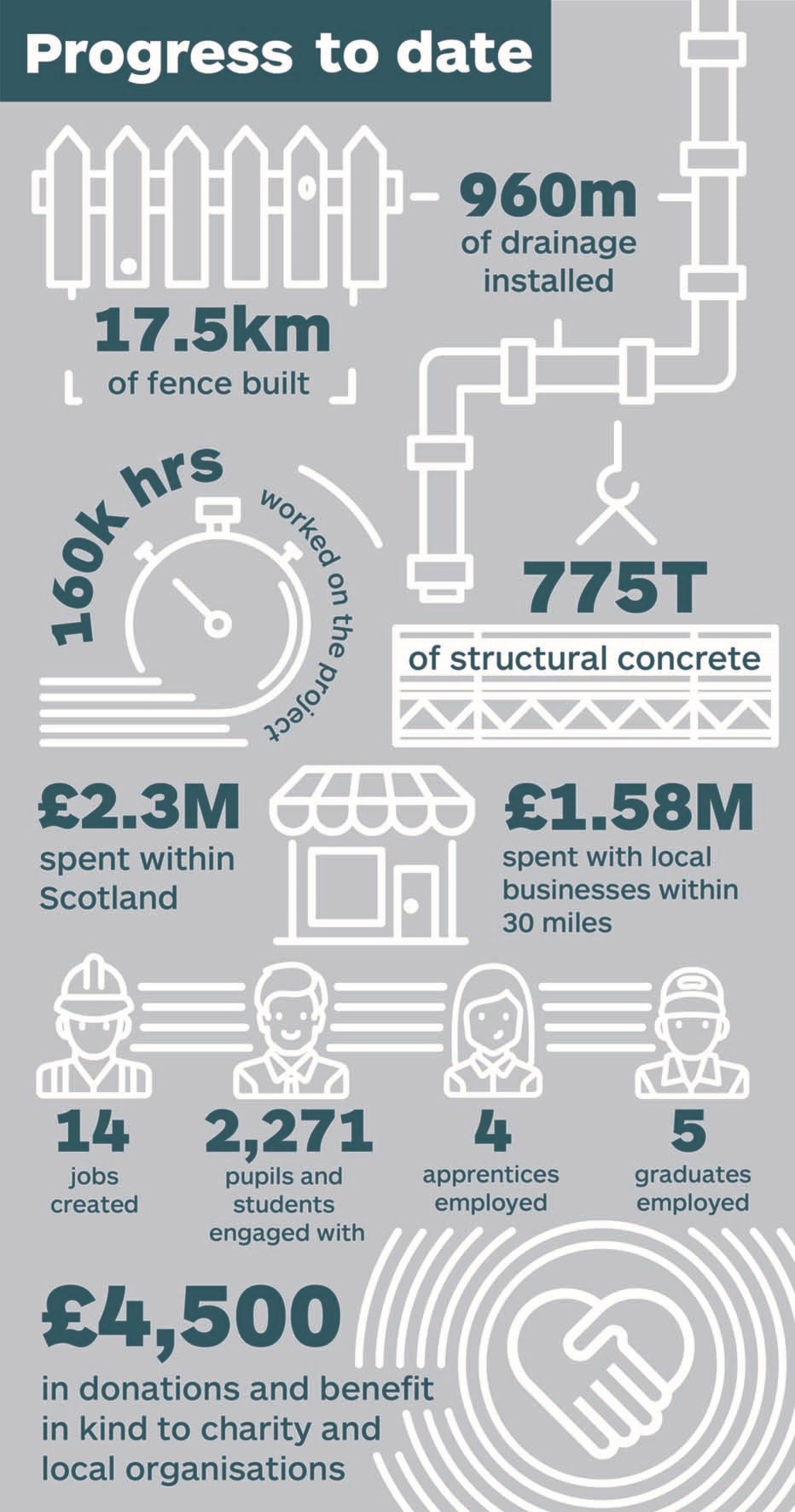 This rounded approach to construction and community benefits is not new, but this project showcases a distinct step-change in Transport Scotland's approach to the delivery of major infrastructure projects, with a resolute focus on community benefits and legacy creation.
The project recently marked its first major milestone with the completion of the first beam lift to construct the new bridge at the Stanley/Tullybelton Junction, which was the culmination of months of planning and preparation by our contractor Balfour Beatty.
Fifteen precast concrete beams, ranging from 22m to 25m in length and weighing between 49 and 57 tonnes, were lifted into place over the A9 carriageway during a series of three overnight closures to create the bridge deck of the biggest structure of the project.
A 750-tonne crane was used to lift and secure the beams in place before the road could be re-opened to traffic each morning. The overnight closures also allowed the temporary formwork to be installed that allow the deck and parapets to be constructed without further closures of the A9 below.
Alan Brisbane, Project Manager for Balfour Beatty, said: "The success of the beam lift operation marks a significant construction milestone as part of the A9 Dualling: Luncarty to Pass of Birnam project and is the first major piece of the new infrastructure now visible to road users.
"Over the next few months, road users and the local communities will see a distinct change in the landscape as the line of the new carriageway begins to emerge.
"There is still a great deal of work to be done, both in terms of construction and in delivering more community benefits to the local area, but I am confident we will exceed expectation on both fronts."
Slideshow of photos showing the beam lift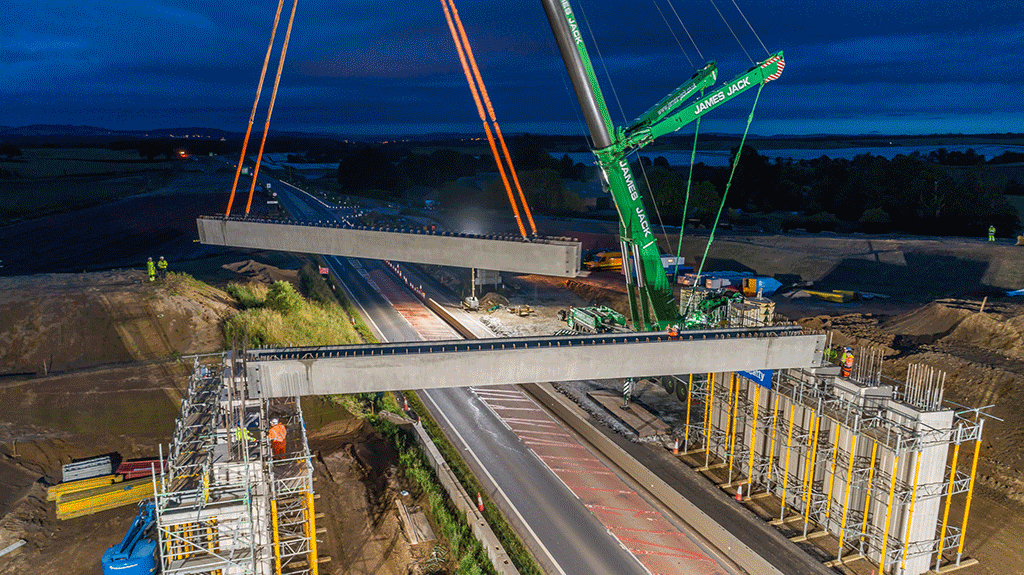 Speaking during his site visit, Mr Matheson added: "As Scotland's largest infrastructure project, the A9 Dualling Programme offers a 'once in a life-time' opportunity to create a legacy the industry can be proud of.
"The young people I met today are a true inspiration – they have been given the opportunity to learn new skills and develop a new career, reinforcing my conviction that the A9 Dualling Programme is about so much more than building a road."
---