ERDF funding - Smart Pay Grant Fund
Overview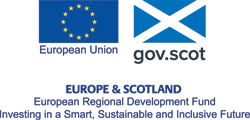 The Smart Pay Grant Fund, part of our European Regional Development Fund (ERDF) Low Carbon Travel and Transport (LCTT) supported programme, is open to transport operators, Local Authorities, and Regional Transport Partnerships that provide commercial bus services to the general public in Scotland.
The aim of the fund is to provide financial support to upgrade, replace or procure new Electronic Ticketing Machines (ETM) to accept contactless (cEMV) smart payments and support licence fees for this service.
This more convenient payment method makes access to public transport easier and aims to encourage passenger journeys and a reduce reliance on the car, lowering carbon emissions, and improving our air quality.
We are offering access to a £1.1 million Grant Fund, consisting of 40% ERDF matched by 60% Transport Scotland allocated budget, to support bus operators with their investment for the above purpose.
The Grant Fund will be made available for distribution over a three year period (2018-2021) or until funds have been fully expended, whichever is soonest.
Criteria
The Smart Pay Grant Fund is open for applications to support provision of a smart payment cEMV acceptance to passengers throughout Scotland.
Transport operators or public bodies, such as Local Authorities or Regional Transport Partnerships, who operate commercial passenger transport services, are eligible to apply.
Applicants will need to demonstrate how they meet the essential criteria below and will be expected to report on uptake for evaluation and audit purposes.
Applications put forward for consideration of funding from the Smart Pay Grant Fund will be checked for initial eligibility prior to being progressed to assessment and processed on a rolling basis as received.
The following eligibility conditions have been developed to address State Aids, meet ERDF requirements and mitigate risk.
Applicants must:
Be a Scottish bus operator of "local services" or a local authority/regional transport partnership registered with the Traffic Commissioner for Scotland
Provide a commercial service(s) in Scotland available to the general public
Have a cEMV agreed merchant account or be in the process of arranging one
Be applying to the fund for a maximum of 250 ETMs across all rounds of funding
Have not already ordered the goods or services you are applying to the fund for
Currently operate or be in a position to procure, upgrade, and manage, as per above funding package, ITSO compliant ETM cEMV compatible equipment
Have reliable connectivity at depot or on service route to permit transaction data periodically as a minimum
Agree to provide quarterly smart travel data to Transport Scotland for European Funding audit purposes
Be able to demonstrate that cEMV will be sustainable on eligible services for a 5 year period from date of receipt of initial funding.
Funding
The Smart Pay Challenge Fund has a total of £1.1m allocated to it from the ERDF LCTT Programme (40%) and Transport Scotland (60%).
Eligible organisations may apply for:
£1000 per ETM
This is towards procurement costs of a replacement or new ETM to provide a cEMV capability.
This is to support operators who do not have ETMs or have ETMs not capable of supporting cEMV, eg Tickerter 100, Vix ERG, Parkeon Wayfarer 200, Parkeon TGX150. Note Ticketer handhelds cannot be upgraded to cEMV currently.
£350 per ETM
This is towards procurement costs of an upgrade to existing ETMs to provide a cEMV capability.
This is to support operators who already operate ETMs which are capable of providing a cEMV capability with an upgrade, eg Ticketer 200.
£100 per ETM
This is per year for a period of three years to support licence or subscription fees.
How to apply
Please contact the Fund Manager at the address below to enquire about applying to the Fund or submit your full application for consideration by the panel following the guidance below and attached.
Process
Download a copy of the Application Form, Guidance Note and Business Case template or email SPGF@transport.gov.scot for further information.
Submit a completed Application Form and supporting documentation to SPGF@transport.gov.scot providing the specific information requested in the Application Form and Guidance Note.
(This is a Grant Fund so please make sure all information relevant to the project is included so it can be fully assessed. We may be in touch to clarify any of the details provided.)
An eligibility check and evaluation of the applications will be conducted by a Transport Scotland panel.
Applications will be processed on a rolling basis as received.
We will provide feedback to both successful and unsuccessful applicants.
---
ERDF Smart Pay Grant Fund - Application Form and Guidance
Funded projects
Smart Pay Grant Fund (SPGF) Round 1
Round one of the SPGF, which closed 14 December 2018, has now awarded £447,850 from the Scottish Government and European Regional Development Fund to support contactless payment solutions to potentially 4.5 million fare paying journeys right across Scotland.
SPGF Round 2
Round 2 closed on 14 June 2019 and awarded a further £39,640.
Successful applications have been received from:
Millport Motors Ltd – Ayrshire
Moffat & Williamson Ltd – Fife
Shiel Buses Ltd – Highland
Eve Coaches Ltd –East Lothian
Garelochhead Minibuses & Coaches Ltd – Argyll & Bute
JMB Travel Ltd –North Lanarkshire
Mackie's Coaches Ltd – Alloa
Prentice Coaches Ltd –East Lothian
Whitelaws Coaches Ltd – South Lanarkshire
Wilson's of Rhu Ltd – Argyll & Bute
Canavan Travel Ltd – North Lanarkshire
Mc Call's Coaches Ltd – Dumfries & Galloway
Blue Bus Ltd – North Lanarkshire
Dunns Coaches Ltd – North Lanarkshire
R B Coaches Ltd – Falkirk
Avondale Coaches Ltd – West Dunbartonshire
McColl's Travel Ltd – West Dunbartonshire
Edinburgh Coach Lines Ltd – Edinburgh
B Mundell Ltd – Glasgow
Borders Buses Ltd – Glasgow / Borders
Bryans Coaches Ltd – Falkirk
Craig of Campbeltown Ltd – Argyll & Bute
S D Travel – West Lothian
Shuttle Buses Ltd - Ayrshire
Docherty's Midland Coaches Ltd - Perth & Kinross
Stuart's Coaches Ltd – Glasgow & Lanarkshire
Smart Ticketing Challenge Fund
Previous smart ERDF supported Funds include the Smart Ticketing Challenge Fund. This provided Challenge Funding of up to 40%, to match funding provided by Local Authorities, Regional Transport Partnership (RTP) organisations or other public bodies, who wished to upgrade smart ticketing machines and electronic payment technology to support interoperable smart ticketing and payment in the local area.
This funding was available for applications between February 2016 to December 2017.
During this period we are pleased to have supported:
Round 1
Aberdeenshire Council - Aberdeenshire Smart Ticketing Back-Office
Supporting smaller operators with the transition of the grasshopper scheme from paper to smart.
SEStran (South East of Scotland Regional Transport Partnership) - SEStran Electronic Ticket Machine Project
Supporting smaller operators to participate in the latest smart ticketing initiatives as well as added benefits of Real Time Passenger info.
Round 2
Highland Council - Development of Highland Smart Ticketing
Enhancing smaller operators' ability to participate in a multi-operator scheme and supporting future plans for smart products for college/university students, schools and staff travel.
Scottish Borders Council - In House Fleet Smart Ticketing Upgrade
Upgrade our in house fleet vehicles with smart ticketing in order to be able to improve connectivity between our services, other commercial services and the Borders Railway.
SEStran (South East of Scotland Regional Transport Partnership) - SEStran Electronic Ticket Machine Project 2
Building upon SEStran's previously successful bid to the Smart Ticketing Challenge Fund, upgrade of smart ticketing equipment on tendered passenger transport services operating within the SEStran area.