Forth Bridges Forum - Meeting 48 - Minutes - 25 July 2023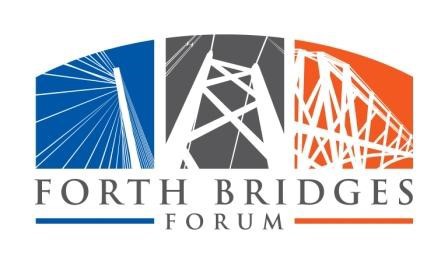 Attendees
Jonny Moran (JM) - Transport Scotland
John Andrew (JA) - Transport Scotland
Karen Stewart (KS) - FB Area Tourism Strategy Manager
Miles Oglethorpe (MO) - Historic Environment Scotland
Chris Waite (CW) - BEAR Scotland
Chris Tracey (CT) - BEAR Scotland
Jane Findlay (JF) - Fife Council
Sarah Duignan (SD) - Online - Network Rail
Stewart Lothian (SL) - Online - Network Rail
Ruth White (RW) - Online - City of Edinburgh Council
Welcome and Introductions
JM welcomed all to meeting 48 of the Forth Bridges Forum.
Apologies, Minutes of Previous Meeting and Actions
Apologies received from:
Mercy Muthegu - Transport Scotland
Keavy O'Neill - Transport Scotland
Gillian Laurie - BEAR Scotland
Paul Lawrence - City of Edinburgh Council
Elin Willamson - City of Edinburgh Council
James Bruhn - Historic Environment Scotland
John Mitchell - Fife Council
Caroline Warburton - Visit Scotland
Neil Christie - Visit Scotland
Action points were reviewed and updated as follows:
Action 47 2.4 - FBF ministerial briefing - Ongoing
Action 47 5.1 - Terms of Reference review - Ongoing
Action 47 5.3 - Newsletter - Complete
Action 47 5.4 - barriers update - Complete/
Action 47 7.4 - Ongoing
JA will progress with ministerial briefing paper for information on work of the forum.
Terms of Reference for the Forth Bridges Forum have been updated by Transport Scotland. This was shared with members with comments and feedback from all organisations at an appropriate level to be returned by Friday 4th August. MO added that it would be helpful to include terms of funding.
JA has raised the FRB 60th Anniversary on 4 September 2024 with the TS anniversaries group. Very initial planning has commenced and further discussions with BEAR and other stakeholders will take place.
Tourism Update - Update by KS
KS provided presentation of tourism work given to group.
Phase one signage complete. Aiming to complete remaining signage strategy and installation by mid 2024. 
Proposed brown tourist sign - JM commented that we have to prove the viewpoint is popular to convince TS to give approval for brown sign. Footfall data will be required and counters to be investigated for repair/renewal.
Social media update, Facebook reach 4.4 million. New Threads account has been set up.
World Heritage Management Group Update - Update by MO
World Heritage Coordinator role – KS morphing into coordinator role. Current role continuing until such time as able to move onto combined role. World Heritage workload will gradually increase. Would like to formalise/clarify role of HES, TS and NR regarding Coordinator role and World Heritage funding as part of MOU /Terms of Reference refresh.
UNESCO periodic reporting was submitted by HES.
MO has acquired Bank of Scotland £20 polymer notes featuring QC and Forth Bridge for those who requested them.
Events are planned in October to promote Forth Bridge to World Heritage delegation and HES board.
MO proposed doing more with the point cloud VR model of the bridges. CW suggested making it open source, to allow third parties to make the most of it. SL cautioned that security considerations would need to be looked into before making data publicly available.
JA suggested making more of the CEC when not used by schools. It was agreed to take this forward as part of the education strategy.
Action: JM will speak to Elaine Barrie
Forth Bridges Forum Update
Terms of Reference for the Forum shared.
Action - comments and feedback from all organisations to be returned by Friday 4 August
Education launch with minister on Wed 3rd May 2023 went well. Bookings coming in for next sessions.
Forth Bridges Forum public meeting held 6th December 2022 and newsletter shared. Agreed to discontinue newsletter due to low subscribers and success/uplift of social media. Public meeting to be called if and when there is something to share. QC barriers main item for public meeting – potentially hold meeting after trial in late October
Action: CW to send email to newsletter subscribers advising them to follow on social media if not already
Engagement with QDCC – KS advised she'd met them. They were happy they were up to speed with what was happening. No further meetings required.
JA looking at replacing or repairing panoramic camera outside CEC. CT advised issues with access to camera on FRB main tower – cost implications of addressing this to be considered.
JA meeting Ambassador Homes representatives to review limiting requirements for telescope manufacturers that will allow us to finalise specs for telescope on viewing platform. Hoping to have installed in September.
Queensferry Crossing and Forth Road Bridge - Update by CT
Forth Road Bridge - Three schemes below deck on FRB – none have implications for traffic. All three to be complete by end October.
Elastomeric bearing scheme substantially complete.
Lateral thrust bearings more complicated, gets under way next week. Potential for occasional lane closures but no full carriageway closures.
Cross girders refurbishment under main towers well under way and on programme.
Enhanced security barriers on main cables complete. Much more substantial barrier to prevent access to thrill seekers. Eight in place at low points above deck. Still to develop something below deck near anchorages.
Complaints and enquiries received re. amount of work on footpaths. Aiming to have two footpaths open but implications for welfare. Would like smart cameras that recognise behaviour operational on both footpaths beforehand. (already installed on east.)
Confident that Queensferry Crossing automated barriers ground works will be complete by end Sept, with the barriers themselves installed in Oct and a trial c. 29 Oct. Important to note it will be a semi-automatic system for this winter with each barrier controlled individually – fully automatic system to be operational next year.
JM agreed to ask CWC (cycling organisers) to provide details of QC closure to share on website and social media.
Communications Group - Update by JB
Google Analytics update has meant that the Quarterly Forth Bridges website analysis report was unable to be produced this quarter but working on a new format for future meetings.
Enquiries stats via FBF mailbox for the last quarter. 33 received since April 2023. 20 for BEAR Scotland.
Network Rail - Update by SL and SD
Barnardo's your View event, 22 - 24 September 2023 - Sold out.
CHSS abseil event, 8 October 2023 - places still available. Thanks to KS for social media support for both events.
Forth Bridge North Approach works complete. Snagging works at north end.
Automatic train warning system going through approval process.
Commenced feasibility study into drainage issues on north approach viaduct due to complaints from local residents.
AOB
CW advised Doors Open Day will take place on 23 September 2023, same format as 2022.
KS suggested viewing platform improvements and memorial refurbishment in time for FRB 60th BEAR to provide BID to TS.
It was agreed to arrange a trip to QC for forum members when possible.
Date of next meeting - 24 October 2023
---