Part 5: Where We are Now in Transport
Part 5: Where We are Now in Transport
Overarching transport policy
Responsibility for transport provision and its governance rests with a number of organisations. Full detail of the various roles and responsibilities in transport can be found in the National Transport refresh document[28].
The Scottish Government is responsible for overall strategy and, with the Scottish Parliament, for most of the regulatory framework. Transport Scotland is the national transport agency for Scotland, delivering the Scottish Government's vision for Transport through the National Transport Strategy. A fuller description of the various transport roles and responsibilities within the Scottish Government is given on accessibletravel.scot.
This Framework will sit within the overall context of the National Transport Strategy which presents the Government's overall vision and policy framework for transport in Scotland between 2006 and 2026. It provides for:
"An accessible Scotland with safe, integrated and reliable transport that supports economic growth, provides opportunities for all and is easy to use; a transport system that meets everyone's needs, respects our environment and contributes to health; services recognised internationally for quality, technology and innovation, and for effective and well-maintained networks; a culture where transport providers and planners respond to the changing needs of businesses, communities and users, and where one ticket will get you anywhere."
In early 2016 a refresh of the National Transport Strategy highlighted the need to continue to reduce inequality geographically and between groups such as disabled people or those with reduced mobility, people with children and older people so that they have full and equal access to transport services at every stage of the journey.
The refresh considered the roles of key stakeholders and emphasised the need for partnership working across sectors within and outwith transport: this shall be a cornerstone of the structure set up by this Framework.
Building on the refresh, the Minister for Transport and the Islands has confirmed that there will be a full review of the National Transport Strategy in the current session of Parliament.
Local transport authorities (all local authorities and currently three Regional Transport Partnerships), have an extensive role in respect of transport. For example, they have a duty to assess whether there is a need to provide transport that is not otherwise provided by commercial bus operators and they have the powers to procure or operate bus services. Many local authorities already consult directly with disabled people about transport and they directly support disabled people and transport. This can include the provision of supported local bus services, public transport information and infrastructure, door-to-door dial-a-bus services, social work client transport and travel training, local concessionary travel initiatives and community transport support. In addition, local authorities also have responsibility for taxi licensing.
Local authorities also have duties within their roles as roads authorities and planning authorities to make streets accessible for disabled people. One of the key issues for disabled people is the ability to get to transport, including negotiating paths which have various obstructions such as wheelie bins and advertising boards.
The space between local and national transport policy and delivery is filled at a regional level by the Regional Transport Partnerships. The Regional Transport Partnerships set regional transport strategies across modes and local authority boundaries, work with local authorities and others to deliver specific projects and are statutory partners in Community Planning Partnerships to support their consideration of transport issues and ensure regionally significant issues have a strong focus.
Engagement, advocacy, advice and guidance
Government
There are a range of groups that engage with and advocate on behalf of disabled people, providing help and advice to government and people working in transport about improving accessibility. A short overview is given here with more detail on the various roles and responsibilities and other forms of engagement at accessibletravel.scot.
The Mobility and Access Committee for Scotland is the national public body that provides advice to Scottish Ministers on transport accessibility for disabled people. It also works with Transport Scotland and transport providers to identify and tackle accessibility issues, for example by supporting the design on major transport infrastructure projects. Half its members, and its convener, must be disabled people.
Other groups have been set up by the Scottish Government to engage with disabled people and their representative organisations on national transport accessibility issues. Their mandate varies and they are split into modes and include the Bus Stakeholder Group, Scottish Rail Accessibility Forum and Roads for All which has published a Good Practice Guide[29] for accessible roads.
Recognising the heavily localised nature of much transport provision, local and regional tiers of government also support groups that facilitate work on accessibility. These take different forms depending on local needs. They include Equality Forums set up by some Regional Transport Partnerships. They also include local user groups or consultative forums focusing on transport modes and facilitated by local authorities, Regional Transport Partnerships, community planning partnerships or other local public bodies.
Transport providers
Transport providers have their own mechanisms to engage with disabled people and a variety of ways have been developed to do this. For example, ScotRail's Stakeholder Equality Group is set up to help ScotRail deliver inclusive policies for disabled people and those with reduced mobility, as well as offer guidance on strategic matters to do with inclusion and accessibility. For example, the Group will steer strategy on where investment in improvements should be prioritised, carry our mystery shopping on Passenger Assist services to monitor performance and quality of journey experience, and help with Rail Awareness Open Days.
Disability organisations
Individual disability organisations, of which there are thousands in Scotland (including user-led organisations, known as Disabled People's Organisations) provide a rich source of knowledge and experience of different kinds and are a key resource for all accessibility work. A guide to some Disabled People's Organisations is produced by Independent Living in Scotland and can be accessed on their website.[30]
The value of user-led efforts to improve access to guidance on transport accessibility can be demonstrated by the work of the Scottish Accessible Transport Alliance. The Alliance is a Disabled People's Organisation with members from across the country who are dedicated to improving transport accessibility. They partnered with students undertaking work on the built environment to develop Place to Place, a guide for disabled people about their rights when using public transport, driving, cycling or walking. This is available for everyone to access.[31]
New ways to find out disabled people's experiences and views, and collaborate to develop solutions, are especially exciting. An example of how this can be done in the context of accessibility for people with dementia is the Upstream project at Figure 7.
Figure 7
Upstream (www.upstream.scot) is a project funded by Life Changes Trust and ESP Group, a company that provides mobility services. Upstream will develop a framework for bringing people affected by dementia together with those providing mobility services. The project will create a service which shares the experiences, insights and ideas of people affected by dementia and work with them to develop and deliver new training experiences for leading mobility service providers in Scotland. This reflects the importance of ensuring staff have the knowledge and understanding to deal with all impairments. Upstream will create a model of citizen participation that brings people with valuable life experience into contact with service providers in a constructive, collaborative way, using their insights further upstream than they can be heard at present, to shape existing services and influencing the design of future services.
In addition to engagement with disabled people and their representative organisations, transport professionals can also get help to improve their service by using guidance and other documentation. This can help particularly in explaining the range of barriers faced by people with different impairments, identifying key measures to improve accessibility, and providing technical detail about relevant specifications.
Some guidance is required by law, such as guidance on accessibility at railway stations jointly produced by Transport Scotland and the Department for Transport. Other documentation can be found from a variety of sources including the public, private and third sectors and these documents take varying forms. Some examples of these are available at accessibletravel.scot.
Compliance, complaints and customer feedback
There are various regulatory bodies within the different modes of transport which ensure compliance with legislation and contractual requirements. For example in respect of bus services:
the Traffic Commissioner for Scotland deals with bus registrations and handles complaints about variations to scheduled bus timetables and condition of buses, including compliance with regulation on bus accessibility;
Bus Users Scotland handles general complaints about bus services, including accessibility issues; and
local authorities also handle complaints about local bus services and about bus stops and stations where appropriate.
One of the issues raised by disabled people is the need to be able to make complaints and receive advice and guidance in an accessible way. This means knowing who to contact about specific issues and being able to do so in a way that is accessible to the individual, whether that be by textphone, British Sign Language, or other formats.
This is also true of customer surveys. Many transport operators conduct surveys on the provision of their services. Disabled people need to be able to take part in these surveys to help improve transport accessibility. This means questions which are relevant to disabled people, asked in accessible formats with the ability to also respond in an accessible format.
Travel information and journey-planning support
We know that disabled people tend to take more time to plan their journeys. The main cross-modal information service to enable journey planning on public transport is Traveline Scotland as illustrated at Figure 8.
Figure 8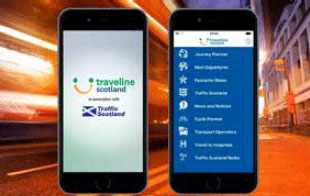 Traveline Scotland (www.travelinescotland.com) is a partnership between transport operators, local authorities and Transport Scotland. Their aim is to provide up-to-date, accurate, impartial and understandable information on all public transport services within Scotland and the rest of Great Britain. Traveline Scotland utilises timetable data from operators and local authorities to provide a personal journey planning service for local bus, coach, rail, ferry, tram and Glasgow Subway services. This is achieved via a 24/7 telephone advice centre and online, including mobile apps. The Traveline Scotland website meets the W3C "AA" standard, with mobile apps tested against VoiceOver and TalkBack screenreading tools on their respective mobile operating systems, iOS and Android. The call centre accepts "Next Generation Text" telephone calls and offers a special level of service to ENABLE card holders.
A variety of other online information sources exist that are provided by the transport community and government that can help when people are making decisions about journeys.
Many of the sources of information use the internet as the main method of communication. Although many disabled people can and do use computers, we know that many don't want to or can't. Obtaining information about accessible travel without using the internet may be more difficult and time-consuming. In the case of ticket booking services, there is also the risk people who don't use the internet could face higher costs. Like all transport service and infrastructure providers, those providing information and ticket booking services are under obligations to make reasonable adjustments under the Equality Act 2010, including by ensuring their information is accessible.
Local action can take place to supplement these national information and journey planning efforts. This can include "one-stop shop" services provided in a variety of formats (including face-to-face through travel centres, such as those provided by Strathclyde Partnership for Transport) and other local information and journey-planning services.
Individuals too, sharing their own and other people's experiences provide, an invaluable source of information, for example through Euan's Guide as at Figure 9.
Figure 9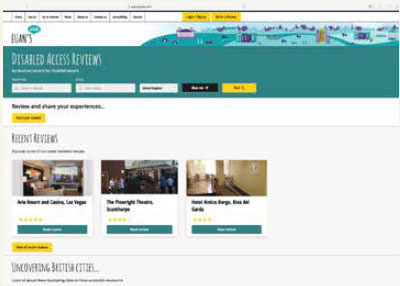 Euan's Guide (www.euansguide.com) is the disabled access review website and app that aims to "remove the fear of the unknown" and inspire people to try new places. The website was founded in 2013 by brother and sister, Euan and Kiki MacDonald, after Euan became a powerchair user. After spending hours of their time making enquiries about access at places they wanted to go, the duo realised that they could not be alone in their search for disabled access information. This idea became Euan's Guide, a digital charity based in Edinburgh that is helping to open up towns and cities to disabled people everywhere. Disabled people, their friends and families can use the website to search for listings and reviews of venues across the UK and beyond, including transport. Listings include information about access features that exist at any one particular venue. The cornerstone of Euan's Guide however is its community of independent reviewers who share their photos and experiences of places they have visited. By sharing their experiences people can give others an idea of what to expect when they visit somewhere new for the first time.
Disabled people told us that planning a journey went beyond the transport part of the journey. What was also needed was information on streetscape and on facilities around transport hubs, particularly accessible toilets.
For some disabled people an accessible toilet also needs to provide changing facilities. An initiative called Changing Places has been set up to campaign for these to be provided across the United Kingdom. There are Changing Places toilets in Scotland including one at Glasgow Central Station as shown at Figure 10. A website and app provide locations of all Changing Places toilets around the United Kingdom (www.changing-places.org).
Figure 10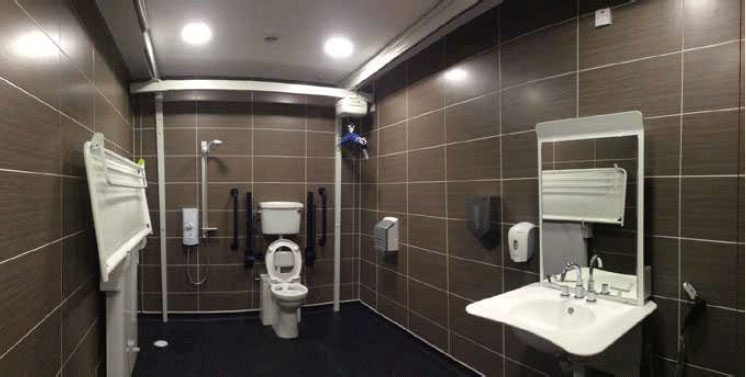 For some disabled people there is a fear of travelling either supported or alone. Travel training provides practical and tailored help to those who need support to travel both without fear and, where possible, independently. Travel training is a term used for very many different forms of help in terms of approach used and the length of contact. While most travel training that currently exists is geared towards people with learning disabilities, it can play a role for people with any impairment, such as those who have not used public transport for many years but have lost their driving licence for medical reasons.
In Scotland, travel training is delivered at the local level meaning service provision can vary. Travel training is delivered predominantly by social work and third sector organisations. An example illustrated in Figure 11 is from Stirling Council's "Streets Ahead" day support service for adults with learning disabilities which for the past 15 years has supported several service users with aspects of being independent in their own communities.
Figure 11
One service user, Miss X, was very keen to travel on her own. Streets Ahead then worked to build her skills and confidence. An Occupational Therapist arranged to assess Miss X and create a route planner for her walk home. Miss X was supported to buy yak-traks for her shoes to reduce the likelihood of slipping. Risk assessments were drawn up for these, as well as road safety and getting the wrong bus. Streets Ahead continued work to resolve issues and anxieties. For example, as a safety net the service supported Miss X to keep using her mobile phone when on the bus to call home. Miss X was supported to complete ASDAN Using Public Transport module.
Over time, this support meant Miss X made the journey home on her own. After a year of successfully travelling home, Miss X had the opportunity to take a longer journey. She adapted very quickly to this and was so proud of herself for doing this so quickly and with minimal support and was enthusiastic about expanding the amount of journeys she could do by herself.
Apart from the direct measurable outcomes of increasing her travel skills, using her mobile phone and safety skills, Miss X is now a more mature and settled person. She displays responsibility, confidence and much less of the behaviour she once did, and thrives on being more independent and having time on her own. She feels much more trusted and is still looking to increase her independence in travel as well as in her daily support in activities.
In the context of travel training, supporting people through training and equipment to engage fully in active travel – by which we mean walking and cycling – is a feature of local work, an example of which is described in Figure 12.
Figure 12
The Edinburgh All-ability Bike Centre (Edinburgh ABC) is a Cycling UK project. Started in July 2015 with funding from Transport Scotland for a pilot year, this has since been extended to a second year with joint funding from Transport Scotland and the RS MacDonald Charitable Trust. Based at Edinburgh Council's Bangholm Outdoor Centre, the project offers people the chance to try and learn cycling, and get cycling on a regular basis using a range of adaptive bikes, trikes, side-by-sides, hand cycles, tandems and regular bicycles. Riders can use the bikes as groups, families or as individuals and are aged 6–87 with a range of impairments including physical disabilities, autism spectrum conditions, learning disabilities and age-related conditions.
Assistance and support when making journeys
Good assistance complements accessible buildings, facilities, vehicles and vessels to encourage disabled people to make journeys. Improving these elements of our transport infrastructure takes consistent effort to recognise what needs to be improved and how best to make the right investments. In particular disabled people have said that assistance needs to cover the change over between different modes of transport or different stages of a journey. Good assistance (and also information) are particularly crucial if things go wrong during a journey.
The extent to which assistance is provided during a journey depends on the mode being used. For example, in rail there is a service called Passenger Assist where staff can help passengers embark and disembark from the train, provide assistance when on the train and when moving around a staffed station. Where stations are unstaffed or inaccessible the train operator can provide alternative transport such as a taxi to take Passenger Assist users to the nearest accessible station. On ScotRail, this service ought to be booked at least three hours in advance of travel with a commitment to reduce the notice period further.
Similar services are provided on other modes of travel, such as on ferries. As the example given in the case study at Figure 13 shows, transport providers can and do achieve positive outcomes through knowledgeable and empathetic staff who are empowered to take a positive approach.
Figure 13
A Senior Citizens' community group contacted CalMac as there were around 20 people in their party who were making a return trip. Although everyone in the party (travelling as foot passengers) would be able to board the vessel via the passenger access system – gangway – they wouldn't be able to carry their luggage. A local haulier's van was travelling on the day in question and the Port Manager approached the haulier to ask if the luggage could be transported in their van (which was going to be empty). Agreement was reached that the van would travel free of charge and all the luggage would go in the van and be collected from the van on arrival. For the return journey the luggage was carried in the CalMac stores van (which doesn't normally travel on the vessel but just delivers stores) and collected from the van on arrival at Stornoway. The stores van then travelled back the next day. The process went very smoothly and the Senior Citizen Community Group were very happy with the outcome.
Good assistance also depends on being able to recognise and support the needs of the individual. Disabled people told us that this can be a problem, especially if there is a hidden disability.
A number of Regional Transport Partnerships have followed the lead of SESTran (South East Scotland Transport Partnership) in funding the introduction of the Thistle Assistance Card (shown at Figure 14) in their regions as a way to ensure transport staff understand the needs of disabled people. The card, which is supported by a wide range of voluntary organisations and by most transport service operators, is credit-card sized and comes with a supply of peel-off stickers, which advise staff of the customer's impairment and the help required in an easy-to-read format.
Figure 14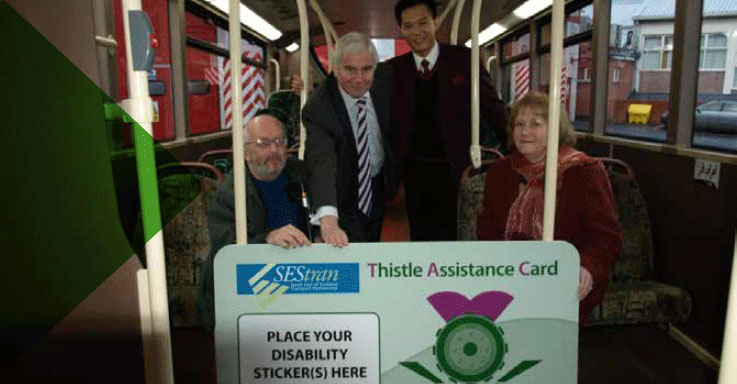 The importance of assistance and support that takes pains to adapt to different people's needs and wishes is illustrated by Figure 15, which provides an example of how a transport provider puts in place to specifically support people with autism.
Figure 15
Inverness Airport has been making special efforts to improve the service provided for people with autism. The airport and its Passengers with Reduced Mobility service provider have worked with an autism charity to be more aware of this particular customer group and provides support on all aspects of the customer journey through the airport.
In addition, ahead of any flight ,the airport will accept into the terminal people – often children – with autism to walk through the airport process. This is often at the customer's own pace and can involve multiple visits to provide reassurance. The airport will often then try and establish when the person is travelling and ensure relevant team members are made aware in case of any need to support the person. The airport has embarked on the National Autistic Society's Autism Awareness accreditation process to recognise the standards it has achieved.
---