Overview
Road Safety Framework to 2020
Scotland's Road Safety Framework to 2020 (the Framework), published in 2009, sets out Scotland's road safety vision, outlining a set of targets and commitments (96 in total) for reducing road deaths and serious injuries to 2020.
The Framework set deliberately challenging road safety targets, with road deaths separated from serious injuries to achieve significant casualty reductions in four distinct areas:
Scottish Reported Road Safety Casualties
2004-2008 Average
2015 Milestones
2016
2017
2020 Targets
Fatalities
292
204
(30% reduction)
191
(down %)
146
(down 50%)
175
(40% reduction)
Serious casualties
2,605
1,484
(43% reduction)
1,697
(down %)
1,589
(down 39%)
1,172
(55% reduction)
Child fatalities
15
10
(35% reduction)
81
(down 47%)
62
(down 60%)
8
(50% reduction)
Serious child casualties
325
163
(50% reduction)
167
(down 49%)
152
(down 53%)
114
(65% reduction)
To meet these targets, the Framework set out numerous priority areas, each with their own commitments, established via the five road safety Es: Engineering, Enforcement, Education/training, Encouragement/leadership and Evaluation/research. This ensured the commitments would be both measurable and achievable, with their attainment indicating the extent of Framework delivery.
Governing Bodies
A Strategic Partnership Board (SPB) was appointed to make all collective decisions on strategic matters, such as identifying and resolving high-level issues. Board members are responsible for monitoring the progress made towards delivery of the identified overarching outcomes, making key decisions on behalf of their respective organisations and ensuring that these are followed through.
The Board is supported by the Operational Partnership Group (OPG), which monitors and distils information on progress made by the various road safety partners against agreed indicators. Both groups ensure the Framework follows an evidence based, collaborative approach, with Transport Scotland (TS) working alongside local authorities (LAs), emergency services and third sector organisations representing different transport modes.
Both the SPB and OPG meet twice a year, with the Minutes available on the TS website.
Useful Links
https://www.transport.gov.scot/ transport-network/roads/road-safety/
Mid-term review
The SPB commissioned an evidence-based mid-term review (the Review) of the Framework in 2015/16. The Review, which adopted a participatory approach, assessed the progress made since the Framework was published and identified three key Priority Focus Areas (PFA) – speed, age and vulnerable road users – alongside their corresponding outcomes. It was also vital for road safety delivery partners to determine what progress was being made, and for a baseline of the evidence to be established to measure progress towards the 2020 casualty reduction targets. Therefore, the Review also recommended which indicators were to be adopted to track the achievement of the outcomes. These were designed to be specific, measurable, achievable, realistic and timely (see below).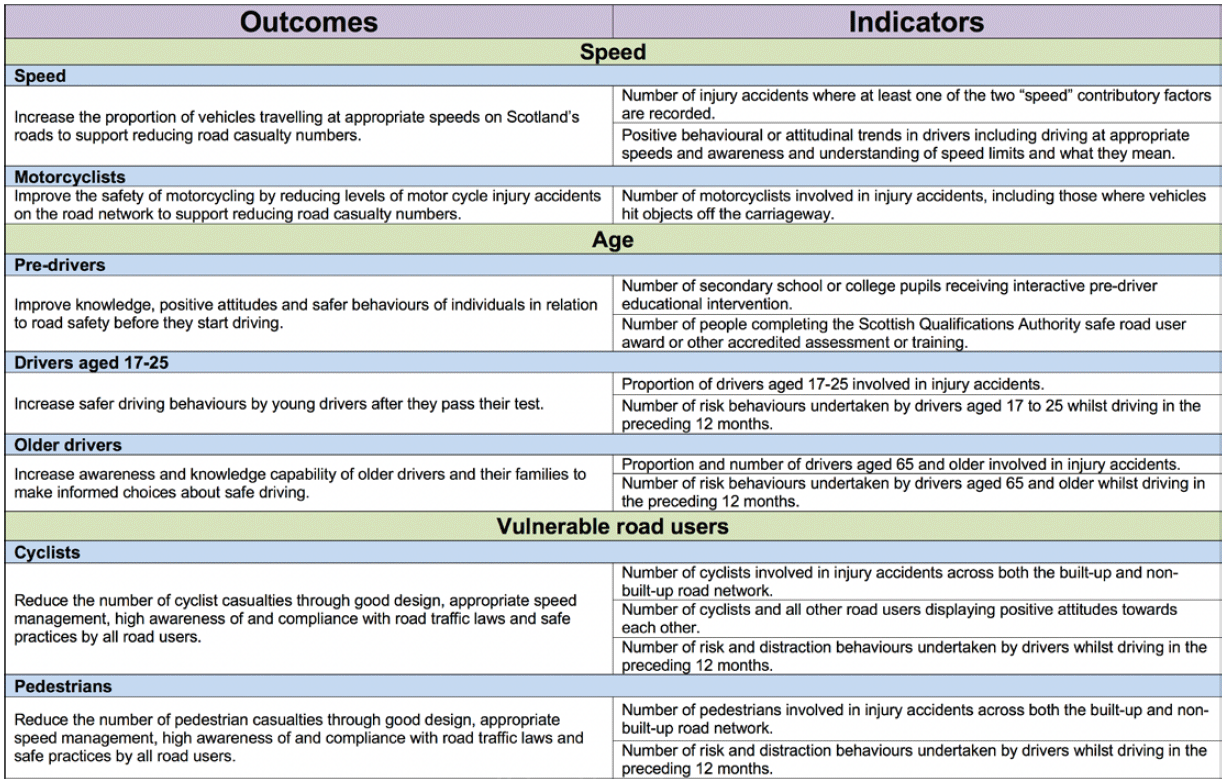 Useful Links
https://www.transport.gov.scot/media/1416/ts-road-safety-framework-mid-term-reviewmarch-2016.pdf
Snapshot of SPB and OPG activities
Literature Review – Intelligent Speed Adaptation
The SPB and OPG also conducted a literature review on Intelligent Speed Adaptation (ISA).
The review, commissioned by SPB requested continued research into ISA. The groups noted that there are various forms of ISA and that for ISA to work, a vehicle fundamentally needs to know where it is, with the most widely adopted approach being use of global positioning system (GPS) and digital mapping. Technology is already available to detect speed limits using a digital map kept in the vehicle or a road sign recognition feature.
However the digital speed map lacks the accuracy to provide mandatory ISA; however, voluntary ISA has shown some positive results, particularly from European studies. The GPS identifies the vehicle's location by satellites. These systems can be used to inform drivers of the limit, or they can link into an adaptive speed control system. Information has been framed around:
Implementation in the UK
Implementation Internationally
Driver behaviour
Safety
Costs
Legal and Policy issues; and
Technology
This review will serve as a foundation for further in-depth research in 2019, and influence the development of the next Road Safety Framework.
Review and Assessment of Pre-Driver Interventions in Scotland
In 2016, the SPB commissioned the Transport Research Laboratory (TRL) to conduct a study to establish the number of individuals taking part in pre-driver education courses and to obtain a better understanding of how pre-driver interventions in Scotland are contributing to the Road Safety Framework overarching pre-driver outcome to improve knowledge, positive attitudes and safer behaviours of individuals in relation to road safety before they start driving. The study was also intended to inform future direction, investment and delivery of pre-driver interventions across Scotland. TRL carried out the following activities as part of its study:
Updated the literature reviews previously compiled by TRL.
Contacted all Local Authorities to establish what pre-driver interventions were being carried out and provide an estimate of how many individuals were taking part.
Set up an expert workshop to examine 12 interventions and associated materials.
Explored pre-driver off-road driving; for example, The Ripple Effect and Good Egg Young Driver.
Completed in 2017, TRL's Review and assessment of pre-driver interventions in Scotland has been scrutinised by a sub-committee of the SPB and published in 2018.
Useful Links
https://www.transport.gov.scot/media/41989/pre-driver-review-and-assessment-trl-final-report.pdf
One key problem identified was the lack of robust evidence demonstrating that pre-driver interventions are being effective at improving road safety. The reasons for a lack of evidence are numerous. They can largely be summarised as being due to too few evaluations having been conducted – for example, lack of funding and assumption of effectiveness – or inadequate quality – for example, poor design and poor evaluation methods.
The report also highlights another key reason for a lack of evidence for effectiveness, and possibly for a lack of evaluation in the first place: an unreasonable expectation that pre-driver interventions can improve road safety in isolation. Furthermore, the typical length of time a participant is engaged with a pre-driver intervention is not sufficient for any meaningful effect to be realised.
Around two-thirds of Scotland's local authority areas were found to run or support some form of pre-driver intervention, with twelve different intervention programmes running across Scotland. None have been demonstrated to be effective at improving safety. It was estimated that approximately 20,000 young people receive some form of pre-driver intervention in Scotland each year, although this is likely to be an underestimate.
Overall key findings indicate that there is currently insufficient evidence to demonstrate effectiveness and no singular approach found to be significantly more or less likely to be effective than the others. The report made ten recommendations (six short-term and four long-term) ranging from better evaluation, greater targeting of risk factors and implementing behaviour change techniques to the development of a single consistent pre-driver intervention:
Recommendations
Long term
1. Use pre-driver interventions to support a road safety framework
2. Develop a consistent pre-driver intervention
3. Set realistic expectations
4. Put road safety into context
Short term
5. Improve evaluation approaches for existing interventions
6. Encourage adoption of behaviour change techniques
7. Encourage targeting of appropriate risk factors
8. Re-design of theatre/demonstration based on interventions
9. Consider theatre/demonstration "plus" guidance
10. Investigate the impact of off-road pre-driver training
Speed Awareness Courses
Speed Awareness Course (SAC) is a form of educational course, aimed at correcting driving behaviour, which would be offered to drivers by the Police at the point of being detected as speeding, as an alternative to being prosecuted. The Framework's commitment RSF72 "consider if the introduction of a Speed Awareness Scheme focused on speeding would be an appropriate contribution to road safety in Scotland" was scoped by Police Scotland with the authorisation of the Lord Advocate. In Scotland the decision on whether or not to prosecute an alleged offender is the prerogative of the Lord Advocate, head of the Crown Office and Procurator Fiscal Service. Police Scotland's Briefing Paper recommending that SACs be introduced to Scotland, mirroring the system operating in England and Wales, and that diversion from prosecution without submission of a Standard Prosecution Report be approved. The Lord Advocate has agreed in principle to the proposals by Police Scotland to introduce Speed Awareness Courses, where appropriate, as an alternative to prosecution.
A working group comprising COPFS, Police Scotland, the Scottish Courts and Tribunals Service, Scottish Government and the Scottish Safety Camera Programme will work together to devise the infrastructure and guidance required for their introduction. This will include identifying potential course providers.
This group will report to the Lord Advocate who will give the conclusions due consideration.
Strategic delivery plan
The Strategic Delivery Plan (SDP), outlined below, was designed to align all road safety activity to the casualty reduction targets and Vision Zero.
In utilising the SDP, delivery partners align their own respective strategic plans to high-level Framework Activity by identifying which PFA, and which overarching road safety outcome(s), they will deliver. Activity is developed and delivered using strategic linkages, and gauged through the agreed outcome indicators.
Tracking the outcomes and indicators
Both the SPB and OPG maintain an Outcomes Indicator Toolkit (OIT) and a Risk Register (RR). The former was designed for tracking progress on overarching outcomes – and the priority commitments which support them – against their respective indicators. The RR complements the OIT and monitors and manages the Framework progression against current or potential risks to the Strategic Delivery Plan. Information garnered from the OIT and RR assists the Groups in deciding where to focus attention, where funding should be spent, and which areas require further research.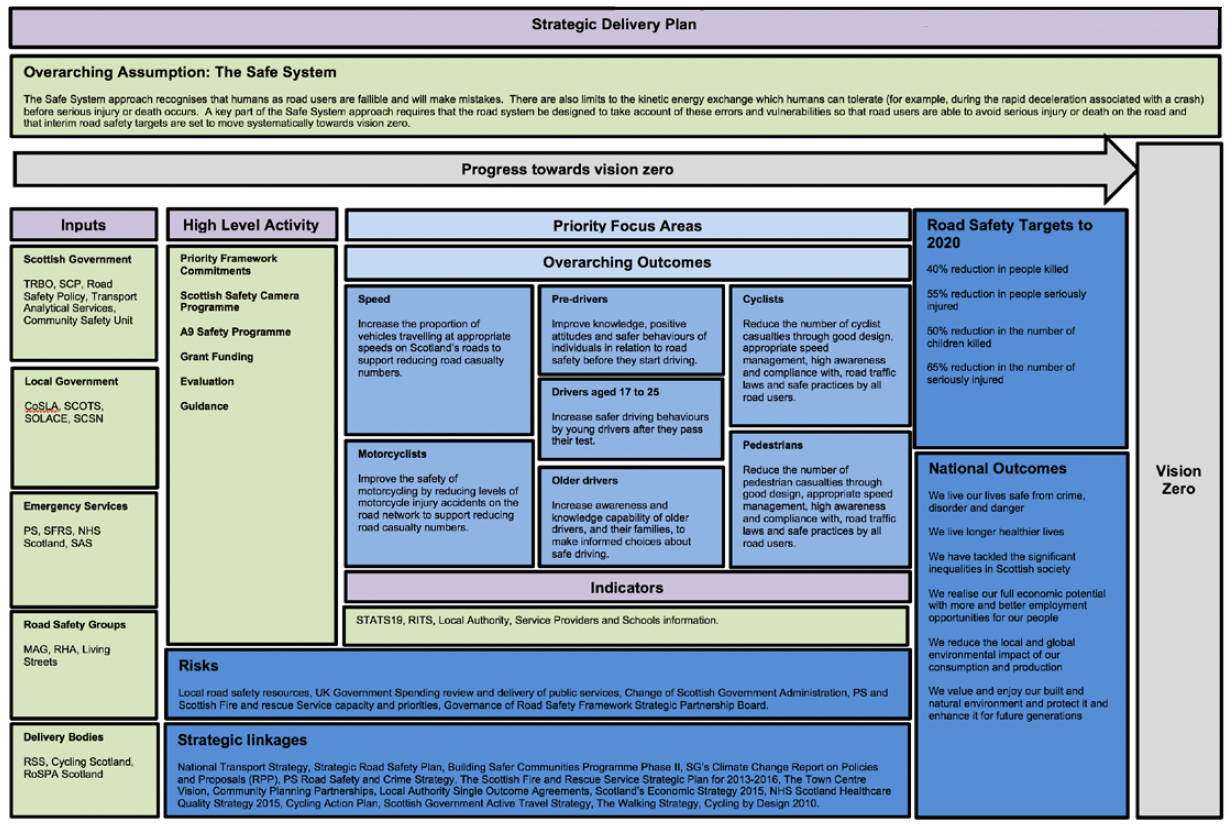 ---