3 RESPONSE TO THE 2004 EVENTS
3 RESPONSE TO THE 2004 EVENTS
The need to act in response to the events of August 2004 was recognised by Scottish Ministers.
Transport Scotland decided that a system should be put in place to allow the hazards of debris flow to be assessed. It was agreed that any system should also be capable of ranking the hazards in terms of their potential effect on trunk roads and road users. This would then allow budgets and resources to be appropriately directed to manage and mitigate debris flows in the future and reduce the consequences for the road network and road users.
The two-part landslides study was commissioned and this involved a wide range of experts as a Working Group. The initial study considered how a detailed review of the terrain adjacent to the trunk road network could be undertaken, outlined possible mitigation measures and management strategies and identified the immediate at-risk areas.
This work was published in a full report1 and in summary2 in 2005. The findings and recommendations of that report were used to develop the plan for part two of the study5 which is reported in summary form herein.
Immediate Response
Areas of perceived hazard were identified by the team involved in the initial work of the study. This was primarily to identify sites which could be used to validate the emerging model for assessing debris flow hazard.
The sites identified, in no particular order, included:
A83 Ardgarten to Loch Shira (29km).
A84 South of Strathyre (8km).
A85 Glen Ogle (6km).
A87 Glen Shiel (18km, plus a possible further 17km).
A82 Fort Augustus to Lochend (29km, plus a possible further 9km).
A835 Ullapool to Braemore Junction (16km).
A9 Dunkeld to Drumochter (22km).
A95 Craigellachie (1km).
A86 Spean Bridge (5.5km).
A87 (Skye) Gleann Torra-mhichaig to South of Raasay ferry (1.5km).
Short-term actions recommended on a general basis included a significant programme of clearing vegetation and rocks from ditches, gullies, catchpits and culverts in the areas concerned and some new ditches being added at the crest of slopes.
It is worth noting that since August 2004 UK national drainage standards have been updated to cater for higher levels of water flow and these are now used in the design of all new roads and upgrades to existing roads.
With regard to the specific areas of high hazard identified in the 2005 report a wide range of works have been progressed in addition to routine maintenance. These works include drainage improvements, culvert realignment and renewal, ditching and vegetation clearance, the ongoing installation of rain gauges, and road realignment within the context of the broader trunk road improvment programme.
Developing Future Management Options
The initial stage of the work may be divided into four elements and can be summarised as follows:
Development of a debris flow hazard and exposure assessment system to provide a hazard ranking of 'at-risk' areas of the road network.
Undertaking a computer-based GIS assessment as a first stage in the hazard assessment process.
Undertaking site-specific hazard and exposure assessments of areas identified by the GIS as being of higher hazard.
Identification and development of appropriate management processes for each category of hazard ranking.
The flowchart below presents an outline of the work undertaken. The initial stage of the process was to develop the methodology for the assessment of hazard and exposure to provide a hazard ranking, together with the selection of an appropriate management approach. The second stage was to test the methodology and apply it more widely to the trunk road network.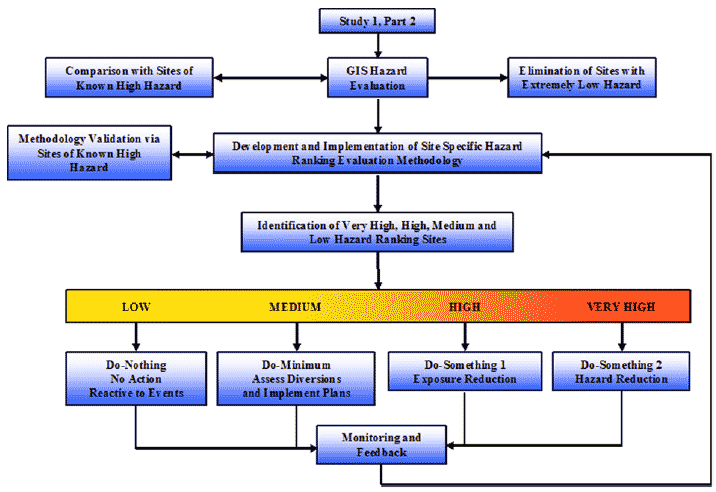 Outline flowchart of the current study.
Information Sharing and Dissemination
More than 40 separate activities have been undertaken to communicate the work to the public, Government and industry. These have included presentations to international conferences, articles in technical journals and the production of reports and a draft leaflet.
---