4. Our Asset Management Objectives
Scottish Trunk Road Network Asset Management Strategy: November 2018
4. Our Asset Management Objectives
Our Asset Management Objectives reflect our business responsibilities and activities, and enable alignment with our priorities, the Scottish Government's Strategic Objectives and Purpose.
By measuring our performance against asset management objectives, we can provide a meaningful picture on how we achieve priorities for our stakeholders.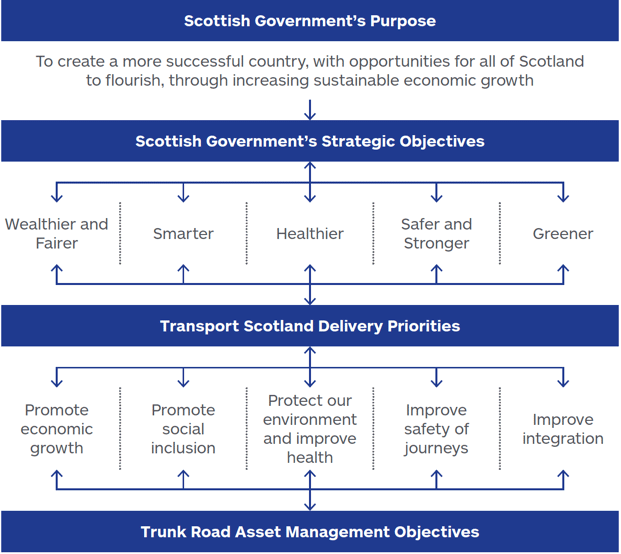 Customer Care and Travel Information
To provide customers with up-to-date reliable travel information and support the level of satisfaction in trunk road services.
Safety
To provide a road network that is safe for all users, seeking to continually reduce risk and casualties.
Resilience and Prosperity
To provide consistent, predictable and reliable journeys for the movement of people and goods. To minimise disruption caused by roadworks, unplanned incidents and severe weather conditions.
Condition
To measure and maintain our trunk road assets in a condition that meets the needs of our users, but which is also affordable.
Value for Money and Innovation
To make economic and efficient use of available resources for road maintenance and foster innovation in all aspects of work.
Accessibility and Integration
To provide a network that is accessible to all users, with improved connectivity to ensure that traffic moves freely and quickly around Scotland.
Sustainability
Reduce carbon and waste and enhance environments.
Our Asset Management Objectives will be fully reflected in the new Network Maintenance Contract Objectives to ensure that our supply chain understand and deliver on these. Contract performance monitoring is being designed to fully align with these Objectives.
How we measure performance against our objectives
Our Performance Management Framework (PMF) provides a tangible link between our strategic priorities and objectives, and performance measures and targets, i.e. linking strategic goals to operational performance measures/targets. This includes criteria and measures that reflect the priorities of our customers, enabling their levels of satisfaction and expectations to be captured and included within the PMF.
Regular monitoring of the network and supply chain is carried out by Transport Scotland and the Performance Audit Group. In addition, our management team review our performance in achieving the targets in each Objective at the end of each measurement cycle.
What plans do we have for the future?
The current PMF contains targets for three years, 2018 to 2020, to coincide with Transport Scotland's current Corporate Plan. Targets will be reviewed annually to take account of performance trends and any emerging risks and opportunities.
During 2020, we will undertake a comprehensive refresh of the PMF to take account of new policies and priorities of both the Scottish Government and Transport Scotland. This will enable the existing set of measures to be reviewed and targets reset to ensure that these remain relevant and realistic, whilst continuing to reflect our aims for the trunk road network.
To enable more effective performance monitoring and reporting, we are also developing a PMF dashboard. This will allow our staff to measure and report performance at strategic and operational levels and make more informed decisions through understanding their potential impact on performance.
---