Appendix 5: Case Study on Netherlands – OV Chipkaart
Appendix 5: Case Study on Netherlands – OV Chipkaart
This case study is provided as a reference on how a recent national smart and integrated ticketing project involving bus and other transport operators has proceeded.
Current Paper Integrated Ticketing
The Netherlands (NL) has had national integrated ticketing since 1980, through the "Strippenkaart" system which applies throughout the country on buses and trams (but not trains). The passenger either validates the ticket themselves in a machine, or gets it stamped by the driver or conductor. The number of strips to be cancelled is always the number of zones travelled through plus one, up to a maximum of 20 strips; therefore in the example in the image below, the user has made two journeys, the first through three zones, and the second in a single zone. Once validated, the ticket is valid for a certain duration dependent on the number of zones used, from 1 hour for 2 to 4 strips, to 3.5 hours for 17 to 20 strips. Strippenkaart tickets are available in denominations of 2, 3, 8, 15 and 45 strips. Reduced tariff tickets are only available in 15 strip versions. An 8-strip ticket can be used as a one-day ticket in Den Haag, Rotterdam and Utrecht if specially validated (at the same cost).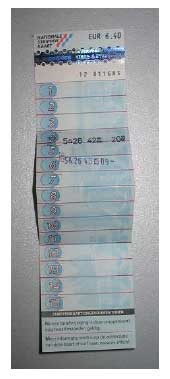 The Netherlands has also been a leading country in the deployment of electronic cash. In the late 90's more than 20 million Chipper/ChipKnip cards were issued for a population of 15 million. It was intended that these e-purse cards would be used for small value transactions, but they have had limited success, perhaps because they are contact based, rather than contactless.
The current OV Chipkaart initiative is at least the fourth attempt to introduce a national multi-modal smart ticketing scheme. For some years MOBIS, the former association of Dutch transport operators which was disbanded 4/5 years ago, tried to co-ordinate efforts to introduce smart ticketing. There was also a scheme known as "Tripperpas" in the city of Groningen, which went live in 2001. Although this was backed by the Ministry of Transport and was considered successful, it was short lived because it did not have the backing of any of the major operators in the country.
Trans Link Systems
The current, successful, project is led by Trans Link Systems (TLS), which was an entity established in 2002 by Connexxion, GVB (Amsterdam), HTM (Den Haag), NS-R (Dutch Railway Company) and RET (Rotterdam). Together these five companies provide 80% of public transport services in the Netherlands. TLS co-operates with all other public transport organisations. A tender process was started in 2002 to select a supplier that can build the central system, and this was awarded to the East-West e-Ticketing B.V. consortium in 2003. This consortium consists of: Accenture, Thales and Vialis with the following Thales subcontractors: MTR Corporation and Octopus Cards Ltd (both companies established in Hong Kong). The solution that East-West has designed is based on the existing "Octopus" smart card system for public transport used in Hong Kong.
Connexxion is the largest public transport bus company in the Netherlands, operating in the west, middle, east and far northern part of the country. It was formed in 1999.
Current Status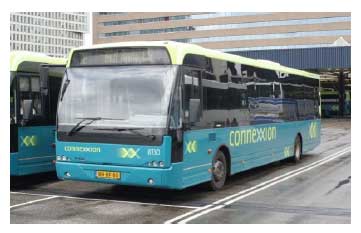 TLS is now owned by the 4 largest operators: GVB, RET, HTM, and NS-R. Connexxion withdrew for reasons related to its French parent, Transdev, which is a subsidiary of France's state-owned Caisse des Dépôts, and which acquired Connexxion in 2007.
The current status is that TLS has developed a nationwide smart card system for transport, covering various products – t-purse and passes, and allowing different price mechanisms and 'concession areas' (this is the Dutch term for bus franchise) and all modes. Cards are either personalised or anonymous; there are also Limited Use tickets for incidental users, with a typical life of 2 days, in Amsterdam (using a lower cost Mifare Ultralight ticket).
Several million cards have been issued to date, and 60K "front end devices" (validators, rail, metro gate readers, and vending machines) have been deployed. Across the country, few cities are not now using the scheme; Rotterdam and Amsterdam have gone fully smart, and Rotterdam has phased out legacy means of payment. The cards only have a public transport journey functionality – they do not currently handle taxis, parking, or bike rental and parking. Strippenkaart is due to be phased out, pending implementation of the Mifare upgrade migration.
Delivery Model
TLS has the role of card issuer and central processor. Cards are procured by individual operators and issued to customer, but transactions are processed by TLS's central processing facility. Operators benefit from having their own brands on the card. The scheme is known as OV-Chipkaart, and the interoperability is achieved through a 3 part set of definitions: 1) technical specification; 2) rules and regulations; and 3) registrar documentation containing the global parameters.
Concessionary Travel Product
Concessionary travel is not free in NL, but is rebate based and is handled in 2 ways:
An explicit product on the card; or
A profile is written to the card – readers then apply concessionary tariffs automatically. The amount of fare reduction depends on the situation, e.g. NS-R allows 3 free journeys per year.
Key Challenges
One of the issues has been "stakeholder management", especially related to NS-R changing its mind on how it wanted to see smart cards used. Originally, the rest of the network wanted to have a "Touch In/Touch Out" system, but NS-R did not, and wanted to allow travel as long as there is a valid product on the card – this meant there was no consistent behaviour required from users. However, in 2007 NS-R decided to accept Touch In/Touch Out and changed the operating model.
Another reason for delay was that system integration capability was insufficient within the operators, and TLS had to source this from the East-West consortium. Also, TLS decided on a procurement model where the selected implementer also wrote the specification (unlike ITSO which has been defined by Government). This has made it difficult for other suppliers to enter the market quickly as they have not had the skills and facilities to deliver the integrator defined solution.
Fare Operation, Payment Accounts and Customer Channels
TLS wants to see customers travelling with the t-purse so they don't have to buy new tickets for each leg of a journey – each extra paper ticket issued generates cost. For non-rail journeys, typically 70 cents are deducted at the start and a zone-based price calculated on exit (like Oyster on underground). The concern in the UK about rail fares being of a potentially high transaction value is not as applicable; the maximum Dutch rail fare is currently only €70. As a result, the collection risk is lower and NS-R is willing to take a risk by deducting only €15 at the start of a journey, because 50% of travel either starts or ends in a closed station.
TLS prefers to see all tickets operate with Touch In/Touch Out be either t-purse with auto reload linked to a payment account or season tickets. It would also like to see a "National Action List" – an internet site where tickets can be purchased on-line then "picked up" electronically at a device located at a place of the passenger's choice (similar to Oyster). This is expected to speed up journey times. Buying on the internet is considered to be more secure than in public where payment card PINs can be observed.
Internet kiosks are located in convenient places. Shops losing out on paper card sales are thought to be keen to house them so that they do not lose footfall.
These payment channel related efficiencies are expected to reduce staff costs. The Netherlands has already moved away from manned ticket offices to electronic ticket vending machines.
Regulatory Environment
The regulatory regime is very consensual, in line with the democratic and liberal culture of the country. The government sets no standards and requires no compliance. Use of OV-Chipkaart is entirely voluntary and the scheme has been developed with much seeking of input from interested parties. Its strength is derived from the power of the participating operators and their collective dominance of transport ticketing.
Within cities such as Amsterdam and Rotterdam, operators are subsidiaries of the transport authorities, such as RET and GVB. They are not independent commercial entities and have no discretion on whether to accept OV-Chipkaart or not.
Motivation of Operators
The motivation for the Netherlands to be the world's first national smart ticketing country has its roots in the oil crisis of the 1970's and the consistent movement since then to advocate environmentally friendly means of transport. It is a country which is minded to work together (after much discussion – "the Polder model"), and has the legacy of a national interoperable ticketing scheme in Strippenkaart.
Connexxion, the major bus operator, is fully committed to OV-Chipkaart, despite there being many challenges and considerable effort for it. It likes the performance level of smart ticketing – reduced transaction times - and there have been numerous design considerations over type and placement of validators on board bus. There are no financial incentives to take part; to date Connexxion has been a net contributor.
The notion of providing an incentive to operators to adopt OV-Chipkaart was not considered during the project, but there are still discussions about who should pay for what element of the service.
New business cases are being built around the scheme by operators. For instance, new operator Q-Bus built its business case around the card. TLS expects that once large operators adopt the scheme, smaller adjacent operators will follow. Unlike in the UK, there are not large numbers of small operators.
Operator Benefits
The t-purse is favoured, the most important expected benefit being the time it takes to buy a ticket; NS-R has calculated this saves 20 seconds per journey, or 4m hours per year. They said "most non-t-purse products have been scrapped" in favour of the t-purse.
Fraud reduction is the next most important expected benefit, especially for smart cards in conjunction with a closed network. This comes in 2 parts:
Security "incidents" from unwanted people on the network making others feel unsafe: TLS expects this to be 15% less. Some have argued this has nothing to do with cards since it is a result of more closed stations; and
Ticket Fraud reduction by 1% leading to additional revenue of €20m.
Getting better data on transport usage is a key driver, which is why operators have back office systems. They expect to be able to optimise lines, routes and frequencies. A potential side effect in the future could be the provision of better information to passengers.
Reducing cash handling is very important – operators are in the process of stopping accepting cash on vehicles.
To gain the maximum benefits from smart cards, deployment needs to be 100%.
Minimising Costs and Risk
There has not been significant attention on minimising project risk. The main effort has been to keep operators' internal systems isolated from each other and not to allow them to interfere with overall interoperability. They do not overly influence the overall design but their views are understood.
Role of a Central Body
National interoperability is key; this is multi-layer, the front end is offline and transactions are sent to a central processor for each operator, then data is forwarded to the single TLS clearing and settlement system. TLS has been established to secure this national interoperability; it is a private company, funded by its shareholders. It is still losing money, but this is getting better and break even is being approached.
The TLS Specification and Comparison with ITSO and Oyster
Compared to ITSO, the TLS system specification has 1.500 pages compared to ITSO's 1,200. TLS likes the fact that ITSO supports multiple media types – this is helpful given the security concerns over Mifare Classic cards. However, they feel that the ITSO requirements for all readers to read all media is costly. The ITSO clearing and settlement process (not being provided centrally) is also perceived to be onerous, with 'on us'/'not on us' transactions being a big task. TfL's Oyster on the other hand is regarded as quite similar to the Dutch system – multi tickets (changing products during a journey, e.g. part on t-purse, part on a fixed product) is not supported by ITSO but required in the Netherlands.
The Dutch specification is open; there is apparently no lack of vendors given the country size; there are currently 20 vendors. The specification is owned and edited by TLS, and is freely available upon registration. It (or something with a very similar technology specification) is currently implemented in Toronto, Oslo, and Denmark.
TLS likes the idea of a common European specification but doesn't see it as a high priority since not many travellers use public transport internationally. They like the idea of increasing purchasing power by having more countries do the same.
Key Lessons for Transport Scotland
This example is relevant to Scotland as it has the following common issues:
Multiple operators each with their own desire to differentiate their services;
An existing set of paper tickets issued by operators;
A need to minimise back office processing costs; and
A desire to make smart ticketing interoperable on a national basis.
There are many lessons to be learned from this case study, but the key lessons include the following:
There needs to be a central body willing to own and drive the specification and oversee the implementation of the ticketing solution including leveraging economies of scale for example in back office – to achieve interoperability in Scotland a central body is needed to take the lead in the specification as ITSO by itself does not provide a sufficient specification for inter-operator clearing;
The specification needs to focus on the desired ticketing products and the enablement of efficient customer payments and fare collection not just re-producing the existing paper system. Delivering efficiencies in ticketing for both operators and the central body is important – there needs to be a clear specification for the ticketing products that would be paid for by an interoperable payment account;
It is not advisable to allow the supplier of the system to overly influence the specification – though TS has to date specified ITSO as the requirement, this is not by itself a means of avoiding proprietary supplier restrictions;
It is necessary to have strong operator support and adoption for the system particularly on issues such as Touch In/Touch Out and interoperability with operator systems – given the deregulated bus market in Scotland the lead operators need to support the operating model and interfaces; to date the operators have not had significant access to ITSO future plans and are not represented on the board;
Placing integration risks on the operators should be minimised – where integration issues can be resolved centrally in Scotland for all operators, they should be dealt with centrally. It may be challenging to persuade individual operators to take on integration risks unless there is a clear reason for them to take responsibility individually;
An open specification that is freely available is preferable – the current ITSO specification is open but not comprehensive and requires payments; and
The procurement and implementation can take a long time – over 5 years. It is necessary to keep all stakeholders on board over this period. – where there is strong regulation and technical control, the project can proceed at a quicker pace. There is not strong regulation or technical control in Scotland and there are many stakeholders. It may therefore be more practical to focus on a single large operator and geographical region for an initial implementation.
The Netherlands differs from Scotland in the following key respects:
Population density and use of public transport is higher than in Scotland;
The ticket supplier market is more mature; and
There are fewer operators involved.
---