1 Introduction 1.2 The Structure of the Report 1.3 Setting the Policy Context
This section is also available in pdf format (292k)
1 Introduction
In 2006 the Scottish Executive published its National Transport Strategy (NTS). This strategy outlined the vision for the country's transport network and the context for transport policy in the next 20 years. One of the mechanisms for delivering the National Transport Strategy is the Strategic Transport Projects Review (STPR), which will identify a programme of transport interventions for the period 2012 to 2022 and beyond. Jacobs, in partnership with Faber Maunsell, and supported by Grant Thornton and Tribal Consulting, has been commissioned by Transport Scotland to undertake this review. This review is made up of a number of discrete work packages:
GWP1 – Inception Report;
SWP2 – Overall Management of the Commission;
SWP3 – Review of Current and Future Network Performance;
SWP4 – Determine Expectations, Gaps and Shortfalls;
SWP5 – Identify Potential Interventions and Sift Options;
SWP6 – Appraise Candidate Interventions;
SWP7 – Strategic Environmental Assessment.
Throughout the study the focus is on undertaking an evidence-based assessment covering all modes of transport. Once the performance of the current network has been carried out a number of SMART objectives will be established based on the overall framework of the three Key Strategic Outcomes (KSOs) identified in the National Transport Strategy. The appraisal and subsequent prioritisation of the interventions will be carried out in accordance with the requirements of the Scottish Transport Appraisal Guidance (STAG).
This report (Report 1) covers a number of specific tasks which have been undertaken as part of SWP3:
Identification of the national strategic transport network;
Definition of a set of relevant and well-defined performance indicators across all modes of transport that can be used effectively and consistently to measure current conditions and forecast future conditions;
Assessment of the existing performance of the network, using the available TMfS and additional information; and
Forecast of the performance of the network to 2022 using the TMfS and other information sources.
1.2 The Structure of the Report
Following this introductory chapter, the remainder of this report is set out as follows:
Meanings of acronyms and other terms are included in the glossary and technical reference sections.
1.3 Setting the Policy Context
The STPR will be delivered in the context of:
The relationship between these is illustrated in Figure 1.1.
Figure 1.1: Key Links between Policy Themes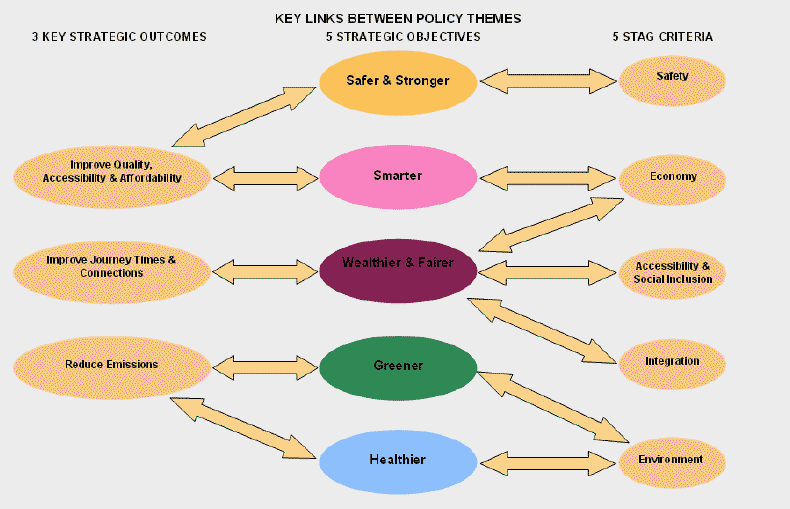 ---