Aviemore to Carrbridge non-motorised user route study
Overview
We are carrying out a route study into the potential non-motorised user (NMU) links for walking, cycling and equestrians between the communities of Aviemore and Carrbridge.
We, along with our design consultants Atkins Mouchel Joint Venture, have been working in consultation with Cairngorms National Park Authority, The Highland Council, Highlands and Islands Transport Partnership (HITRANS) and Sustrans since January 2019.
The first part of the route study covers a Baseline Assessment, which includes a review of existing policies, plans and NMU routes in the area, data collection and the identification and initial assessment of corridors where an NMU route can be located.
The second part of the route study covers an Options Appraisal which will assess the impacts and benefits of the route corridors in more detail. This Options Appraisal will then be followed by the identification of a preferred route.
Community engagement
In recognition of the Scottish Government's wider commitment to promote active travel in Scotland, Transport Scotland is undertaking a Route Study into the provision of a Non-Motorised User (NMU) facility between the communities of Aviemore and Carrbridge. The initial phase of the Route study, the Baseline Assessment, was completed in the Autumn of 2019. A public exhibition was held in September 2019 to share the findings of the Baseline Assessment and seek public feedback on the corridor options which had been developed.
Following completion of the Baseline Assessment, Transport Scotland and consultants Atkins Mouchel Joint Venture (AMJV) have taken forward the next stage of the Route Study – the Options Appraisal. This included the development of route options for an NMU route within the two corridor options progressing from the Baseline Assessment.
Virtual exhibition
We had planned to hold public exhibitions on the Options Appraisal in local community settings in Autumn 2020, however as a result of the COVID-19 pandemic we're not currently able to hold face-to-face public exhibitions.
We are therefore running a virtual exhibition, with a feedback period running from 17 November to 18 December 2020.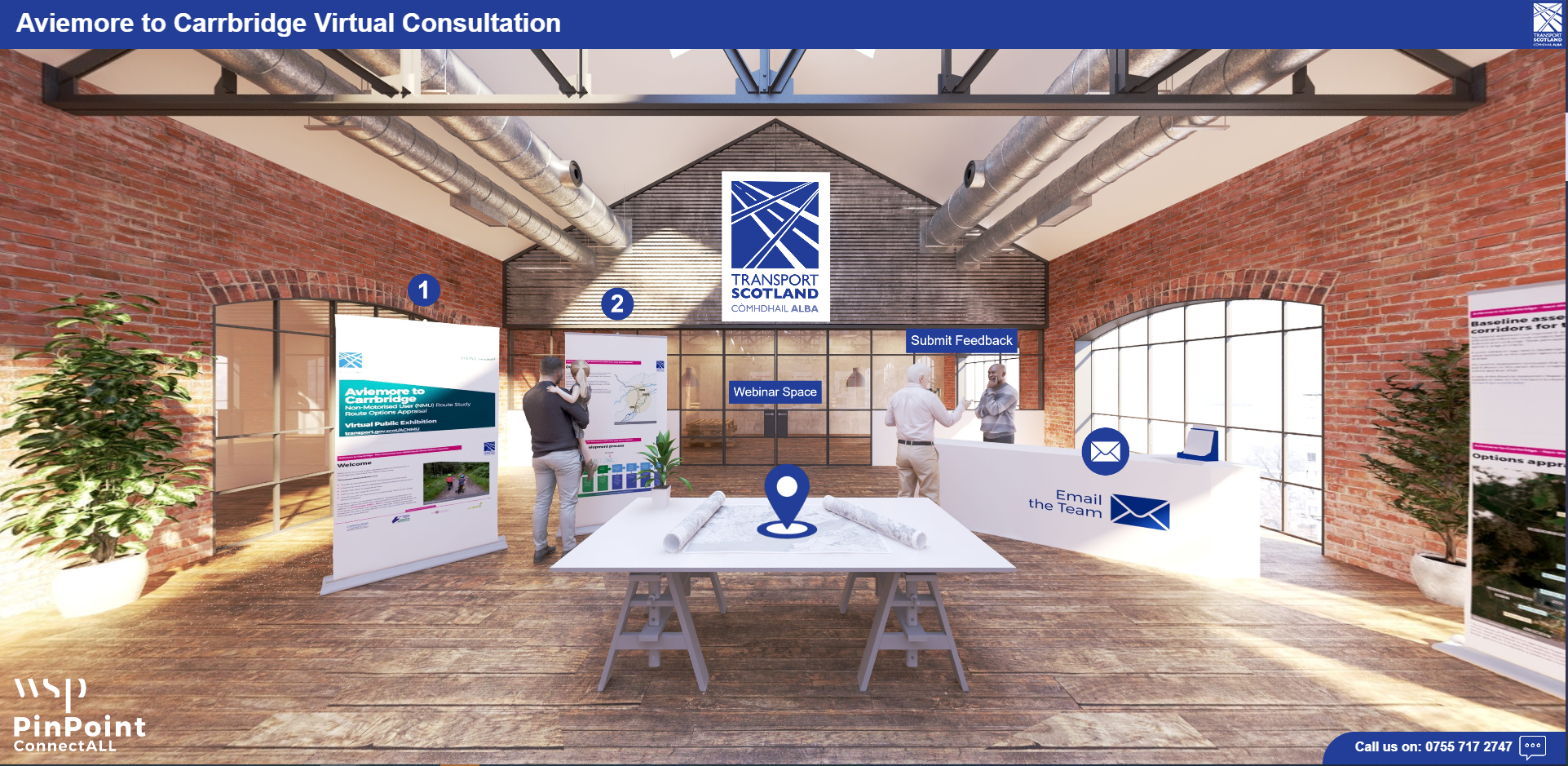 Register for updates
If you would like to receive updates about the Aviemore to Carrbridge Non-Motorised User (NMU) Route Study, for example invitations to future events, please complete a Register for Update card and then email it to the project team at ACNMU@wsp.com.
---