Access for disabled people
Overview
Scottish Ministers, through Transport Scotland, work in close partnership with the Department for Transport (DfT) to identify Scottish stations that should be given priority for improving access for disabled people. 
In 2006, the DfT published the Railways for All Strategy outlining the UK government's intention to improve access to the rail network for disabled people across Britain.
A key part of this strategy is the ring fencing of £41 million Access for All Fund and the £6 million Access for All Small Schemes fund which provided ScotRail and other partners with further investment to make smaller access improvements at a range of stations across Scotland.
In 2013 six more Scottish Stations secured funding from further Access for All investment. In the main, Access for All has become the vehicle by which station accessibility can be achieved for stations that meet the set criteria. 
Some station access improvements are being delivered as part of outputs of other projects such as Electrification, Enhancements and Major Stations Upgrades supported by the Scottish Ministers. All new build stations such as those serving the Borders Railway were built to modern railway standards and are accessible and this will be the same for any planned future stations.
Transport Scotland and DfT published the updated Design Standards for Accessible Railway Station A joint Code of Practice by the Department for Transport and Transport Scotland, which details the requirements for providing accessible rail services to disabled passengers.
Get in touch
If you want to know more about our work on access please contact:
Jacqueline McDonald
Transport Scotland, 7th Floor, Buchanan House
58 Port Dundas Road
Glasgow G4 0HF
Email: Jacqueline.Mcdonald@transport.gov.scot
Tel: 0141 272 7242
BSL users
Please note that BSL users can contact me or Transport Scotland using contactSCOTLAND-BSL, the online British Sign Language interpreting.
Trains
Progress is being made to improve the design and layout of trains for disabled and other mobility impaired passengers. Most trains serving Scotland will be refurbished to meet rail vehicle accessibility standards by 2020.
The class 380 trains introduced by ScotRail in 2011 were the first in Britain to comply with the new European standards for accessibility (TSI PRM) and Class 385s are the second fleet operated by ScotRail designed to these standards.
ScotRail provides details of Scottish stations and train services and their level of accessibility. Information on ScotRail's services for disabled people is available in their Disabled Persons Protection Policy (DPPP).
Access for All fund
Control period 6 (2019-24)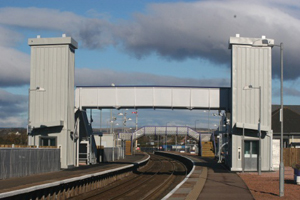 In July 2018 the Secretary of State for Transport announced the continuation of the Access for All Programme in Control Period 6 (CP6) and said that Scotland's share will be based on the number of total schemes.
We're working with ScotRail and Network Rail developing a nomination list for stations for CP6 and we are required to submit proposals based on the agreed criteria.
Control period 5
Six Scottish stations (Blairhill, Elgin, Hamilton Central, Kilmarnock, Kilwinning and Westerton) secured funding from the Access for All Programme.
Network Rail developed proposals to improve access at these stations and so far they have completed work at Blairhill, Elgin, Hamilton Central, Kilmarnock and Westerton.
They are onsite at Kilwinning and work is due for completion in July 2019.
Electrification programme
West Calder has been fitted with two lifts and new footbridge and by end of March 2019, Livingston South will be fitted with lifts.
Aberdeen to Inverness improvements
Forres Station has been relocated and the new station has lifts and new footbridge.
Accessibility improvements in pipeline
Planning application has been granted for an accessible footbridge with lift between platform 9 and 6 Stirling Station timescales to be confirmed.
Lifts are planned at Addiewell, Fauldhouse and Cleland as outputs for Shotts Electrification
Access improvements are being considered for Aviemore and Pitlochry as part of the Highland Mainline project
Network Rail is carrying out feasibility study to establish best option for step-free access at Nairn whilst ScotRail is developing plans to surface the rough ground providing additional parking with Blue Badge spaces on Inverness-bound platform.
Additionally, Network Rail is exploring potential options for establishing access onto southbound platform with drop-off / pick-up facility at Kingussie.