Access for disabled people
Overview
Scottish Ministers, through Transport Scotland, work in close partnership with the Department for Transport (DfT) to identify Scottish stations that should be given priority for improving access for disabled people. 
In 2006, the DfT published the Railways for All Strategy outlining the UK government's intention to improve access to the rail network for disabled people across Britain. A key part of this strategy was the Access for All Fund.
The Access for All programme was launched in 2006 to deliver accessible routes at stations and was extended in 2014.
The Access for All Mid-Tier Programme will deliver accessibility improvements leading to small-scale enhancements.
In 2019 seven more Scottish Stations secured funding from the Access for All Programmes. In the main, Access for All has become the vehicle by which station accessibility can be achieved for stations that meet the set criteria. 
Some station access improvements are being delivered as part of outputs of other projects such as Electrification, Enhancements and Major Stations Upgrades supported by the Scottish Ministers. All new build stations such as Kintore and Robroyston were built to modern railway standards and are accessible and this will be the same for any planned future stations.
Transport Scotland and DfT published the updated Design Standards for Accessible Railway Station A joint Code of Practice by the Department for Transport and Transport Scotland, which details the requirements for providing accessible rail services to disabled passengers.
Get in touch
If you want to know more about our work on access please contact us at TS_Rail_Directorate_Communications@transport.gov.scot, identifying the subject topic as Accessibility.
BSL users
Please note that BSL users can contact Transport Scotland using contactSCOTLAND-BSL, the online British Sign Language interpreting.
Trains
The Scottish franchise fleet of 350 trains is now fully compliant with PRM-TSI (Persons with Reduced Mobility – Technical Specifications for Interoperability) as required by the UK legislation.  This provides two dedicated wheelchair spaces per train, audible and visual information on train and call for aid systems on board.
ScotRail class 385 is fully accessible and incorporates a new design of tip up table installed for wheelchair users, accessible toilet includes extra features such as privacy opening of automatic toilet door which allows companion to enter without it fully opening.
Additionally the class 380 fleet internal refresh is underway, including fitting of priority seats "jelly baby" covers, with the full programme anticipated for completion by August 2021.
ScotRail provides details of Scottish stations and train services and their level of accessibility. Information on ScotRail's services for disabled people is available in their Accessible Travel Policy.
Caledonian Sleepers' new fleet includes fully accessible berths and toilets.  Two accessible berths, one being a double are available per eight car unit.  A complete sixteen car train (when joined) provides four accessible berths.
The Club Car and seated coaches are also accessible, the lounge car includes tip up tables for wheelchair users and the accessible toilets allow privacy opening of the automatic toilet door to enable a companion to enter without it fully opening.
All dedicated Caledonian Sleeper operated lounge facilities are fully accessible and include accessible showers.
Information on Accessible Travel with Caledonian Sleeper is available on their website.
Access for All fund
Control period 6 (2019-24)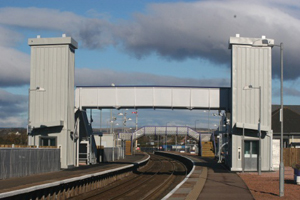 In July 2018 the Secretary of State for Transport announced the continuation of the Access for All Programme in Control Period 6 (CP6). Funding was secured for six stations from the main Access for All Programme, Anniesland, Croy, Dumfries, Johnstone, Port Glasgow and Uddingston.
Network Rail are developing proposals to improve accessibility at these stations.  It is anticipated that Croy and Johnstone will be the first stations to be delivered.
Access for All Mid-Tier
Network Rail secured funding and are investigating opportunities to improve accessibility at Anderston station.
Electrification programme
Stirling – Dunblane - Alloa electrification
Step-free access is now available at Stirling Station. The historic lattice footbridge was raised up and reinstalled, along with a new lift to create step-free access to all platforms. 
Shotts electrification programme
Step-free access is now available at Livingston South, West Calder, Addiewell, Fauldhouse and Cleland stations.
Aberdeen to Inverness improvements
Two new fully accessible stations, Forres and Kintore, have been opened as part of this project. The new stations provide step-free access between platforms via a footbridge with lifts.
Access for All CP5 funding also delivered step-free access at Elgin station.
Forres station
The car park more than doubled in size to 58 spaces. It now includes:
three spaces for blue badge holders
four oversized spaces
two charging points for electric cars.
A new road bridge over the railway links the station to the town.
Kintore station
The car park now has 168 car parking spaces and includes:
disabled and electric charging spaces
bike storage
connection into the local bus network
links to the Inverurie-Kintore cycle path
Accessibility improvements in pipeline
Access improvements are being considered for Aviemore, Pitlochry and Kingussie on the Highland Main Line and for Nairn on the Aberdeen to Inverness route. Accessibility improvements for Dunkeld & Birnam station are being considered as part of the A9 Dualling Pass of Birnam project. Once an option has been agreed for this project, Transport Scotland and Network Rail will consider accessibility improvements to the station in more detail.  

Shotts & Hartwood – Network Rail is carrying out feasibility studies to find options for addressing accessibility at the stations.

East Kilbride & Barrhead Enhancements – accessibility improvements will be considered as part of these larger projects.  The East Kilbride Enhancements will also relocate Hairmyres station and make it fully accessible.

Carstairs – accessibility improvements are being considered at the station as part of a larger scheme.

New fully accessible stations are planned at Dalcross, Levenmouth (Leven and Cameron Bridge), Reston and East Linton.  In addition developers are in discussion with Transport Scotland for a new station at Winchburgh.