Scotland's Accessible Travel Framework - Annual Delivery Plan 2021-22
Ministerial foreword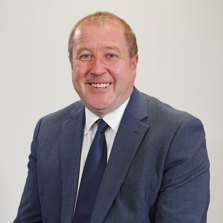 This is the second Annual Delivery Plan for Scotland's Accessible Travel Framework since it was published in 2016. This is also my first opportunity to bring this Delivery Plan to you at the mid-point in the Framework's ten year journey.
Accessibility and inclusion are at the heart of the National Transport Strategy 2, sitting within the "Reduces Inequalities" pillar, where we will provide fair access to services we need, will be easy to use for all and will be affordable to all.
My colleague Michael Matheson signed off a progress report on the Annual Delivery Plan at the beginning of the year, where he stated that Covid-19 meant that work on the eight priorities contained in the 2019-2020 Annual Delivery Plan were paused at the end of March 2020, as resources were pivoted to mitigate the impact of the pandemic. However, he indicated that significant progress had been made on a number of our priorities such as:
Despite demand being severely suppressed ScotRail strived to ensure that assistance was made available to those who continued to require it and in consultation with disabled people's organisations they implemented a number of physical distancing measures, and reduced its notice period for assistance bookings from two hours to one hour.
The Thistle Assistance card being extended to provide an exemption message for those who are unable to wear a face covering on public transport. Since December 2019 over 100,000 new cards have been distributed and over 11,000 have downloaded the new app.
Northlink Ferries introduced a "Ramble Tag" ensuring continued assistance for visually impaired passengers
The Hate Crime Charter was launched on 24 March in collaboration with Disability Equality Scotland, Police Scotland, British Transport Police, SEStran and People First Scotland, taking a zero tolerance approach to bullying and harassment on our buses and trains.
Turning to the year ahead, I would like to reiterate that our vision, set out in Scotland's Accessible Travel Framework that all disabled people can travel with the same freedom, choice, dignity and opportunity as other citizens, will remain our guiding principle. The COVID-19 pandemic has not changed that, although it may have changed what it looks like in practice, and the steps we have to take as a government to achieve it.
This year's priorities have been agreed through an extended period of engagement with disabled people which has involved one to one meetings, group discussions with various organisations from our Accessible Travel Steering Group, a series of webinars hosted by Disability Equality Scotland and weekly polls on a range of subjects that are important to disabled travellers which have helped us better understand the impact of the pandemic on their journeys, including how confidence to travel can be strengthened.
Finally, I would like to take this opportunity to pay particular thanks to the Mobility and Access Committee for Scotland (MACS), Disability Equality Scotland (DES) and all the members of our Accessible Travel Steering Group. All of whom have continued to support the development and implementation of the Framework, and it's delivery plans and also to the wide range of operators who continue to work towards lasting improvements for disabled people's travel.  And to finish I would like to take this opportunity to say that I look forward to working with you all, in the coming year.
Introduction to The Accessible Travel Framework
We are fully aware that some of you may not be familiar with the Accessible Travel Framework, and as we did in our first Delivery Plan we are providing some background in relation to the journey of the Framework and our progress to date.
Going Further was the first national Accessible Travel Framework for Scotland. It was created in 2016 from conversations between disabled people, their representatives and people who work in transport across Scotland with the purpose of:
supporting disabled people's rights by removing barriers and improving access to travel, and
ensuring disabled people are fully involved in work to improve all aspects of travel.
We know that accessible travel can enable people to enjoy equal access to full citizenship, so the conversations we held back then were about identifying and removing disabling barriers which prevent people travelling, or serve to make their journey an unpleasant experience. We are aware that this is about more than transport, and includes access to vital services such as employment, education and healthcare.
The Framework provides a national vision and outcomes for accessible travel and a high level action plan to tackle the key issues facing disabled people. Its vision is that "All disabled people can travel with the same freedom, choice, dignity and opportunity as other citizens."
This vision is supported by four outcomes:
more disabled people make successful door-to-door journeys, more often
disabled people are more involved in the design, development and improvement of transport policies, services and infrastructure
everyone involved in delivering transport information, services and infrastructure will help to enable disabled people to travel, and
disabled people feel comfortable and safe using public transport – this includes being free from hate crime, bullying and harassment when travelling.
New challenges have emerged rapidly over the past year and the priorities and issues identified by disabled people pre-pandemic, whilst still important, may no longer be the most pressing issues.
Work on the Framework was paused as we responded to the pandemic, but we took time to further engage with disabled people and those that represent them. We also, with the help and support of Disability Equality Scotland, undertook a series of webinars and polls exploring a range of issues important to disabled people, such as face covering exemptions, returning to public transport safely, and 20 minute neighbourhoods through an equalities lens. 
Additionally we sought further support to expand our engagement through the Future Journeys Observatory, a group that aims to extract and understand the impact Covid-19 is having on disabled people, including their mobility, how inclusive and accessible newly reconfigured streets and services are, and how we can work collaboratively to build confidence to enable disabled people to return to public transport.
Through these informative, emotive and heart-warming discussions we are able to provide you with our focus and priority areas for the coming year which is set out in our Vision and Priorities Section below.
Summary of current position
As we are at the mid-way point in the Framework's lifespan, we thought it would be a good opportunity to update you on our overall progress on the 48 issues within it.
The 48 issues raised in 2016 form the basis of our Accessible Travel Framework. We are however, not bound to these issues. As the needs and expectations of society and people evolve we must be flexible to adapt to the key issues that are affecting disabled people – particularly in response to Covid-19. For example, this year we have decided to include Transport to Health and Social Care as one of our key priorities despite it not being an issue within our original framework. 
Over the last five years Transport Scotland officials have made significant progress in addressing the key issues of the Framework, which cover a vast array of topics including:
Infrastructure
Ticketing
Staff
Training and Assistance
Information, and
Key issues for specific transport operators
At the time of publishing this report, we have successfully addressed 37% (18) of the Framework's issues and continue to monitor and make progress with the remaining 63% (30). We fully understand that certain issues will take longer than others to resolve and may need revisiting over time. Some issues remain reserved to the UK Government, and although we recognise there is still much to do, we can also celebrate our progress so far.
Progress against the 48 issues within the Accessible Travel Framework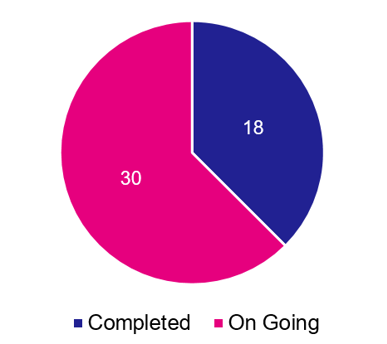 Figure 1: Pie chart split to show 18 issues are complete and 30 issues are on-going.
Since the Frameworks inception we have made a number of key achievements as we work towards addressing each of the 48 issues. They include:
Creation of an Accessible Travel Steering Group (our delivery partners) to help inform our priorities and understand the needs of disabled travellers.
Working with Disability Equality Scotland to ensure all of our correspondence is published and disseminated in accessible and easy read formats
Working closely with colleagues with responsibility for the British Sign Language (BSL) National Plan to cover our 5 actions within it
Publishing our first Annual Delivery Plan in June 2019
Publishing our Progress Report on the 2019-2020 Annual Delivery Plan
Undertaking a series of engagement sessions in 2020 to hear directly from disabled people on what the priorities within this Delivery Plan should be
Launching an on-line Hate Crime Charter on public transport in collaboration with Disability Equality Scotland, Police Scotland, British Transport Police, SEStran and People First Scotland.
Establishing a formal and online process of engagement with Local Authorities to share information and strengthen our relationships on Blue Badge.
Worked with MACS to undertake a series of Ministerial engagements that focused primarily on Equality Impact Assessments, 20 Minute Neighbourhoods, Spaces for People and Transport to Health and Social Care, as well as a focus on the Islands Delivery Plan.
Published the WSP Research Report on Inclusive Design in Town Centres and Busy Streets areas, with work now underway to produce the necessary guidance.
Provided funding to Neatebox who have developed and trialled an app focussing on bus travel for disabled users, with a primary focus on wheelchair users who require use of a particular designated space when using the bus.
Provided funding to Values Into Action to deliver valuable travel training to those with learning difficulties and autism
Provided funding to Go Upstream who looked at a pan-disability project on how the spaces between connections are navigated
Provided funding to SEStran to further develop the Thistle Assistance app
We have also worked closely with our Transport Operators: 
ScotRail, as anticipated, at the start of April 2021, reduced its notice period for assistance booking to just one hour. This compares with many other UK train operators still requiring 6 hours' notice.
Ferries Accessibility Fund, (£427,000 total match funding) improvements to our ferries and ports which has enhanced the ferry travelling experience of disabled people and others facing mobility or access challenges. Projects for example have included improvements to ferry terminal access and surrounding infrastructure such as: accessible doors, changing places toilets and training, including guide dog and dementia training rolled out for staff annually. This includes passengers that have hidden disabilities. The last round of funding awarded was in 2020/2021.
CalMac Ferries have provided information on their website to help the travelling public in planning and completing their journey.
And on our buses the Scottish Parliament passed legislation, on 3 March, that extended the existing National Concessionary Travel Scheme to eligible disabled children under the age of five, allowing free bus travel an accompanying companion using the National Entitlement Card (NEC). (Under 5s already typically travel for free under operators' commercial terms.) This will give around 4,000 eligible disabled children across Scotland access to the same benefits as those aged five and over, helping reduce household costs for their families.
---