A9 Luncarty to Pass of Birnam
Overview
The A9 between Perth and Inverness is undergoing a major upgrade from single to dual carriageway. The Luncarty to Pass of Birnam section encompasses 9.5km of the A9 and will be widened as part of the dualling programme, improving journey times and safety on the route.
Why it's needed
Our aim is to reduce journey times and make them more reliable. Alongside this, we aim to improve integration with public transport facilities, mitigate the environmental impact of the road and facilitate active travel such as walking and cycling.
Impact on travel
Road users may experience some delays during the construction period as traffic management will be required to allow main construction works to be undertaken adjacent to live traffic. On completion the upgrade should have a positive effect on driver stress levels.
The plan
The existing 9.5km stretch of single carriageway will be widened to full dual carriageway standard, providing safe and guaranteed overtaking opportunities in both directions.
All junctions providing direct access to the A9 will be closed and replaced with two new junctions which will provide safe access to and from the road via slip-lanes. These are known as 'grade separated' junctions.
A number of new access roads and tracks will be constructed to provide properties with safe access to the local road network and the new grade separated junctions.
Four new overbridges are proposed to maintain local acess across the A9, along with the widening of one existing underbridge and the provision of a new side road bridge. Other structures, such as retaining walls and culverts will also be required.
The scheme also include:
two northbound laybys and one southbound, with 70m of parking
new footways and cycleways, including a new link between Luncarty and Bankfoot
a drainage scheme developed in accordance with Sustainable Drainage Systems (SUDS) and Scottish Environment Protection Agency (SEPA) guidance
Community engagement
Community engagement is a priority with all of our projects. Working with those affected by the A9 dualling programme is at the heart of our planning and we regularly run engagement events to consult local communities, road users, businesses and individuals as our plans are progressed.
Meet the contractor – Public exhibitions - December 2018
Our contractor responsible for the design and construction of the A9 Dualling Programmebetween Luncarty and the Pass of Birnam, held a series of public exhibitions for residents of Bankfoot, Stanley and Luncarty on 3, 10 and 11 December 2018, respectively.
These events provided an opportunity to meet with key people involved in the project and to learn more about the construction phase in advance of the main works commencing in early 2019.  
These events were supported by senior team members from our contractor: Balfour Beatty, Atkins and Jacobs as well as representatives from Transport Scotland.
Public exhibitions - April 2014
Exhibitions were held in Bankfoot on 2 and 3 April 2014 to update the public on the Luncarty to Pass of Birnam dualling scheme.
Public exhibitions - January / February 2012
Previously we hosted public exhibitions in January / February 2012 to give everybody the opportunity to see potential route options.
The exhibition boards are available in two parts:
Traffic management
How we plan traffic management
All traffic management for the project is planned in a manner that minimises the impact on the local community and minimises delays, disruptions and diversions to existing traffic. To help make sure that our contractor achieves this, traffic management proposals are planned and coordinated through a regular traffic management meeting, chaired by the contractor and attended by Transport Scotland and representatives of Bear Scotland, Perth and Kinross Council and Police Scotland.
Safety of road users and the workforce through the construction area is a key priority for Transport Scotland, so we work closely with our contractor, Balfour Beatty to ensure that their proposals reflect this, in addition to keeping disruption to a minimum.
As the project develops, updates on major temporary traffic management to allow construction of the project to progress, will be provided here. The dates given are as accurate as possible, but are subject to change at short notice.
For enquiries relating to traffic management, please contact Balfour Beatty on 0800 193 7313 or email, A9L2B@balbourbeatty.com.
Traffic management for duration of project
Major traffic management will be in place on the A9 between Luncarty and the Pass of Birnam in both directions to allow construction works to dual the carriageway to progress.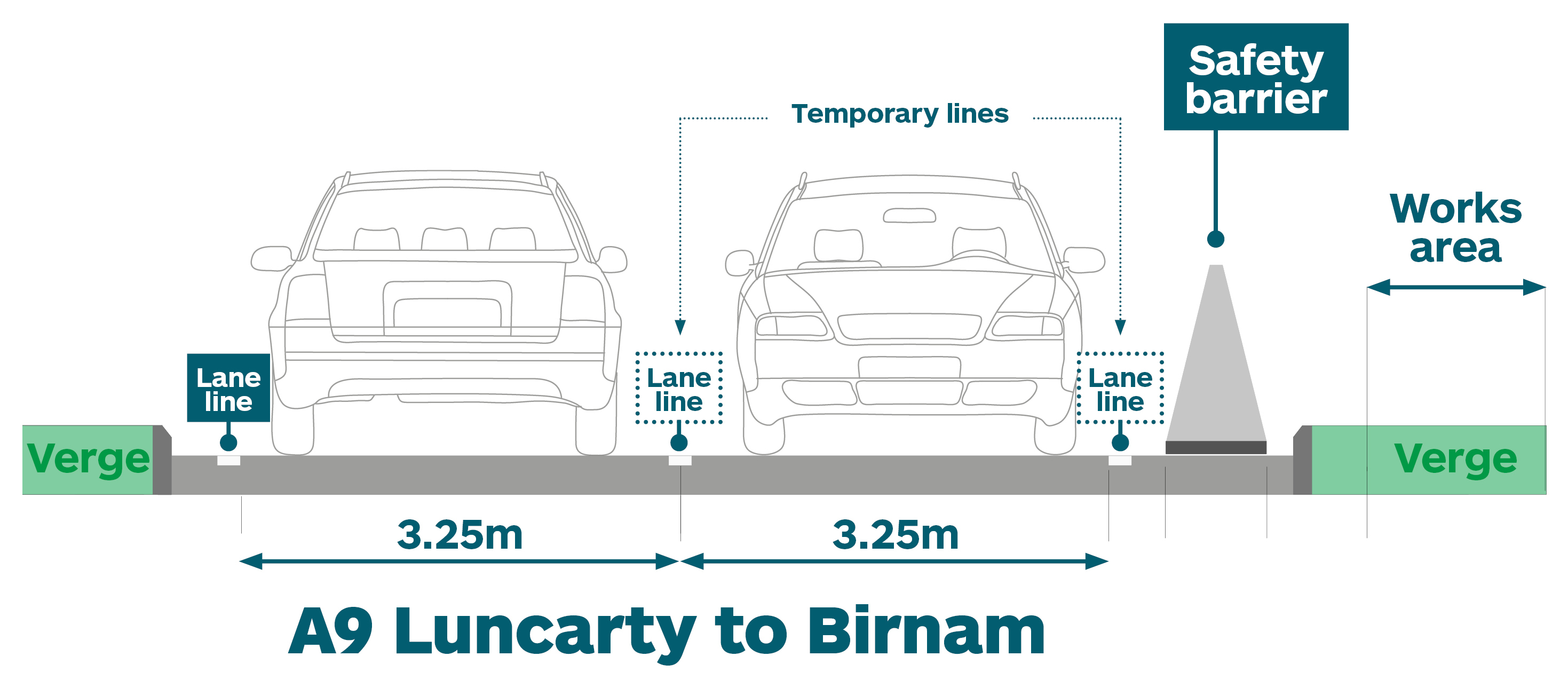 Traffic restrictions including narrow lanes and temporary safety cameras to enforce a reduced speed limit of 40mph through the works area will be implemented from Monday 4th February 2019.
The traffic management installation will take place overnight from 7:30pm to 6:30am, from Monday 4 February for approximately 2 weeks.
This traffic management will remain in place until completion of the project in Spring 2021.
Protecting the environment
The design of the scheme has been informed by detailed environmental assessments. One of the main considerations has been avoiding or reducing adverse effects on the environment.
Transport Scotland published an Environmental Statement in 2014 presenting the outcome of the Environmental Impact Assessment.
Environmental considerations
The region between Luncarty and Pass of Birnam present a number of unique environmental sensitivities. These included:
designated sites such as the River Tay, SAC, Cairnleith Moss SSSI and Mill Dam SSSI
cultural heritage, including listed buildings, archaeological sites and historic landscapes
protected species such as otters, Atlantic salmon and lamprey
woodlands including Gelly Wood and Murthly Estate
low-lying agricultural farmland, undulated hillsides, watercourses and heathland landscapes
properties in Luncarty, Bankfoot and in isolated rural areas
access on various cycleways and paths.
Mitigation
The scheme passes through a rural area with some environmentally sensitive and protected areas, as well as running close to several communities.
The project includes the following mitigation for environmental impact:
enhancement of the Gelly Overbridge to support the movement of species across the new A9, with a widened green verge to stimulate biodiversity
installation of mammal tunnels alongside culverts to support the movement of otter and other species underneath the new A9
installation of bat boxes in areas of existing woodland
new and re-routed access tracks and footpaths and new community links, including a cycleway and footway linking Bankfoot and Luncarty
landscape planting to replace loss of habitat, screen views and integrate the new A9 with its surroundings
construction measures including pollution control and timing of work to avoid sensitive periods
incorporating low noise road surfacing and noise barriers into the design to mitigate any noise impacts.