Context
This section provides an overview of the importance of good international and domestic connectivity, and the environmental impact of aviation. It considers longer term trends as well as the short and medium term impacts of COVID-19. It sets out who has responsibility for different aspects of aviation policy, and how aviation can contribute to achieving the aims of other Scottish Government strategies.
Importance of good international and domestic connectivity
Scotland's location means that air services are essential for good international connectivity. Air services also play an important role in domestic connectivity, including to island communities.
Economic and social importance
Good international connectivity is key to achieving sustainable economic growth in Scotland. It enables flows of trade, investment, labour, knowledge and visitors, which benefit all sectors of the economy. It is difficult to put a precise figure on the economic impact of aviation as it is significantly wider than the direct impacts that can easily be measured.
The Scottish Input-Output tables provide a snapshot of the direct impact of aviation on the Scottish economy. Air Transport is responsible for 0.3% of Scottish gross value added (£400m) but has an output of £2.5b or 0.6% of total output (as about half is used as an input to other sectors).
The Scottish Government's national export growth plan – A Trading Nation –recognises the vital importance of a strong international air route network connecting Scottish businesses to their customers. Research by Frontier Economics has indicated that UK businesses trade 20 times as much with emerging market countries that have a direct daily flight to the UK, as they do with those countries that do not.[1] Research conducted by Edinburgh Napier University identified air links as the most influential transport factor in the location decisions of most overseas-based businesses investing in the UK. 6,438 jobs in Scotland were announced by foreign direct investment projects during 2019 and Scotland's international exports (excluding oil and gas) were worth £33.8 billion in 2018.
In 2019 freight carried by air in Scotland totalled 58,914 tonnes. Air freight makes up a small share of total freight (202m tonnes) lifted in Scotland, however, goods being transported by air tend to be of a higher value, less bulky and more time sensitive than those transported by sea.
Good air connectivity is also a factor in why people choose to make Scotland their home. Evidence suggests that migration boosts long term GDP per capita, through increased diversity of skills and through higher innovation activity. In-migration is found to have both direct effects on company productivity as well as indirect impacts by raising the productivity of resident human capital through knowledge transfer. The key impact of aviation on inward migration is subtle but is around the ability of those who are moving to Scotland to maintain easy links with existing networks in their home countries and, crucially, the perception of the ease with which these links, especially with family, can be maintained.
Aviation is also an important facilitator of international travel and tourism. Pre-pandemic, inbound international travel and tourism to Scotland were significant. In 2019 there were almost 3.5 million international inbound visits to Scotland and total visitor spending was around £2.5 billion. Of the 3.5 million inbound visits, 1.9 million used Scottish airports. International aviation also facilitates broader business travel. In 2019 371,000 international inbound visits were for business purposes, while 423,000 international outbound trips were undertaken by Scotland residents for the same purpose.
International aviation allows people living in Scotland to partake in activities that contribute to wellbeing, including holidays and visiting friends and family. In 2019 there were around 894,000 international visitors to Scotland whose purpose for travel was to visit friends and relations, while there were around 1.19 million international outbound trips from Scotland for the same purpose. There were also over 4 million overseas visits by Scottish residents for holiday purposes.
International inbound travel forms a substantial part of the business for Scotland's hotels: in 2020 there were estimated to be around 2,390 hotel premises in Scotland and 1,690 hotel businesses, employing an estimated 62,000 people in 2019 Outbound travel will be partly serviced through Scottish airports and through Scottish firms. These include travel agents: in March 2020 there were 285 registered enterprises in the travel agencies activities sector in Scotland, employing 4,500 people in 2019.
The Scottish Government's National Islands Plan highlights the importance of connectivity to island communities' sustainable economic growth. This includes being able to travel to and from Scotland's cities on the same day for work. The same holds true for other parts of Scotland where, for many routes, plane is currently the only mode of transport that allows people to do a day return.
As well as the wider economic benefits, the Scottish aviation sector employs a large number of people through operations in and around airports. Pre-Covid 19 Scotland's three busiest airports[2] directly employed 1,600 people, and around 14,500 people worked on their airport campuses (airlines, retail, food, etc.).
Scotland's connectivity pre-COVID-19
2014 through to 2019. Before COVID-19 this trend looked set to continue. The international short haul network grew with unique destinations[3] increasing from 57 in summer 2008 to 79 in summer 2019. Long haul unique destinations also grew, from 6 to 10, with important markets such as Washington D.C. and Boston added. Inbound visitor numbers also continued to grow with the USA, Germany and France having the largest share of inbound visitors in 2018. The map below shows the airports with direct connections to and from Scotland in 2019 (for more information see our interactive map):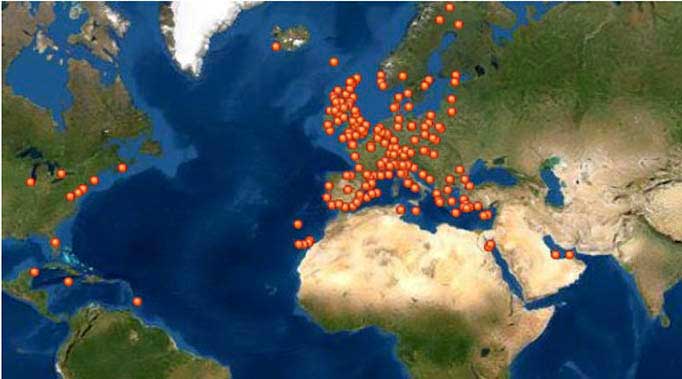 Compared to peer regions[4] Scotland had the highest percentage increase in the number of unique destinations between 2008 and 2019, moving from having one of the lowest number in 2008 to just below average in 2019. However, air freight (cargo and mail) volumes remained about the same.[5] For more information see Annex A.
Total passenger numbers also increased and in 2019 just under 29 million people travelled to/from Scottish airports, as shown in the figure below: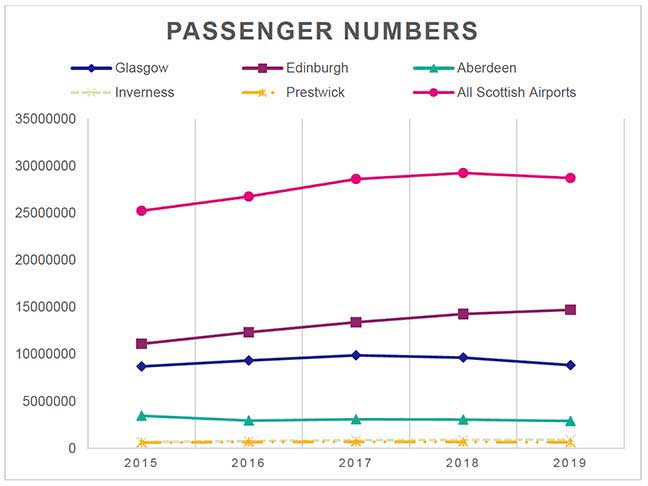 COVID-19
COVID-19 has resulted in a collapse in demand for travel globally, leading to significant downsizing by airlines, both fleet size and jobs. This has filtered through to airports, handling companies, airport retail, fuel suppliers, car rental, airline food suppliers and many other associated businesses. Compared to 2019, passenger numbers at Scottish airports were down by over 75% in 2020, with only a few international flights still operating to maintain essential connectivity through global hubs like Amsterdam and Doha.
As a result, there are additional challenges which will need to be considered when deciding how to achieve the aims of the Aviation Strategy. These include increased global competition for routes due to downsizing of fleets, less money available in the private and public sector and, potentially, ongoing restrictions on international travel to/from some countries.
Environmental Impact
In the Climate Change (Emissions Reduction Targets) (Scotland) Act 2019, Scotland committed to achieving net-zero greenhouse gas emissions by 2045. This target includes emissions attributable to Scotland from domestic and international aviation. The emissions attributable to Scotland are the take-off and landing emissions and the inflight emissions from departing flights. Inflight emissions from arriving flights are attributable to the country from which the flight departed.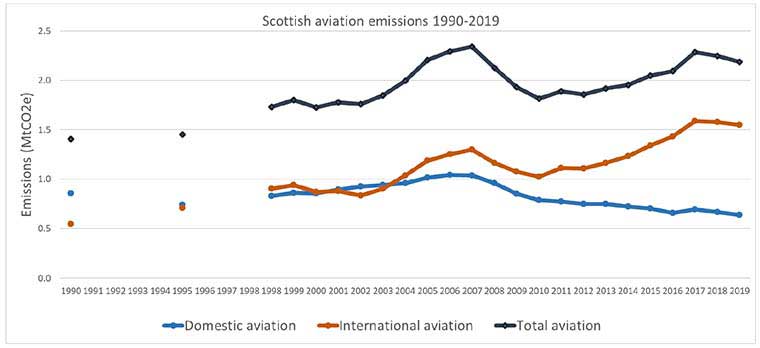 Aviation accounted for 4.5% of Scotland's total emissions and 16% of Scotland's transport emissions in 2019. Aviation also has an impact on the climate through the release of nitrogen oxides, water vapour, and sulphate and soot particles at high altitudes.
Advances in engine and airframe technology have reduced per passenger emissions. The figure below from the European Aviation Environment Report 2019 shows that while emissions from aviation in Europe have risen from 2005 to 2017, the increase is far less than the increase in passenger kilometres. This trend is expected to continue.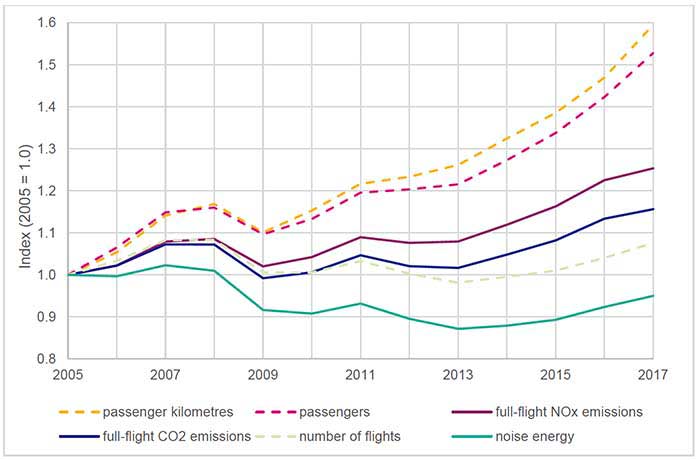 The Scottish Government has committed to work to decarbonise scheduled passenger flights within Scotland by 2040, including though supporting the trialling and introduction of low and zero emission aircraft. These new types of aircraft have the potential to significantly reduce the environmental impact of short haul aviation, as the figure below produced by Sustainable Aviation illustrates. This figure shows that electric and hydrogen powered aircraft could be used on routes of around 2,500 km in 2040 and there is the potential for hydrogen turbine technology to give a range of around 5,500 km.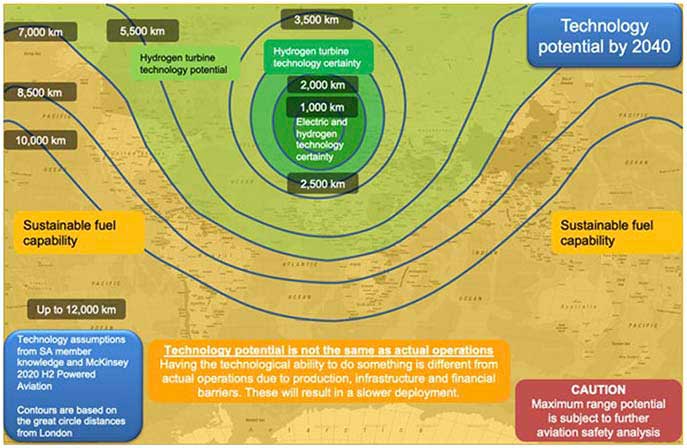 The UK aviation industry has committed to achieving net-zero emissions by 2050, and Sustainable Aviation UK has published a roadmap setting out how it considers the aviation industry could achieve that goal. This commitment goes further than the two global aviation environmental goals agreed by the International Civil Aviation Organisation (ICAO), which are a 2% annual fuel efficiency improvement through 2050 and carbon neutral growth from 2020 onwards.
Scottish airports have published sustainable aviation strategies setting out how they are planning to reduce their carbon footprint.
Case studies
AGS, which owns Glasgow and Aberdeen Airport, has reduced its direct carbon emissions by 52% since 2018 and has committed to achieving net-zero carbon for its direct emissions by the mid-2030s.
Edinburgh Airport has announced plans to build a solar farm at its airport which will supply around a quarter of its electricity needs.
Highlands and Islands Airports Ltd is supporting the development of low and zero-emission aircraft by creating a sustainable aviation test environment on Orkney.
Future Trends
Before COVID-19 it was expected that the demand for air travel would continue to increase. There is now greater uncertainty about what future passenger numbers might be, especially for business travellers. 59% of the businesses surveyed after the first lock-down said they would be less or much less likely to use air travel in the future. However, the International Air Transport Association's April 2021 survey of airlines' chief finance officers and heads of cargo indicated that the industry was confident that passenger volumes would increase quickly as restrictions were lifted around the world. That said, 67% of them thought that it would take longer than 2 years to return to 2019 levels, with Europe being the last region to do so.
The UK's withdrawal from the EU might also result in changes in travel patterns and overall demand for flights between Scotland and the EU. Due to COVID-19, it is currently not possible to give any indication of whether the new rules about work, travel and length of stay have resulted in changes to travel patterns and demand.
Similarly, how quickly the wider economy recovers in Scotland and around the world will also affect the number of people flying. The 2008 financial crisis led to a decrease in global passenger numbers and it is expected that a similar impact will be seen if there is a slow economic recovery from COVID-19. On the other hand strong economic recovery could result in increased passenger demand.
In the longer term the use of new types of aircrafts such as hydrogen, fully-electric and hybrid, could lead to lower operating costs and lower fares, while the use of air taxis and drones could open up new markets for air travel and freight.
Adapting our approach to best respond to these new challenges and opportunities, will be key to achieving our vision for aviation.
National Transport Strategy
The Aviation Strategy will build on the National Transport Strategy by setting out how the Scottish Government will work with the aviation sector to allow us to enjoy all the economic and social benefits of air travel while reducing our environmental impact.
The National Transport Strategy sets out the vision for Scotland's transport system for the next 20 years: "We will have a sustainable, inclusive, safe and accessible transport system, helping deliver a healthier, fairer and more prosperous Scotland for communities, businesses and visitors." There are four priorities which support that vision:
reduces inequalities,
takes climate action,
helps deliver inclusive economic growth,
improves health and well-being.
Other Scottish Government and Partners' Strategies
There are various Scottish Government and other strategies that will be important to consider when developing the Aviation Strategy. These include:
Responsibilities
The Aviation Strategy will focus on the areas where the Scottish Government can take action or work in partnership with others to influence outcomes. This section provides information on who is responsible for aviation at a local, national and international level.
Scottish Government
The Scottish Ministers are the sole shareholders of Highlands and Islands Airports Limited (HIAL) and provide funding to support the operations of the airports operated by HIAL.
Glasgow Prestwick Airport is owned by the Scottish Ministers. It is operated on a commercial basis and at arm's length from the Scottish Government.
The Scottish Government supports air routes from Glasgow to Barra, Tiree and Campbeltown. While the number of people using these routes is not enough to make them commercially viable for airlines, they nevertheless provide important connectivity to local communities. This is done by use Public Service Obligations (PSOs), which impose obligations to ensure the minimum provision of service on a route in terms of continuity, regularity, pricing or minimum capacity. The Scottish Government also part funds a PSO route from London to Dundee Airport, and has committed to part-fund PSOs from Wick.
The Scottish Government funds the Air Discount Scheme, which makes air services more affordable for remote communities in the Highlands and Islands by providing residents with a discount of 50% on the core air fare on eligible routes.
In partnership with Scottish Development International, VisitScotland and Highlands and Islands Enterprise, the Scottish Government provides support to airlines for route recovery and development, with a particular focus on routes important for business connectivity including exports and inbound tourism.
The Scottish Government also provides funding and other support to sectors that are important to the transition to low and zero emission aviation. For example, the Scottish Government is investing £100 million to help deliver the Hydrogen Action Plan, which could help support the development of hydrogen powered aircraft.
Private Sector
Most air services within and to/ from Scotland are delivered by the private sector. Scotland's busiest airports, Edinburgh, Glasgow and Aberdeen, are privately owned.
International agreements and schemes
The Convention on International Civil Aviation (otherwise known as the 'Chicago Convention') sets out the global rules of airspace, aircraft registration and safety, security, taxation of aviation fuel and sustainability. The Convention established the International Civil Aviation Organisation (ICAO), a specialised agency of the United Nations charged with co-ordinating international air travel.
The Carbon Offsetting and Reduction Scheme for International Aviation (CORSIA) is a global, market-based measure developed by ICAO. It is one of ICAO's "basket of measures" to achieve carbon neutral growth from 2020. (The others being incentivising innovative aircraft technologies, implementing more efficient operations and facilitating the use of sustainable alternative fuels). CORSIA is designed to achieve carbon neutral growth in aviation from a 2019 baseline, through the use of offsets. Offsets involve organisations paying for things that will reduce carbon dioxide in order to reduce the damage caused by the carbon dioxide that they produce.
UK Government
The UK Government is responsible for:
aircraft and airport safety, and the regulation of general aviation (private flights, hot air balloons, etc.).
the Airspace Change Modernisation Programme, which the Civil Aviation Authority is working with airports around the UK to deliver.
Air Passenger Duty, with the introduction of Air Departure Tax (ADT) in Scotland deferred to allow an issue in relation to the Highlands and Islands exemption to be clarified.
implementing CORSIA, engaging with ICAO and entering into Air Service Agreements with other counties (Air Service Agreements provide the legal basis for flights between two countries).
the Renewable Transport Fuel Obligation, which includes a development fuel target that aims to incentivise the production of certain fuel, including sustainable aviation fuel.
Civil Aviation Authority
The Civil Aviation Authority is the UK's airport and aircraft safety regulator. It is also responsible for enforcing Civil Aviation (Access to Air Travel for Disabled Persons and Persons with Reduced Mobility) Regulations, and each year it publishes a report on airports' performance on accessible travel.
Joint Scottish Government and UK Government
The Scottish Government has jointly implemented a UK Emissions Trading Scheme (UK ETS) with the UK Government and the other devolved administrations. The UK ETS rules currently mirror the EU Emission Trading Scheme, which it replaces. The UK ETS creates a carbon price for aircraft operators, who must acquire and surrender a number of allowances equivalent to the carbon dioxide emissions of their flights covered by the scheme.[6]
The four governments responsible for the UK ETS are currently in the process of reviewing the UK ETS for consistency with the climate change targets set in legislation across the UK, including with achieving Scotland's net-zero target. This will include reviewing certain aspects of UK ETS aviation policy to enhance its effectiveness. A joint four-government consultation, for public response, will be published in due course.
Local Authorities
Inter-island air services in Scotland are the responsibility of the relevant local authorities. Local authorities are also responsible for some airports and airfields such as Oban and Lerwick.
---